The Boys' Soldier Boy Rapping Is The Worst Thing You Will See Maybe Ever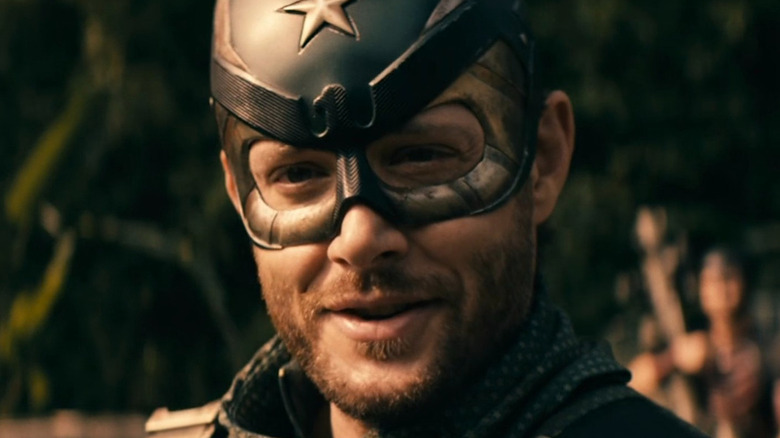 Amazon Prime Video
"The Boys" is back in town with Season 3, and somehow, through pure ingenuity and imagination, the series has managed to top itself once again when it comes to carnage and depravity. 
Many of the best scenes in Season 3 so far are so gruesome, we can't in good conscience write about them here. You really just need to watch the show to see for yourself how ridiculous things become. Just make sure you put the kids to bed before turning it out, lest you scar them for life. Everything viewers have seen out of Season 3 at this point has all led to this moment of what's arguably the most horrific thing "The Boys" has done yet — making Soldier Boy (Jensen Ackles) rap.
Yes, "The Boys" isn't letting the kayfabe die any time soon. On the same day the show premiered Season 3, Episode 4, it also came out with a short clip from the fictitious "Solid Gold" show featuring a special appearance from Soldier Boy himself, and it's enough to make a grown man cry.
Soldier Boy's performance needs to be seen to be believed
The Vought International YouTube channel is one of the best things you can follow if you're a fan of "The Boys." It regularly posts additional content outside of what fans get in the episodes of Amazon Prime Video, and this week, it's treated us to a special performance from Soldier Boy on "Solid Gold." In it, he performs "Rapture" by Blondie, and it goes ... about as well as one could imagine. 
However, Soldier Boy's stiff performance and inability to keep up with the flow hasn't stopped fans from keeping the kayfabe alive and well. One user commented, "Man,I remember watching this with my family. It's too bad that Soldier Boy died in that reactor incident,he was a better hero then homelander." Of course, after watching "The Boys" Season 3, it becomes readily apparent that Soldier Boy didn't actually die in a reactor accident, but that's not information that would be available to the general public. 
Someone else fleshes out this universe even further by writing, "I love how Vought has always been involved in music. I heard Drummer boy has an amazing single coming out! Can't wait." At only 96 seconds in length, the video is very much worth your time if you love the show's brand of awkward humor, even if it does involve some of the worst singing you'll probably ever see in your life.