The One Mary Poppins Filming Moment That Made Julie Andrews Panic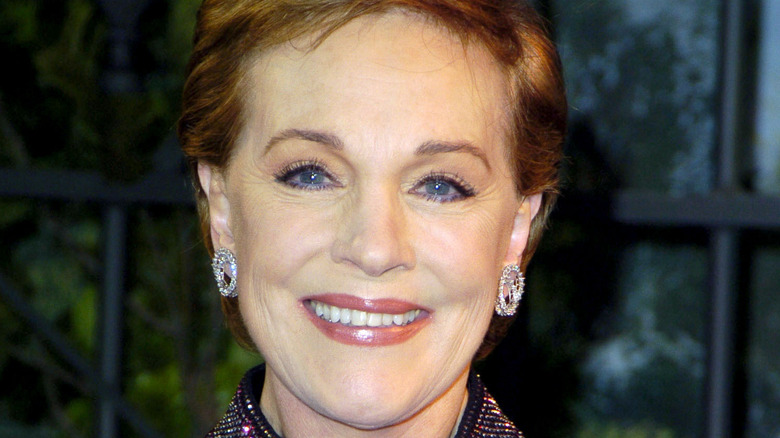 Everett Collection/Shutterstock
It's hard to get more classic than "Mary Poppins." The 1964 Disney musical tells the heartwarming story of the titular magical nanny (Julie Andrews) who comes to care for two children, who quickly grow to love her quirky lessons and wild adventures, all while she helps bring their family closer together. "Mary Poppins" would go on to be nominated for 13 Academy Awards, including a nod for best picture. While it didn't nab the top prize, it won five other Oscars, including best actress for the incomparable Andrews (via IMDb).
Like the film's timeless story, lush visuals, and excellent music, Andrews' star-making performance as Poppins, a character adapted from a book series by P.L. Travers, hasn't aged a day. She brings a balance of wit, energy, seriousness, and humanity to the role that makes it hard to envision anyone else originating the part. It's no surprise that to step into this colorful candy store of dancing penguins, spoonfuls of sugar, and energetic chimney sweeps, some challenges are bound to come up. And when it comes to the most daunting of those challenges, however, one of the film's lasting images stands above the rest for Andrews.
Julie Andrews' flying scenes were a hectic ordeal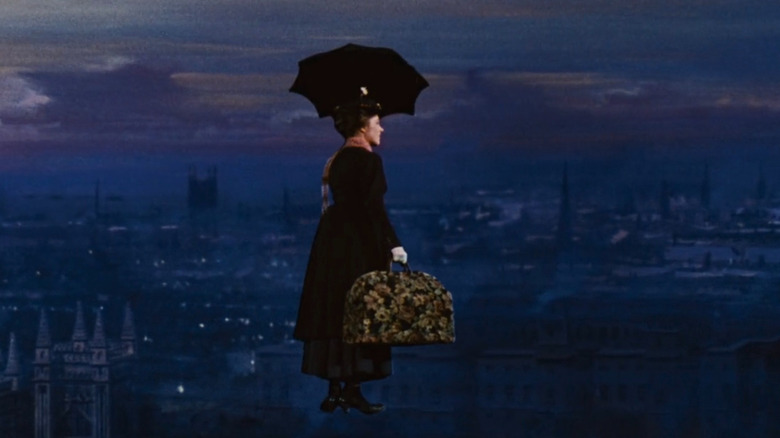 Walt Disney Pictures
One of the most iconic visuals in "Mary Poppins" is the sight of Julie Andrews using her umbrella to fly over London. As whimsical as these scenes appear, making them was another story. In an interview with Andrews for The Hollywood Reporter,  the outlet commented on how difficult "Mary Poppins" must've been to shoot. In response, Andrews brought up what she considers the most arduous task.
"They saved all the difficult flying stuff until the end in case of some kind of an accident," Andrews says. "So I was up there for hours hanging around in my flying harness, doing bits and pieces and pickups and so on. And I felt myself drop like about a foot and I got panicked like you don't believe and said ... 'Could you let me down very carefully when I come down?' And then I dropped to the floor like a ton of bricks." 
Andrews' ordeal certainly sounds hectic, and it led to a moment that you likely wouldn't see make the cut in a Disney picture. She continued, "Luckily there was a lot of balancing equipment helping me when I fell ... but I did let fly a few expletives that I didn't know if anybody had ever heard me utter before."
By the time its 2018 sequel, "Mary Poppins Returns," was made, one would think that the flying scenes should be easier to pull off ... right? However, even Emily Blunt, who took on the role of the beloved nanny in the follow-up film, also found the task of filming the flying scenes to be daunting (via ET Online). It only further proves that even over 50 years later, the effort put into creating the original film remains a supercalifragilisticexpialidocious achievement.