This Is The Most Heartbreaking Scene On It's Always Sunny In Philadelphia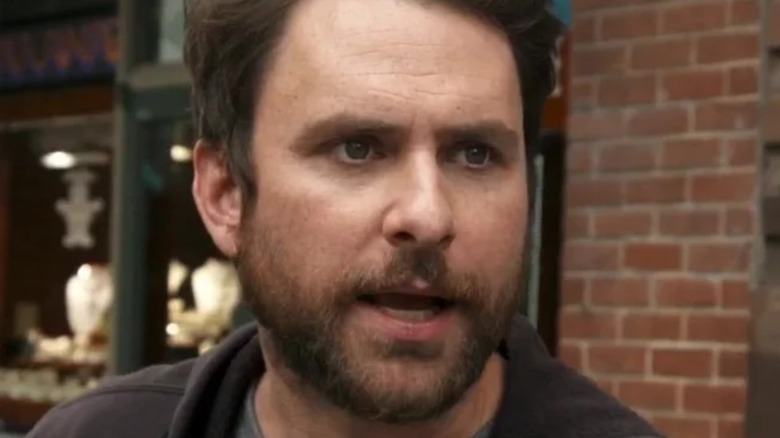 FXX
The FXX series "It's Always Sunny in Philadelphia" has been cracking people up for nearly two decades, but that doesn't mean there haven't been some tears shed. Underneath their funny and careless exteriors, Charlie (Charlie Day), Dennis (Glenn Howerton), Dee (Kaitlin Olson), Mac (Rob McElhenney), and Frank (Danny DeVito) are just everyday people suffering from the same grief and struggles that viewers are dealing with, just in a much more ridiculous way. Take the reappearing theme of parentage and not knowing one's real father, which comes off hilariously in "It's Always Sunny in Philadelphia" but is a very real subject for many. Not only is the identity of Dennis and Dee's biological dad a mystery, but Charlie's has been as well — until Season 15 arrived, that is. 
As viewers know, the most recent iteration of "It's Always Sunny in Philadelphia" was one of the show's most depressing. One aspect that made the show even darker than usual was Charlie finally learning that the true identity of his father was his longtime Irish pen-pal Shelley Kelly (Colm Meaney), whom he met in Ireland during Episode 6. By the end of the season, Shelley has died from COVID — which Frank unknowingly gave him — and Charlie is tasked with disposing of his body, prompting what fans believe is the most heartbreaking scene in "It's Always Sunny in Philadelphia" history. 
Charlie's breakdown about his dad
This heartbreaking scene arrives during the emotionally-charged finale of "It's Always Sunny in Philadelphia" Season 15. As part of a family tradition, Charlie is attempting to bring his father's corpse up a hill in Ireland so he can toss it off a cliff and into the sea. He gets help from the Gang for a little while, but they eventually leave to drink at a pub, leaving Charlie to do the deed himself. The usually-zany character is distraught and lashes out verbally at his dead dad for abandoning him as a child. It's a brief but poignant moment that viewers almost never get to see from the character.
"This isn't fair, I shouldn't have to carry you up this hill," Charlie says as "Amazing Grace" is played on bagpipes. "You never carried me up a hill! You never picked me up from school, you didn't read me bedtime stories, you didn't carry me on your shoulders ... You weren't there! And I needed you! I needed you, man! You were supposed to carry me! You were supposed to carry me! I'm glad you're dead! Now I don't have to spend the rest of my life waiting for you to pick me up!" 
Charlie's breakdown wasn't just unexpected. It was a perfect way of showing viewers that these characters are still human. "Charlie was raised by an unstable mother, had an abusive uncle, was tormented and humiliated by his peers and often also by his only close friends all through life, has a clear developmental disorder, a completely warped and deranged view about how to attract a woman and form a healthy romantic relationship with her, and several addictions," explained YouTuber afranz112 in a comment that's gotten over 4,000 likes. "That 'I needed you' was heartbreaking for those reasons."