The Major Change To Hughie's Big Moment From The Comics In The Boys Season 3
Contains spoilers for "The Boys" Season 3, Episode 4
Characters in Amazon Prime Video's "The Boys" franchise aren't inclined to stay static. They grow and develop and change in ways that are unique even from their comic book selves. These differences can be as complicated as skipping story arcs the comics have laid out to simply changing the appearance of a character for live-action consumption.
For example: Kindhearted but revenge-driven Hughie Campbell (Jack Quaid) definitely doesn't resemble his comic book version in the looks department, sporting a thick head of hair and being much taller. His comic book counterpart is based on actor Simon Pegg (who, incidentally, plays Hughie's father on the show) and bears the moniker "Wee Hughie." Say what you want about Amazon's version of Hughie Campbell, but he's anything but short — a fact that ends up being lampshaded by the show's dialogue on several occasions.
The differences between Hughie's comic-world self and his live-action self don't end there. Season 3 of "The Boys" throws an entirely unique wrench into Hughie's life when he accidentally kills someone. His comic book counterpart does end up taking several lives during the book's run, but Amazon's version of Hughie's travails gives the character's abilities a whole new origin story.
Hughie's punching power is tested on a Supe in the comics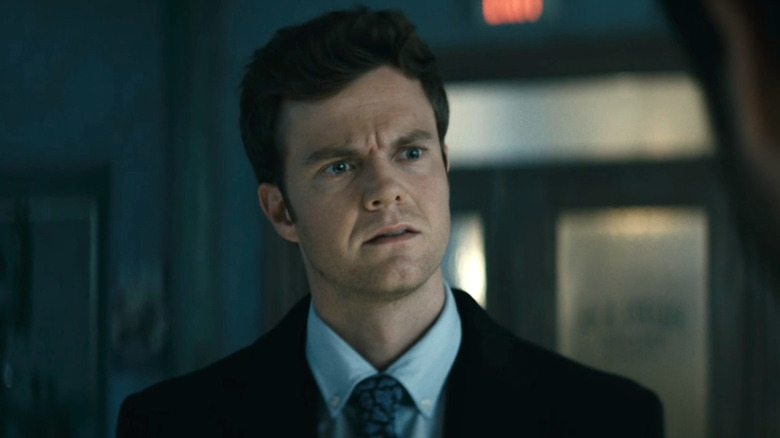 Amazon Prime Video
In the comics world, Hughie's first kill happens when he punches his way through the abdomen of Teenage Kix member Blarney Cock during a free-for-all brawl between the Teenage Kix and the Boys (via Comic Newbies). Hughie's punch has an extra kick courtesy of Compound V, resulting in Blarney's death. Afterward, Hughie adopts Blarney's pet hamster, but Blarney later returns from the grave and tries to reclaim his old friend, forcing Hughie to kill Blarney once more (via Comic Newbies).
In the Amazon version of Hughie's first kill while on Compound V, the character punches through the chest of a lab guard during a heated battle in a Russia-controlled facility keeping the not-dead-after-all hero Soldier Boy (Jensen Ackles) in stasis since his disappearance during a mission in Nicaragua in the 1980s. As in the comics, Hughie doesn't intend to kill his opponent with his Temp V-enhanced punch — he just doesn't yet grasp the effects the drug has on him.
Hughie's punch changes how people see him
On the show as in the comics, the punch signals that Hughie is coming into his own. After years of timidity mixed with a lust for revenge, this is the first time he makes an aggressive move. It's one that clearly stuns his team.
In the comics world, Hughie's punch signals a sea change in the character's behavior. He's horrified by his own action and monstrous strength, and it spurs a growing distaste in him for Billy Butcher's (Karl Urban) out-of-control antics. The tension between the two men increases until they're brought into conflict. We won't spoil where the comics take things, but it definitely puts them at loggerheads.
In Amazon's version of "The Boys," Hughie's punch marks him out as a person to be reckoned with. Butcher has shoved him out of his comfort zone and spent the entire episode pushing the rest of the team's buttons. Frenchie (Tomer Capone), Kimiko (Karen Fukuhara), and Mother's Milk (Laz Alonso) are clearly horrified by this suddenly aggressive gesture, and Hughie's chemically aided power adds a new wrinkle into an already fraying dynamic. It also shows him to be Butcher's equal in leadership.
It's impossible not to note just how impressed Billy is with his formerly timid friend; it's as if he's happy he's sculpted this Hughie-monster into being. With Starlight (Erin Moriarty) now in danger thanks to A-Train's (Jessie T. Usher) loose lips and Homelander (Antony Starr) willing to do absolutely anything to keep his popularity polls sky high, it's a clear signal that Hughie is ready to step things up and take the lead. The team is still looking for a weapon to remove the power-hungry Homelander, who's looking to rule the world from Vought Tower. They may have just found it.