Samuel L. Jackson Still Has A Major Bone To Pick Over Captain America: Civil War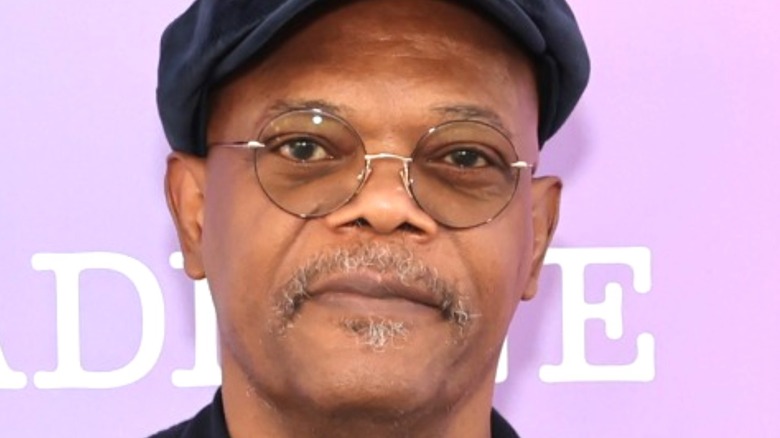 Amy Sussman/Getty
Before the superhero-stuffed days of 2018's "Avengers: Infinity War" and 2019's "Avengers: Endgame," one of the most ambitious crossover films in the Marvel Cinematic Universe franchise came in the form of 2016's "Captain America: Civil War." Set in the aftermath of "Avengers: Age of Ultron," the movie sees Captain America (Chris Evans) and Iron Man (Robert Downey Jr.) come to blows over a disagreement over the government regulating superhero activity. Both sides include a lot of familiar faces, with other superheroes like Ant-Man (Paul Rudd), Black Widow (Scarlett Johansson), Vision (Paul Bettany), and Scarlet Witch (Elizabeth Olsen) all showing up. The movie even features the MCU debuts of Chadwick Boseman's Black Panther and Tom Holland's Spider-Man ahead of their own solo movies.
Massive in scope and boasting compelling character drama to boot, "Captain America: Civil War" enamored critics and fans alike. However, that doesn't mean that everyone is completely satisfied with the movie. In fact, Samuel L. Jackson — known to Marvel fans for his role as the unshakeable, eternally slick S.H.I.E.L.D. agent Nick Fury — recently revealed that he has a very specific problem with "Captain America: Civil War."
Jackson questions why Fury wasn't in Captain America: Civil War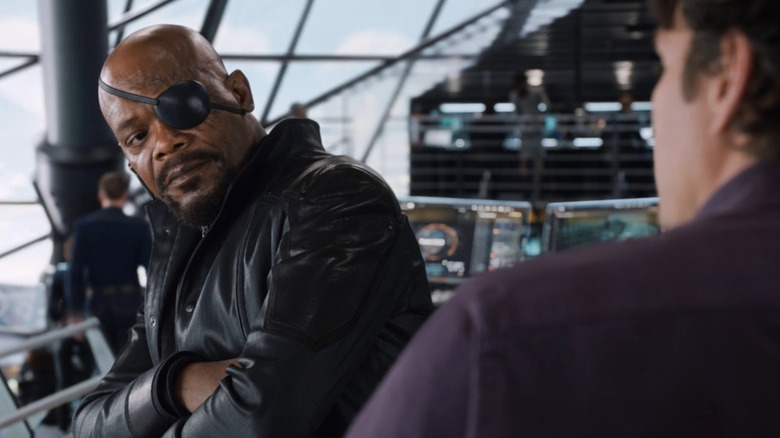 Marvel Studios/Disney
Despite the plethora of heroes in "Captain America: Civil War," Nick Fury is conspicuously absent. Considering his role in both the preceding "Marvel's The Avengers" and the "Captain America" films, some were confused about why the character doesn't show up. Turns out, Jackson is also confused. In a group interview between The Hollywood Reporter and several dramatic actors, the Marvel star spoke about his omission from the 2016 feature.
"The initial [Avengers] film was to introduce these people to who they are, and these are the things they can do," Jackson said to the roundtable of actors, which included fellow MCU stars Tom Hiddleston and Oscar Isaac. "Now, this is how they interact, and they're not all nice. And I fussed at them, I still fuss at them, about 'Civil War' because I'm like, 'How could the kids fight and Nick Fury not show up?' Like, 'What's going on here? Everybody go to your room.' But they didn't need me for that. They did, but they didn't."
While the actor isn't happy about Fury's absence in "Captain America: Civil War," the movie's creatives have explained the reasoning behind the decision. In a May 2016 interview with The Los Angeles Times, screenwriter Christopher Markus explained that it was decided that Nick Fury should not be involved because they didn't want to force him to pick a side in the heated dispute among superheroes. Markus went on to say, "And then we didn't want another, 'Is he still with the government? Is he opposed to the government but supporting the government?' It got to be the potential for a lot more polemic discussion that the movie did not have room for."
What has Fury been up to, anyway?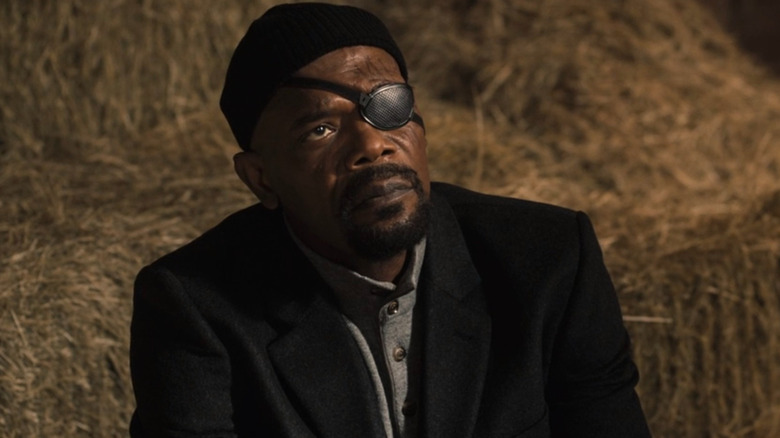 Marvel Studios/Disney
Nick Fury's non-presence in "Captain America: Civil War" also speaks to the character's shifting role in recent years. Though he still shows up at times, like in "Avengers: Infinity War" and "Spider-Man: Far From Home," the character essentially goes underground following the dissolution of the Avengers and HYDRA's invasion of S.H.I.E.L.D. However, as with anything Fury does, his movement away from the forefront is for a good reason.
Several movies and shows have teased Fury's involvement with a mysterious new organization called S.W.O.R.D. Comic readers may already know where this story is headed. For those who don't, all is expected to be revealed in the upcoming Disney+ series "Secret Invasion," which will shed new light on what the stoic special agent has been doing in the time since Tony Stark and Steve Rogers (and their respective crews) came to blows at a German airport.
"I mean, we're interested in the political paranoia aspect of 'Secret Invasion,' and really showcasing the stars with Nick Fury and Ben Mendelsohn, two amazing actors that you want to have in any series, and we're very lucky to have them for that," Marvel Studios head Kevin Feige told Collider in a January 2021 interview.
As for Samuel L. Jackson, the actor has said he's looking forward to a deeper dive on Fury than ever before. "[It's] giving me an opportunity to explore something other than the badassery of who Nick Fury is," Jackson said in an interview with Entertainment Weekly. "I've had a good time doing that, and I'm looking forward to people sharing that aspect of who he is when this series does happen."