The Pete Davidson SNL Sketch Fans Can't Stop Rewatching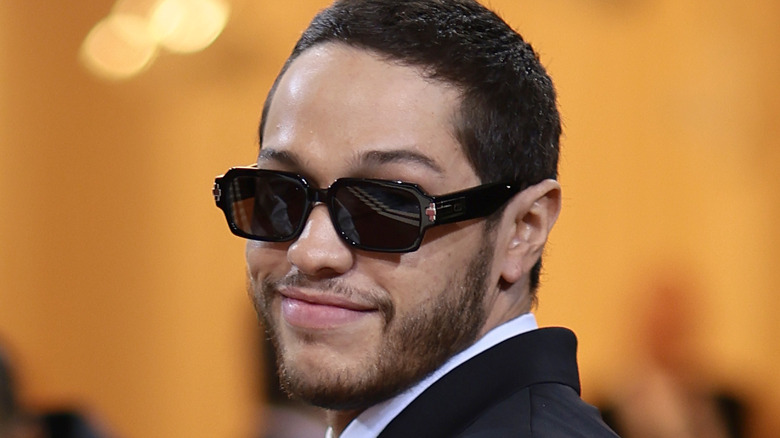 Dimitrios Kambouris/Getty Images
Pete Davidson's time as a regular cast member on "Saturday Night Live" may be over, but his legacy will continue to live on. In May 2022, it was announced that Davidson, along with other long-time performers, would leave the variety show, freeing him up for other opportunities. Amidst all of the tabloid drama, it was easy to forget that Davidson had a recurring gig on the most popular sketch comedy series out there, and it's intriguing to consider where his career will lead him next. 
Davidson had plenty of classic sketches throughout his "SNL" tenure. Whether he played the unflappable Chad in a variety of settings or channeled Eminem for a rap parody about writing a letter to Santa Claus, Davidson was a welcome presence on the series. However, based on fan reactions online, it's clear there's one sketch that stands above the others that people can't get enough of.
TikTok took Rap Roundtable to another level
When it comes to deciding on an all-time best Pete Davidson "SNL" sketch, it's hard to top "Rap Roundtable." The premise of the sketch involves a TV interview featuring Queen Latifah (Punkie Johnson), Questlove (as himself), and a SoundCloud rap duo, played by Timothée Chalamet and Pete Davidson. While Queen Latifah and Questlove wax poetically about the culture of hip hop, it becomes readily apparent the two white boys have no idea what they're talking about. It culminates in the duo performing their hit song, ending with Questlove smacking them both upside the head. 
If you were on TikTok around the time the sketch premiered (around December 2020), you likely saw clips of the performance as it went viral (via The Things). However, that's not the only platform fans have shown their love for the premise. Anyone checking out the comment section of the YouTube video will undoubtedly come across ample words of praise for both Davidson and Chalamet. One user commented, "I would have paid any amount of money to watch Pete and Timothee rehearse this the first time lmfao." Others agreed the two needed to do more together, with one person writing, "[I need] more Pete and Timothee collaborations -they are hilarious together!"
It's a shame the SoundCloud rappers didn't become recurring characters because they were easily fan favorites who had plenty more potential for hilarity.