First Look At Felicity Jones As Ruth Bader Ginsburg In On The Basis Of Sex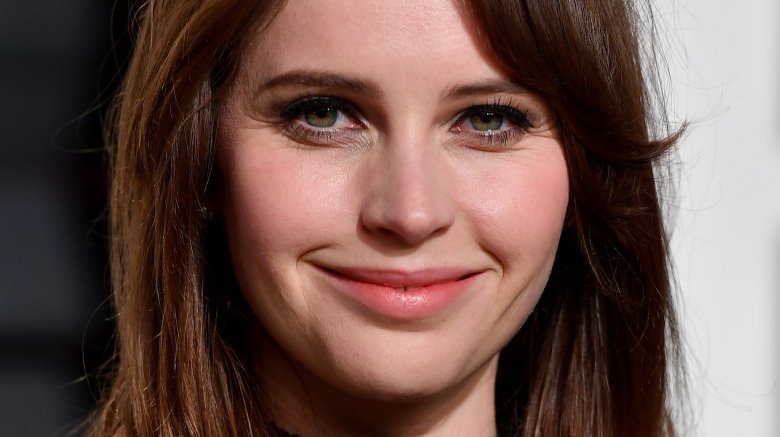 Getty Images
Felicity Jones looks poised yet powerful as the Notorious RBG. 
Courtesy of Entertainment Weekly, we have our first look at Rogue One starlet Jones as Ruth Bader Ginsburg for the upcoming biopic On the Basis of Sex, which began production today (October 2). She's seen sporting curly brown locks, a red lip, and a dark teal coat adorned with a small gold pin. 
Jones replaces Natalie Portman in the film, which follows Ginsburg as a young lawyer who brings a discrimination case before the Supreme Court. Ginsburg ends up scoring a huge victory towards equality of the sexes, but still, she faces numerous obstacles throughout her career in the battle toward leveling the playing field, so to speak. 
In 1993, Ginsburg was appointed to the Supreme Court by then-President Bill Clinton, becoming the second female justice after Sandra Day O'Connor. Now aged 84, Ginsburg is an associate justice and is one of three female justices on the current Supreme Court. She sits alongside Sonia Sotomayor and Elena Kagan.
Directed by Deep Impact and Pay It Forward filmmaker Mimi Leder, On the Basis of Sex also stars The Social Network actor Armie Hammer, who will play Ginsburg's husband, Martin, her legal partner on the case. The first look comes alongside a slew of new additions to the cast: Justin Theroux (The Girl on the Train, The Leftovers), Kathy Bates (the American Horror Story anthology), Sam Waterston (Law & Order), Jack Reynor (Detroit), Stephen Root (Get Out, All the Way), and Cailee Spaeny (the forthcoming Pacific Rim: Uprising) have all climbed aboard the project.
On the Basis of Sex is set to premiere sometime in 2018, coinciding with Justice Ginsburg's 25th year on the Supreme Court. Director Leder works from a script written by Ginsburg's nephew, Daniel Stiepleman, and previously said that the film has deeply impacted her. 
"Our story of Ruth Bader Ginsburg resonates with me on so many levels—from the inspiring partnership she found in her marriage, to overcoming adversity as a woman and discovering the strength of her own voice, to her empathetic commitment to those in need of a voice no matter their gender, race, status or religious beliefs," said Leder (via EW). "In these tumultuous times, stories like this speak to the heart of humanity and remind us what it means to lead with love and compassion as the way forward."
Until we know more about On the Basis of Sex, meet Jones as Ginsburg in the photo below.