The NSFW Amy Schumer Sketch That Became SNL's Most Popular Video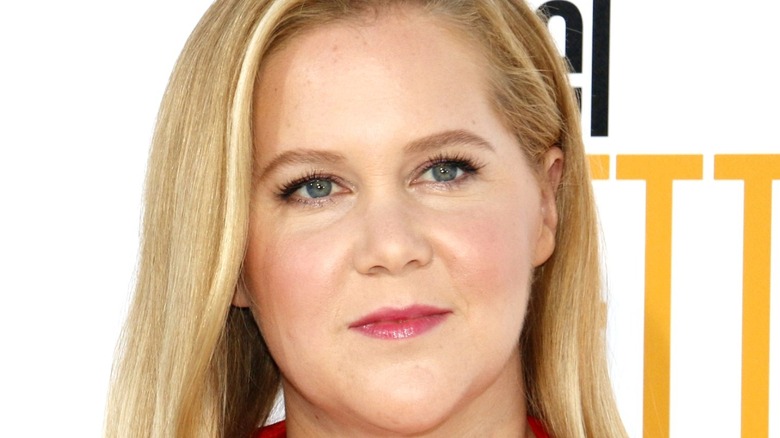 Tinseltown/Shutterstock
Over the course of its 47-season run, "Saturday Night Live" has attracted the gamut of celebrities to take on hosting duties, whether it's pop stars, billionaires, or politicians. It's something of a relief, then, when a fellow comedian takes the reins as host. Even the most lukewarm sketches can be elevated by a comfortable performer who knows the ropes.
With her background in stand-up and sketch comedy, Amy Schumer was an obvious candidate for "SNL" when she hosted a Season 41 episode in 2015. By the time of her "SNL" gig, Schumer had completed three seasons of "Inside Amy Schumer," the sketch comedy series that launched such classics as "12 Angry Men Inside Amy Schumer" and "Last F**kable Day." Moreover, Schumer had recently teamed up with "SNL" cast members Bill Hader and Vanessa Bayer on her 2015 movie "Trainwreck"
Though Schumer would grace the Studio 8H stage once again in 2018, one sketch from her first appearance on "Saturday Night Live" remains the series' most popular video.
Porn Teacher has racked up over 90 million views
The upper echelons of the "Saturday Night Live" YouTube page include a number of all-timers, such as Melissa McCarthy's turn as Sean Spicer and Ryan Gosling unable to keep it together after a close encounter with extraterrestrials. In the coveted No. 2 spot is an episode of "Black Jeopardy," featuring Tom Hanks as a MAGA hat-wearing contestant named Doug. No sketch, however, has more views than an Amy Schumer-starring clip called "Porn Teacher," which clocks in at over 90 million clicks.
The sketch stars Schumer as a math "teacher" eager to discipline her bad-boy student, Ricky (Kyle Mooney). Unfortunately, another student (Aidy Bryant) keeps interrupting with questions about the upcoming test; she later asks Ricky to give her a ride home as her dad can't make it. "Porn Teacher" is an airtight adult film parody, replete with trite innuendo and a bow-chika-wow-wow soundscape. But it's Bryant who really bolsters the sketch, in part because of the very surreality of her presence (did she think the adult film set was a real school? Are they living in an alternate dimension?), a bit that's hammered home when her mother (Vanessa Bayer) makes an appearance.
"SNL" has long trafficked in titillating sketches, a feat made all the more impressive by the constraints of FCC regulations. "Porn Teacher" is yet another sketch in a long line of sketches that don't quite cross the line, whether it's "Hermione's Growth Spurt," another most-watched sketch, or the tongue-tied "Corksoakers." But if the annals of YouTube are any indication, "Porn Teacher" is miles above the rest.