The Ghostbusters Easter Egg Only Eagle-Eyed Fans Spotted In 2012's TMNT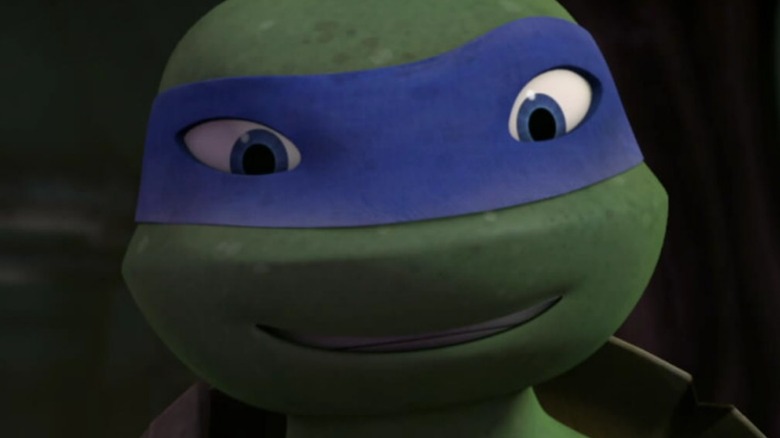 Nickelodeon
In only a few short years, the Teenage Mutant Ninja Turtles went from a twinkle in the eyes of creators Peter Laird and Kevin Eastman to a complete multimedia phenomenon. After conquering the world of comic books, toys, and video games, Leonardo, Michelangelo, Raphael, and Donatello found themselves on television and at the movies. Whether these projects were live-action or animated, you could bet on the TMNT combatting Shredder, Krang, and other forces of evil with quips galore and a stack of pizzas waiting for them when they finished — bringing in cash and fans all the while.
Thanks at least partially to their commercial viability, the Teenage Mutant Ninja Turtles found themselves under a new banner in 2009. Laird sold the rights to his and Eastman's creations to Nickelodeon, ushering in a new era for the shelled heroes (via The Hollywood Reporter). A mere three years later, a 3D-animated series debuted on the channel, which stuck around until 2017 and was later succeeded by "Rise of the Teenage Mutant Ninja Turtles." Overall, the 2012 show certainly had its merits, ranging from its balanced blend of comedy and action to its unique art style. Not to mention, it included some fun Easter eggs worth keeping an eye out for.
One such small detail that pops up in the peripherals of "TMNT" makes a not-so-subtle reference to the occasionally dumb "Ghostbusters." Here's what it is and where you can find it.
Peter Venkman gets a shoutout on TMNT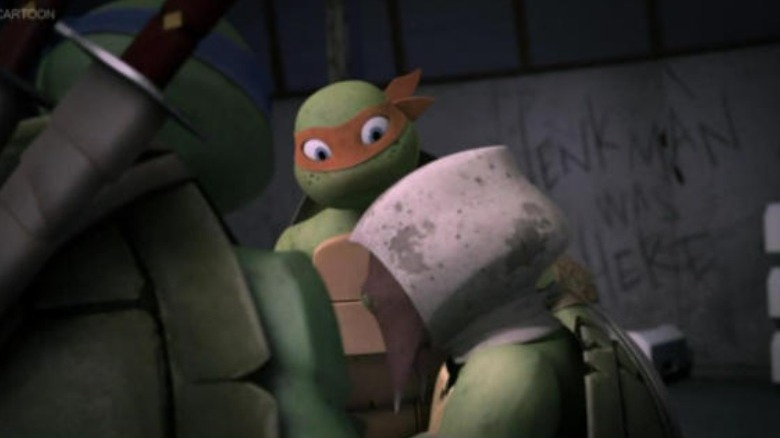 Nickelodeon
"Dinosaur Seen in Sewers!" is the 24th episode of "Teenage Mutant Ninja Turtles" Season 3 and sees the titular team visit the inside of New York's Statue of Liberty. As seen above and spotted by Redditor stegogo, there's a carving on the wall that reads "Venkman was here" — an obvious reference to Bill Murray's "Ghostbusters" character, Peter Venkman. This Easter egg is a nod to "Ghostbuster 2" specifically, which sees the ghost hunters commandeer the Statue of Liberty to defeat the evil Vigo the Carpathian (Wilhelm von Homburg) and save New York City from certain destruction.
While this is just a fun nod to one of the most recognizable film franchises out there, there's another layer to it. As it turns out, the worlds of "Ghostbusters" and "Teenage Mutant Ninja Turtles" are more closely intertwined than most would believe, thanks to an IDW Publishing limited story. The four-issue run from 2014 follows the turtles after one of their new inventions goes haywire, and they end up in the "Ghostbusters" universe. Despite some initial tension between them, the two teams have to learn to work together if they have any hope of defeating the dangerous forces standing in their way.
The Teenage Mutant Ninja Turtles and the Ghostbusters are both pop culture icons in their own ways, and it's pure fun seeing them cross paths in ways big and small.