What The First Day On Set Of Jurassic World Dominion Was Like For The Original Cast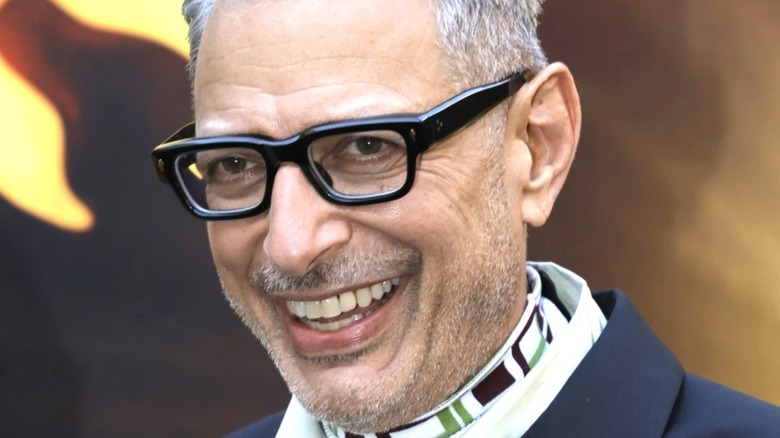 Kevin Winter/Getty
At this point, it's no secret that much of the original cast from 1993's "Jurassic Park" are reprising their roles in the upcoming "Jurassic World Dominion." The third installment will act as a conclusion for the "Jurassic World" arc of the long-running franchise, as well as their "Jurassic Park" predecessors. So, in addition to the return of Chris Pratt as Owen Grady and Bryce Dallas Howard as Claire Dearing, "Dominion" will reintroduce the most iconic returning "Jurassic Park" characters — Dr. Ellie Sattler (Laura Dern), Dr. Alan Grant (Sam Neill), and Dr. Ian Malcolm (Jeff Goldblum).
This trio of doctors was central to the first "Jurassic Park," which is still widely regarded as one of the most influential movies of all time, most notably due to its stunning visual effects and incredible action. As the leading characters from the original film, Dern, Neill, and Goldblum helped to define an entire generation of blockbusters. Seeing their characters on screen together will no doubt be a nostalgic treat for all those who grew up watching the original "Jurassic Park" trilogy – perhaps even rivaling some of the most nostalgic reunions from "Star Wars: The Force Awakens." In fact, the actors themselves recently revealed that their reunion was so impactful that even the director got emotional while shooting.
The gang's first day filming together was emotional for many reasons
During an interview with Fandango All Access on YouTube, Laura Dern, Sam Neill, and Jeff Goldblum described what their first day on the set of "Jurassic World Dominion" was like and how it felt to reprise their beloved characters after such a long time. Following a lovely, COVID-friendly reunion at the hotel where Goldblum was greeted by Dern and Neill waving to him, Goldblum and Dern spoke about the original trio's first scene, which involved filming in a car and reacting to a special effect (hm, that sounds familiar ...).
Goldblum agreed that it was great to be on set with his two co-stars again, though he also admitted that their first day was incredibly hectic, as the trio had to shoot a rather important action scene almost immediately. "We're all in a vehicle, and it's very life-and-death," he explained. Dern added, "I remember [director] Colin [Trevorrow] being in the direction of the scene and then saying that it hit him that our characters were there all together again and that he got moved. I texted Stephen [Spielberg] a photograph of all of us together. He got very emotional." Neill then joked, "In the Jurassic world, things happen to vehicles. It usually doesn't end well."
The trio's comments make it clear that there was a very palpable emotional reaction to their reunion on set — although, hilariously, that didn't stop the crew from throwing them into a very difficult scene right away. In any case, if the reunion of these characters is powerful enough to give Trevorrow pause, one has to wonder what it will be like to see these franchise legends on the big screen again.