Fans Are Worried About The Returning Characters In Jurassic World Dominion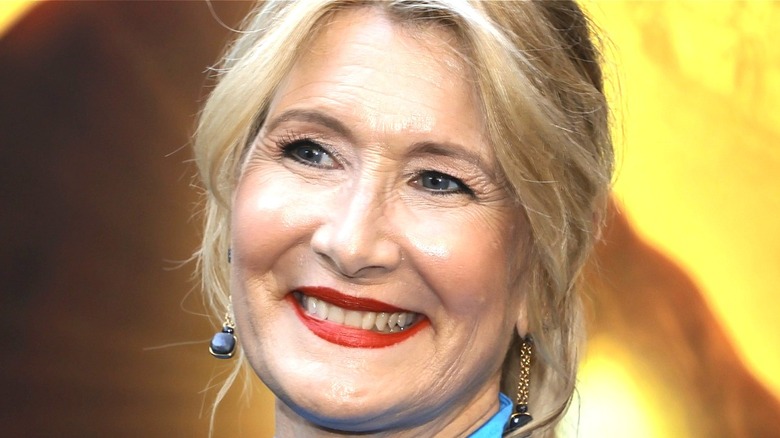 Kevin Winter/Getty
"Jurassic World Dominion" is finally set to grace cinemas later this week. The highly-anticipated threequel has been declared the final film in the "Jurassic World" trilogy, which first kicked off in 2015. A direct sequel to the "Jurassic Park" films of the '90s and early 2000s, "Jurassic World" focuses on the realization of John Hammond's (Richard Attenborough) dino-centric park. Naturally, things get out of hand, resulting in a meta take on action films and nostalgia.
Its direct sequel, "Jurassic World: Fallen Kingdom," ends with the dinosaurs escaping captivity and co-existing with humans. With "Dominion," audiences are set to see Owen Grady (Chris Pratt) and Claire Dearing (Bryce Dallas Howard) bring balance back to the food chain with the help of the original "Jurassic Park" trio — Laura Dern, Sam Neill, and Jeff Goldblum.
Audiences last saw these three original cast members share the screen in 1993 and marketing for "Dominion" hasn't shied away from that fact, with key promotional footage leaning heavily into nostalgia. It remains to be seen how much screen time the trio will get in the upcoming film, and some fans are wondering if the dino veterans will add substance to the threequel or act as mere nostalgia bait. 
Fans are concerned that Jurassic World Dominion won't do right by the original trio
Taking to the "Jurassic Park" subreddit, user u/Ok_Echidna9717 posed the question: "Do you think they'll do Grant, Sattler, & Malcolm justice in 'Dominion'?" and the responses were overwhelmingly mixed. Redditor u/Galaxy_Megatron has high hopes for the dynamic between the original trio. However, they also predicted, "but when they're with the new characters it'll be...not as fine." And u/IMakeItYourBusiness said, "They're the only reason I am eager to try to make opening night. That being said, I feel I very much need to keep my expectations low."
Meanwhile, u/ex_sanguination bluntly said that the inclusion of the original characters is "just a nostalgic cash grab." While a majority of the comments echoed a similar sentiment, u/FatherUnderstanding cited the early reactions to the film as a reason not to worry, saying, "According to people that already saw the movie, the three are the best part."
In fact, u/FatherUnderstanding is mostly right. Early reactions to "Jurassic World Dominion" have been mixed, though one thing is clear: the "Jurassic Park" trio seems to be getting the most praise. Scott Menzel noted the inclusion of the original cast as one of the few high points of the film, while Fandango's Erik Davis specifically gave a shout-out to Jeff Goldblum, who will now make his fourth appearance in the "Jurassic" franchise.
By the looks of it, fans don't have to worry much about the "Jurassic Park" cast getting their justice in "Dominion." How does "Dominion" stand on its own two feet? Well, that's a whole other can of worms.
"Jurassic World Dominion" opens stateside on June 10.