How Tom Holland Spoiled Spider-Man: No Way Home For Ms. Marvel's Iman Vellani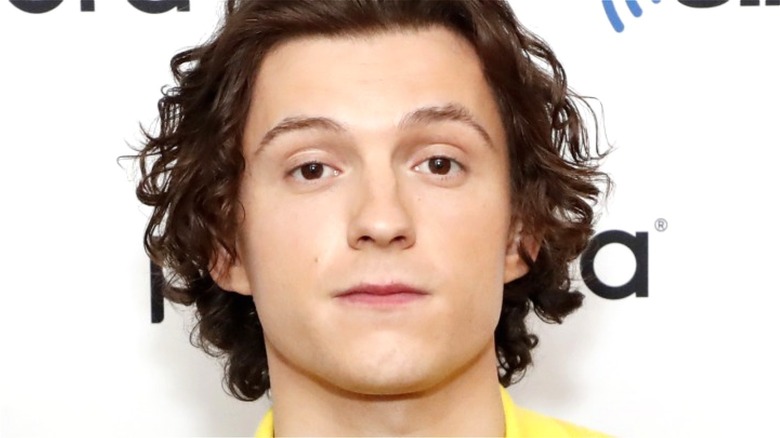 Astrid Stawiarz/Getty
In the months leading up to the release of "Spider-Man: No Way Home," Marvel and Sony did their absolute best to keep the film's biggest surprises kept under tight wraps. Their efforts to do so weren't entirely successful, with many of the film's biggest plot details and cameos leaking online prior to the film's release. Despite that, the movie's various cast members remained steadfast in their refusal to reveal any spoilers about the plot of "No Way Home." Certain cast members — namely, Andrew Garfield — even went so far as to straight-up lie about their involvement in the film.
Now, several months after the superhero movie's theatrical release, the general consensus among Marvel fans is that Garfield and co.'s efforts to keep the biggest surprises in "No Way Home" secret were, in the end, worth it. Given the reactions that certain scenes in the film famously elicited, it's hard to disagree with that sentiment. However, it turns out that not everyone was able to avoid having "No Way Home" spoiled for them.
As a matter of fact, Ms. Marvel herself, Iman Vellani, had the film spoiled for her by none other than Tom Holland.
Tom Holland didn't hesitate to spoil Spider-Man: No Way Home for Iman Vellani
During a recent interview with Elite Daily, "Ms. Marvel" star Iman Vellani recounted a humorous interaction she had with Tom Holland in 2021. According to Vellani, she was filming the first season of "Ms. Marvel" in Atlanta, Georgia, at the same time Holland was filming "Spider-Man: No Way Home" there, which led to the two Marvel stars crossing paths with each other at one point.
Vellani says Holland dropped by the "Ms. Marvel" set one day and that she and he took the opportunity to briefly chat about their respective MCU projects. It was during this conversation that Vellani also revealed how Holland spoiled the third act of "No Way Home" for her.
"He was like, 'What's your show even about?' I was like, 'What's Spider-Man about?,'" Vellani recalled. "He [then] fully shows me a photo of him with Tobey Maguire!" While the "Ms. Marvel" star reportedly maintained a positive attitude while recounting the story to Elite Daily, she did take a brief moment to lament the fact that she had the biggest multiversal crossover in "No Way Home" spoiled for her before the film's release. "I get we're both in Marvel, but I didn't need to know that before it happened," Vellani said.
Of course, it's not all that surprising that Holland spoiled "No Way Home" for Vellani. Over the years, the Spider-Man actor has earned a reputation for being notoriously bad at keeping MCU secrets. Thankfully, in this instance, the recipient of Holland's spoiler wasn't a journalist or fan, and it doesn't sound like said spoiler was revealed accidentally either. That's progress, right?