Andrew Garfield Confirms What We Suspected All Along About Those Spider-Man: No Way Home Lies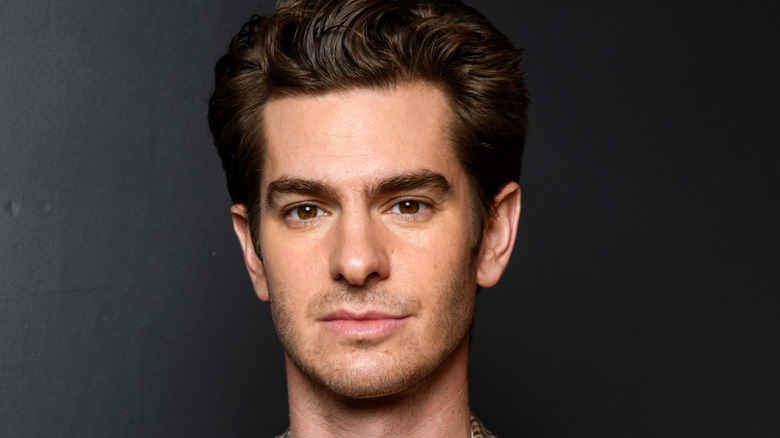 Amanda Edwards/Getty Images
After we finally learned that Andrew Garfield did indeed swing back into action for "Spider-Man: No Way Home," it was a real treat to go back and rewatch all the interviews he did leading up to the film's release. The recent Golden Globe winner for "Tick, Tick... Boom!" had deceived us to such a degree that even Mysterio (Jake Gyllenhaal) may have had trouble seeing past the web of lies he wove to try and keep us in the dark about his appearance.
Of course, as impressive as it may have been, dancing around the bazillion questions from every talk show host, interviewer, and random person on the street seems like it would've taken a toll. Garfield kept his cool under pressure, enduring everything short of being hooked up to a polygraph machine, and managed to keep quiet about one of the biggest cinema secrets of 2021. As revealed in a recent interview, though, Garfield admitted that despite the challenge the situation posed, there was a little bit of fun to be had to keep the entire world in the dark.
In an interview with The Wrap, Garfield described the secret-keeping duty as "rather stressful but also weirdly enjoyable," which is understandable. The whole ordeal tested the actor at one of the things he struggled most with — lying.
Garfield thought of the fans when lying about his return as Spider-Man
"There were moments where I was like, 'God, I hate lying.' I don't like to lie and I'm not a good liar, but I kept framing it as a game," Andrew Garfield told The Wrap. 
Putting himself in the headspace of the millions of webheads keen to see former Spider-Men getting back into action paid off and kept the actor going in the face of the onslaught of interrogations. "I placed myself in that position of, Well, what would I want to know?" considered Garfield. "Would I want to be toyed with? Would I want to be lied to? ... Would I want to be guessing, guessing, guessing?"
This led Garfield to have what sounds like a real-life spider-sense moment, as well. He explained, "I would want the actor to do an incredibly good job at convincing me he wasn't in it. And then I would want to lose my mind in the theater when my instinct was proven right. That's what I would want."
It seems like he got his wish, of course. In another recent interview, Garfield revealed that both he and the OG arachnid, Tobey Maguire, snuck into a cinema on opening night to see the screen erupt at their arrival, proving all those lies were worth it to keep that particular secret.