SNL's Bowen Yang Reveals How He Comes Up With Sketch Ideas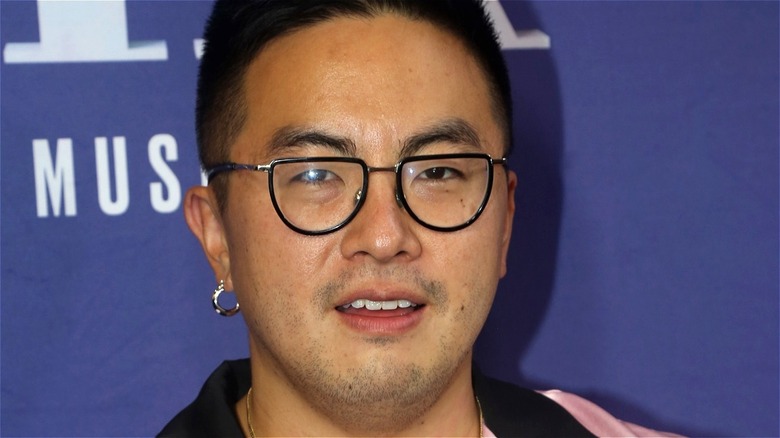 Bruce Glikas/Getty
The venerable sketch comedy institution "Saturday Night Live" just wrapped up its 47th season two weeks ago, which means its cast and writers can finally take a breather from the show's legendarily hectic production schedule.
Bowen Yang was originally hired at "SNL" in 2018 as a writer for its 44th season. He contributed sketches for a year, and performed a memorable cameo as North Korean leader Kim Jong-Un, before being promoted to Featured Cast Member in 2019 (via The Washington Post). Yang quickly became a breakout performer, frequently popping up during "Weekend Update" as everything from the iceberg that sank the Titanic to a sassy Chinese trade representative.
"Saturday Night Live" is one of the most grueling TV shows to produce. Every week, the writers and performers have to fill up more than an hour of airtime with material, and it has to be performed live on camera. (Obviously). That requires a constant supply of new sketches. Here's how Yang delivers the goods week to week.
Bowen Yang is a believer in the write everything down method
Recently, Bowen Yang gave an interview with The Wall Street Journal in which he shared his writing process. For Yang, the key to his creativity is to write down everything, whether it seems like a winning idea or not.
"I'll just write down random ideas and words and see if visually that takes me anywhere," Yang explained. "I keep a list of half-baked ideas in a Trello list and go through that and sort of am like, 'What can I pair that with in order to create a premise or a character?'"
Yang doesn't write down his ideas with the expectation that they'll go anywhere. Most ideas don't lead to a full sketch, but it's still valuable to keep track of them,
"I've accrued a lot of random, random line items that I can't possibly recall off the top of my head," Yang continued. "But it's best to just have them there in order to reference and that kind of begets more ideas if you're just looking at a list full of random stuff. You try to find order in the chaos so then you come up with more things that connect those elements."
All in all, Yang's creative process isn't much different from most other creative folks. Creativity doesn't require esoteric techniques or life hacks. It's just work, like any other kind of work, and Yang has shown he's quite adept at it.