Here's Why Andrew Garfield Had To 'Fall In Love' With Mormonism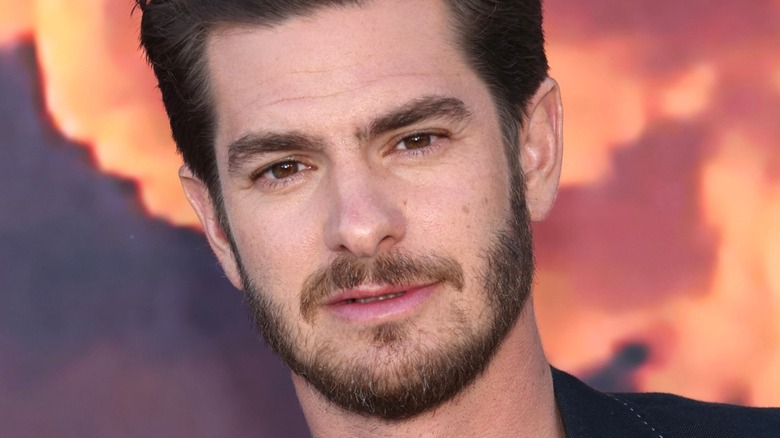 David Livingston/Getty
Andrew Garfield is no stranger to portraying characters who are one with their faiths. He's become so well-known for portraying Christians suffering through religious crises that Paste Magazine even created a list ranking those roles. 
In the limited series for Hulu entitled "Under the Banner of Heaven," Garfield portrays the fictional detective Jeb Pyre. Pyre, a devout Mormon, finds himself investigating the murder of a baby and her mother, both members of the Fundamentalist Church of Jesus Christ of Latter-Day Saints. Pyre's investigation leads him into a world of prophecy, faith, and family conflict, forcing him to ask some hard questions about a world he once uncritically supported.
While Pyre isn't real, the case he's investigating is. The miniseries is based on the book of the same name written by Jon Krakauer. "Under the Banner of Heaven" is a nonfiction account of the real-life murders of Brenda Lafferty and her daughter Erica, which took place on July 24, 1984 (per Time Magazine). Brothers Ron and Dan Lafferty, Brenda's brothers-in-law and Erica's uncles, stood accused of the crime. In his defense, Ron claimed that he was a prophet and had received a revelation from God to kill his family members, among others. Per Newsweek, both men went to trial, and Dan Lafferty is currently serving a life sentence in prison as of press time, while Ron Lafferty was convicted of a capital offense and chose an execution by firing squad. Ron Lafferty passed away of natural causes before the sentence could be carried out on November 11, 2019 (via The Salt Lake Tribune).
To become Pyre, Garfield had to take a deep dive into his character's sense of faith. Here's what he said about falling in love with Mormonism.
Garfield found community and family in the Mormon church
As he explained in an interview with Vanity Fair, Garfield prepared himself to take on the role of Pyre by studying Mormonism, to better understand the detective's love of the religion. He visited Salt Lake City in Utah and spoke to many people of the Mormon faith. The individuals he spoke with included friends of "Under the Banner of Heaven" screenwriter Dustin Lance Black, who, per Vanity Fair, was raised in the Mormon church. 
"I had to feel like I was Mormon. So my responsibility to play in the part was to simulate that for myself, create a cellular body relationship to a set of beliefs and rules and ideas that I was so fully invested in," he told the magazine. 
Garfield says that he quickly found a sense of camaraderie and warmth in the Mormon world. "There was a lot to fall in love with like with any organized religion," he said. However, he noted that barriers seemed to exist for those who didn't fit a certain mold. "What I found quite beautiful was a true sense of community, a family that feels inclusive — to white people — and supportive — to white people and men particularly — and, I am all of those things." 
The actor didn't just speak to current members of the faith, but also interviewed ex-FLDS members, something that he felt was a necessary part of accurately reflecting aspects of Pyre's personality. "Those were the people that I felt like I had to represent —the ex Mormons or, ex anything. People who were raised in a certain way who realized that this way was fundamentally dangerous."