Jon Hamm Cast In Amazon's Good Omens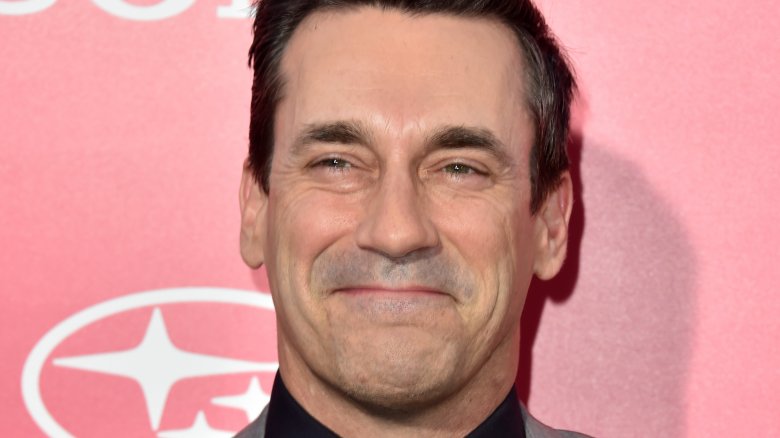 Getty Images
Jon Hamm is set to join David Tennant and Michael Sheen in Amazon's adaptation of Neil Gaiman and Terry Pratchett's Good Omens. According to Variety, the former Mad Men actor has signed on to play the archangel Gabriel, the primary messenger of God.
Good Omens, based on the novel of the same name, is a dark comedy about the preparations for the quickly impending apocalypse. Tennant's Crowley, a demon, and Sheen's Aziraphale, an angel, are both happy with their lives on earth, so they decided to team up to stop the coming doom. 
While Hamm's character had just a small role in the books, the part will be stepped up for the series. Gaiman said that the series' Gabriel will be "everything that Aziraphale isn't," adding that he is "tall, good-looking, charismatic, and impeccably dressed." "We were fortunate that Jon Hamm was available, given that he is already all of these things without having to act," he joked. 
For Hamm, the chance to be a part of the series was a dream come true. "I read Good Omens almost twenty years ago," Hamm, who most recently starred in Edgar Wright's Baby Driver, said in a statement. "I thought it was one of the funniest, coolest books I'd ever read. It was also, obviously, unfilmable. Two months ago Neil sent me the scripts, and I knew I had to be in it." 
"When Good Omens was first published and was snapped up for the first time by Hollywood, Terry and I took joy in introducing our angels into the plot of a movie that was never made," added Gaiman. "So when, almost thirty years later, I started writing Good Omens for TV, one thing I knew was that our angels would have to be in there."
The rest of the cast for the series includes Harry Potter actress Miranda Richardson as a psychic who teams up with the pair to save the world; Fresh Meat's Jack Whitehall as an unfulfilled wages clerk turned witch-hunter; and Better Call Saul's Michael McKean as the leader of a witching finding army. Adria Arjona, Nina Sosanya, Ned Dennehy, and Ariyon Bakare also star.
The six-episode series is expected to hit Amazon in 2019.