The Hilarious Adam Sandler Costume Detail You Likely Missed In Grown-Ups 2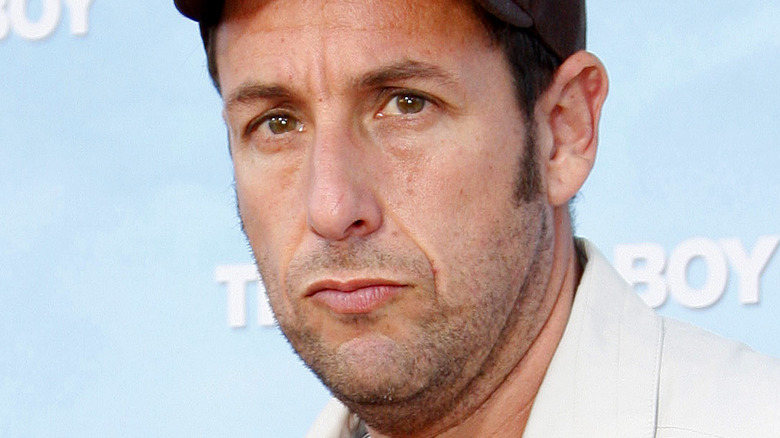 Tinseltown/Shutterstock
It's no secret that most of Adam Sandler's movies are vehicles for him to work alongside his close acting friends, and that couldn't have been more obvious than in 2010's "Grown Ups." The likes of Kevin James, Chris Rock, David Spade, and more joined Sandler in a wacky comedy about a group of high school friends that get together decades after they all first met for a multi-family vacation. As one could imagine, with a cast that stacked, the film was full of laughs, and it pulled audiences in with relative ease, earning over $270 million worldwide (via The Numbers).
Fast forward three years, and Adam Sandler once again rounded up his motley crew for a sequel, "Grown Ups 2." This time around, Lenny Feder (Sandler) has moved his entire family back to his hometown, reuniting him with all of his buddies once again and paving the way for even more middle-aged hijinks. Though it made a bit less money compared to its predecessor, it didn't let up on the hilarious moments and lines that drove so many moviegoers to check out the first one. It also afforded Sandler the chance to mess with the wardrobe department.
Here's an interesting and hilarious detail of Adam Sandler's "Grown Ups 2" costume that you likely never noticed.
Sandler's wardrobe consisted of his real-life clothes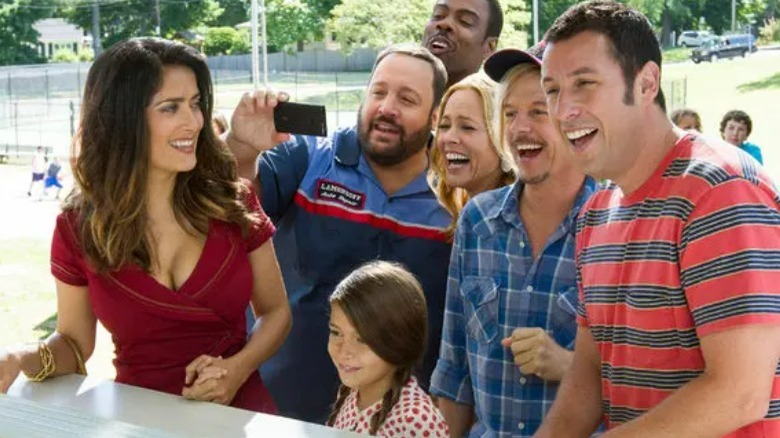 Sony Pictures
During an appearance on the Literally! With Rob Lowe podcast, "Saturday Night Live" alum and big-screen star David Spade — who played Marcus Higgins in both "Grown Ups" films and has appeared in countless other Adam Sandler projects — dropped some intriguing information about Sandler's "Grown Ups 2" outfit. As he recalls, "We have a striped t-shirt on the bed for his wardrobe for the day, then there's a rack of t-shirts and big shorts." However, instead of just wearing what the wardrobe department had laid out for him, Sandler chose to keep on the casual clothes he wore to set, meaning he's wearing his own clothes throughout the movie.
Of course, it should come as no surprise that Sandler decided to wear his usual threads during the "Grown Ups 2" shoot. The prolific comedian has a long history of not getting dressed up no matter the occasion, hence why people often spot him in public donning ensembles that USA Today believes he put together in the dark. Nevertheless, his odd fashion sense has become a part of his pop culture legacy, and some have gone as far as to praise him for it. Vogue even referred to Sandler as a fashion icon in 2021 since his comfy, mismatched attire reflected that of many folks throughout the early days of the COVID-19 pandemic.
If Adam Sandler has proven anything, it's that you don't need to wear expensive suits, designer shoes, and shiny jewelry to be a success. His "Grown Ups 2" clothes and the story behind them, especially, couldn't support this point more.