What The Cast Of Grown Ups Looks Like Today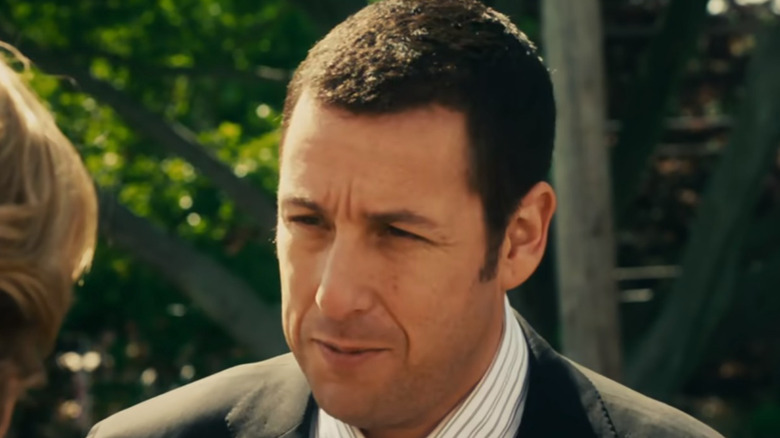 Sony Pictures
The 2010 comedy "Grown Ups" brought together Adam Sandler and several other well-known comedians for a story about a group of childhood friends who reunite as adults after the death of their former basketball coach. Critics didn't have many nice things to say about Sandler's signature humor, but it made enough money – eventually amassing over $270 million at the box office — that a sequel, "Grown Ups 2," was quickly commissioned and released in 2013. It followed in its predecessor's footsteps, making a bunch of money despite getting terrible reviews.
But while the film might not impress those who aren't already fans of Sandler's work, "Grown Ups" may win over some audiences purely from its ability to assemble a top-notch cast of actors, including several veterans from the NBC sketch comedy series "Saturday Night Live." Here is a rundown of some of the biggest names from "Grown Ups," who they played in the film, and what they've been doing in the years since it was released.
Adam Sandler - Lenny Feder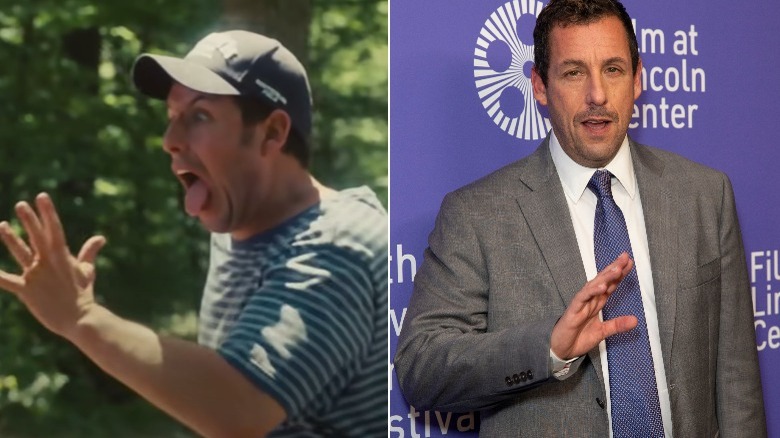 Sony Pictures/YouTube, lev radin/Shutterstock
Adam Sandler's Lenny is the leader of the group, a Hollywood talent agent with a beautiful wife and three spoiled children who decides to take his family to a lake house to decompress from the stress of everyday life. As a successful businessman with man-child tendencies married to a woman who very clearly deserves better, Lenny fits perfectly in Sandler's wheelhouse. After all, this is the man known for films like "Billy Madison," "Happy Gilmore," "The Waterboy," and "You Don't Mess With The Zohan."
Sandler's films might not all be great, but he is incredibly consistent — he's still making at least one film a year. Much of his recent live-action work can be found on Netflix, though he also had time to voice Count Dracula in the first three "Hotel Transylvania" movies. And every once in a while, he puts in a dramatic turn in a critically acclaimed film, such as the 2019 thriller "Uncut Gems."
Sandler confirmed with Entertainment Weekly that he's reuniting with the directors of "Uncut Gems" for a new project. While he didn't offer any details, Sandler told the magazine, "They're always working, always writing, always thinking. I don't know what I can tell you, but it's gonna be very exciting."
Kevin James - Eric Lamonsoff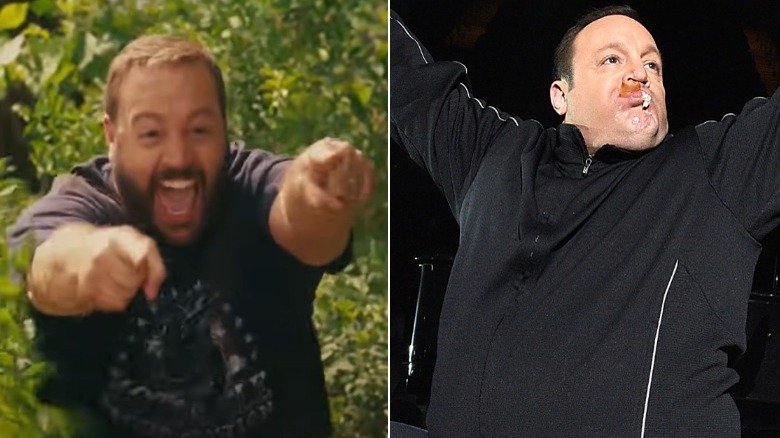 Sony Pictures/YouTube, Kevin Mazur/Getty
Repeating the same joke constantly makes it less funny every time. For example, there are only so many times you can tell the same "fat joke" before it gets old (not to mention fatphobic). And that's mostly the case for former "The King of Queens" star Kevin James' character Eric, a former lawn furniture salesman who is hiding the fact that he was laid off. When not being made fun of for his weight, some of Eric's signature moments include urinating in a public pool, urinating on a canoe, and banging into a tree while swinging on a rope. It's about as crass as you'd expect, but James still gives it his all (he's also the only one of the friends in "Grown Ups" who wasn't also a former cast member of "Saturday Night Live").
James has been a staple of Sandler movies for years, appearing in films such as "Pixels" and "I Now Pronounce You Chuck and Larry." He was also the star of the sitcom "Kevin Can Wait," which generated controversy over the firing and replacing of original co-lead Erinn Hayes with James' former "The King of Queens" co-star Leah Remini, an off-screen drama so big it would allegedly inspire the AMC drama "Kevin Can F**K Himself."
Chris Rock - Kurt McKenzie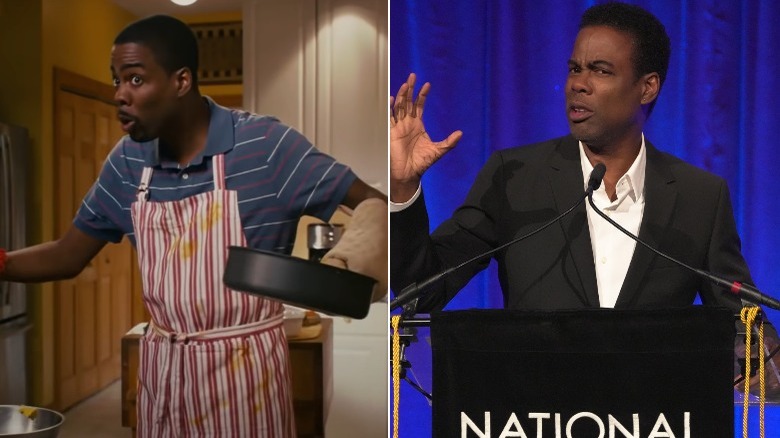 Sony Pictures/YouTube, Kevin Mazur/Getty
Whereas much of the humor around Kevin James' Eric comes from his weight, the humor surrounding Chris Rock's homemaker Kurt comes from him being belittled by both his wife DeAnne and his mother-in-law Mama Ronzoni. Out of all the main characters in "Grown Ups," Kurt feels as though he gets the least amount of prime comedic material. And considering the film already doesn't have much of a plot, the entire role feels like a disservice to the comedian.
But Rock's career is still going strong, thanks to several stand-up specials and guest appearances on television shows — he wrote and directed the comedy film "Top Five" in 2014, and had a major recurring role on the critically acclaimed dramedy "Fargo." Recently, Rock's name has been in the news thanks to the now-infamous slapping incident involving Will Smith at the 2022 Academy Awards. But if Chris Rock can survive "Grown Ups 2," he can surely overcome "slapgate."
David Spade - Marcus Higgins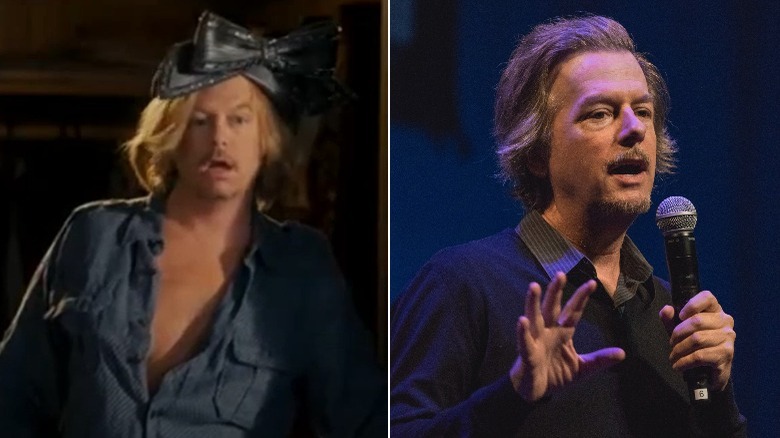 Sony Pictures/YouTube, Rick Kern/Getty
Lenny, Eric, and Kurt are all (somewhat) happily married, but their buddy Marcus prides himself on being a swinging bachelor who can hook up with anyone at any time. In fact, Marcus spends the entire movie either making inappropriate jokes around his friends' children or flirting with their adult-age daughters. David Spade plays the sleazy character well, leaning on an oily charm that has served him well since his days on "Saturday Night Live."
The former "Joe Dirt" and "The Emperor's New Groove" actor has done a few high-profile projects lately, with his latest starring role in the 2020 Netflix comedy "The Wrong Missy" and recurring appearances as Griffin aka the Invisible Man in the  "Hotel Transylvania." He also starred in the CBS comedy series "Rules of Engagement," which ran for seven seasons, finally ending in 2013, and had his own short-lived late-night show on Comedy Central.
Rob Schneider - Rob Hilliard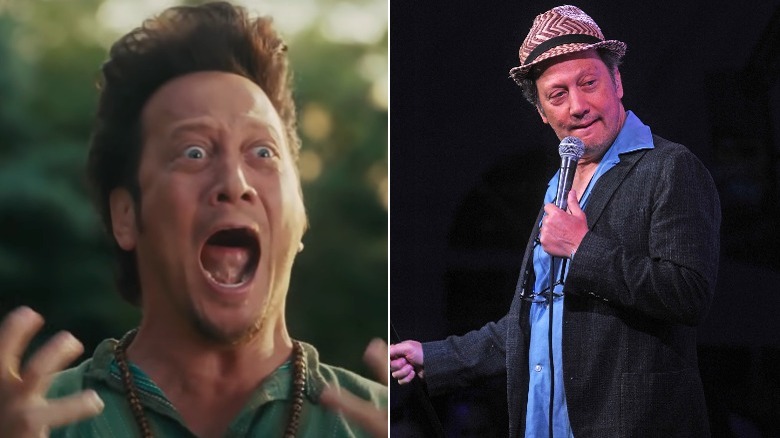 Sony Pictures/YouTube, Bobby Bank/Getty
On the flip side, Rob Schneider's character Rob has been married several times, with his most recent wife Gloria a target for jokes because of how much older than him she is. Other than his friends gawking at his two attractive daughters, Rob's presence in the film is mostly defined by the massive foot injury he gets after a game of "arrow roulette" (a version of Russian roulette that somehow doesn't end up being less dangerous) goes horribly wrong, and the myriad ways he and his friends continue to make the injury worse.
Schneider was the only main actor not to return for "Grown Ups 2," but he still teamed up with Sandler for Netflix films like "The Ridiculous 6" and "Sandy Wexler," and was the lead voice in the animated film "Norm of the North." He also starred in two sitcoms named after him — CBS's "Rob" and Netflix's "Real Rob" — neither of which ran for longer than two seasons.
Salma Hayek - Roxanne Chase-Feder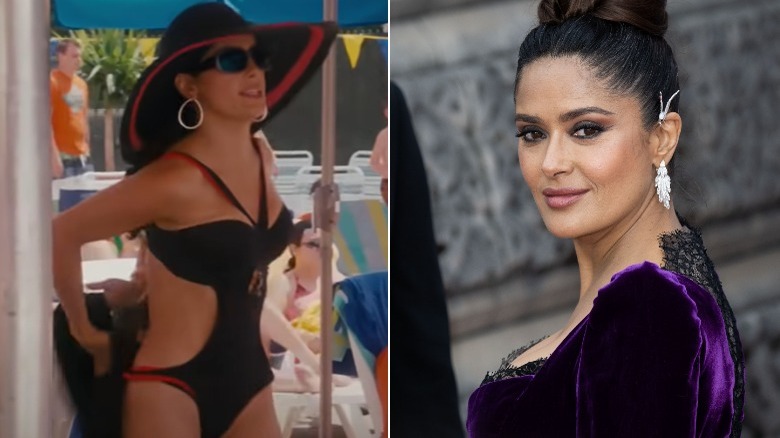 Sony Pictures/YouTube, Jeff Spicer/Getty
Not only does Adam Sandler's Lenny have a successful career in Hollywood, but he is also married to a famous fashion designer. Salma Hayek plays his wife Roxanne, and is the only Oscar-nominated member of the cast. (She received a nomination for playing Frida Kahlo in the 2002 biopic "Frida.") That acting skill is hardly put on display in "Grown Ups," though — she really doesn't do much in the movie except get mad at Lenny for lying about the reason he makes the family stay at the lake house (which immediately gets resolved in the same argument).
But Hayek has done a lot more in the decade since the "Grown Ups" films. 2021 was particularly memorable thanks to her roles in "House of Gucci," "Hitman's Wife's Bodyguard," and "Eternals." The Marvel film was especially significant for her — she said in a "Despierta America" Spanish-language interview translated by Buzzfeed that the feeling of becoming a Latino superhero filled her with so much emotion that she cried when she first put on the costume.
Maria Bello - Sally Lamonsoff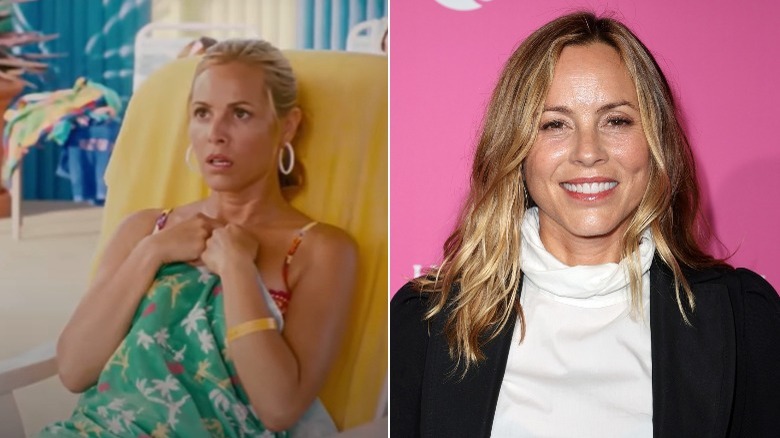 Sony Pictures/YouTube, Kevin Winter/Getty
Eric's wife Sally, played by Maria Bello, also doesn't have much to do in the movie. In fact, her biggest contribution to the film is that her character continues to breastfeed one of her children after they've turned four years old. There's even a moment where Sally accidentally squirts breast milk straight into the face of one of the other wives. Compared to the rest of the film's gross-out gags, this one is, incredibly, pretty tame.
After her time as Sally, the former "ER" actress spent four seasons playing Jaqueline Sloane on the CBS drama "NCIS." She has also held supporting roles in films such as "McFarland, USA," Prisoners," "Lights Out" and "The 5th Wave." Bello's work isn't limited to acting, though — she serves as one of the producers of the upcoming historical epic "The Woman King," starring Viola Davis as the leader of an all-female African military regiment.
Maya Rudolph - DeAnne McKenzie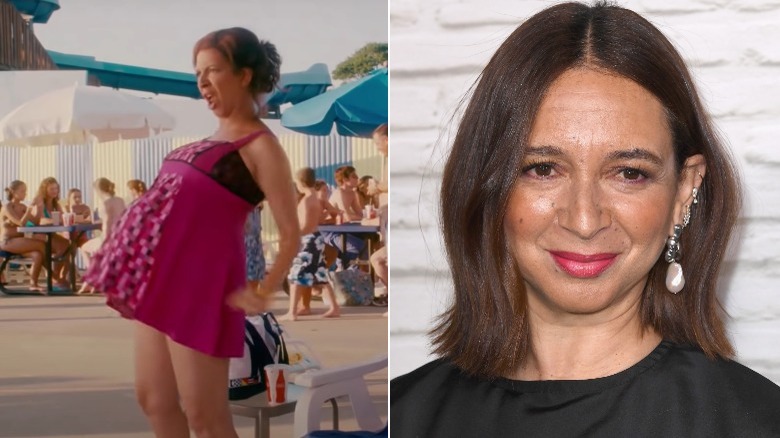 Sony Pictures/YouTube, Albert L. Ortega/Getty
"Saturday Night Live" alumni Maya Rudolph was pregnant with her second child during the filming of "Grown Ups" back in 2009, one of four children she has with "Licorice Pizza" director Paul Thomas Anderson. Her pregnancy was incorporated into her character DeAnne, the wife of Kurt (Chris Rock), who is always ready to criticize him and doesn't do much to stop her mother from doing the same. 
Rudolph may have left "Saturday Night Live" in 2007, but she still makes regular appearances on the show as a host or a guest, most notably for her Emmy Award-winning portrayal of Vice President Kamala Harris. Rudolph's portrayal of Harris is still going strong — she recently told The Hollywood Reporter that "as many purple coats as it takes I'll be happy to be there, as long as she's around." In the meantime, you can find her on Netflix shows "Big Mouth" and "Human Resources," as well as the Apple TV+ series "Loot" and the Disney+ film "Disenchanted."
Joyce Van Patten - Gloria Noonan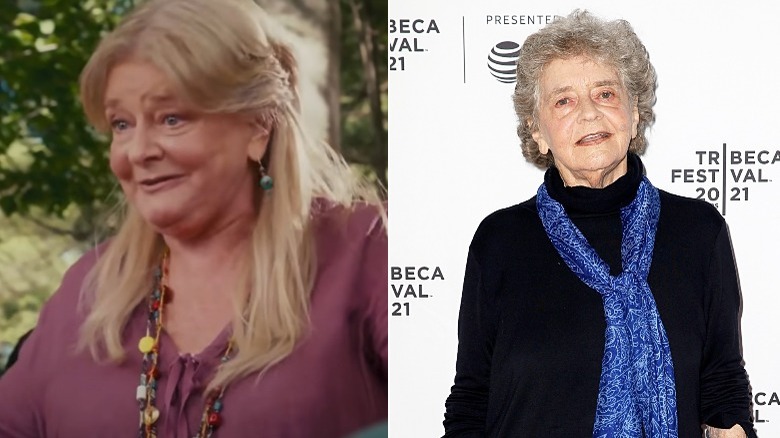 Sony Pictures/YouTube, Dominik Bindl/Getty
Rob Schneider's Rob went through several failed marriages before falling in love with Gloria Noonan, and despite the film constantly making fun of the fact that she's much older than Rob, she is nonetheless the only one able to bring all the couples back together in the end. Since Rob Schneider's Rob didn't return for "Grown Ups 2," this also meant that Joyce Van Patten's Gloria wouldn't make a comeback. Interestingly, Patten was married to the film's director, Dennis Dugan, all the way back in 1973, but the two divorced in 1987.
Patten has been acting since the 1940s, appearing in film, television, and on Broadway. Some of her most significant roles were on shows like "The Don Rickles Show," "Gunsmoke" and "The Twilight Zone." Now nearly 90 years old, she's understandably slowed down quite a bit: The last theatrical film that she starred in was 2018's "Diane."
Steve Buscemi - Wiley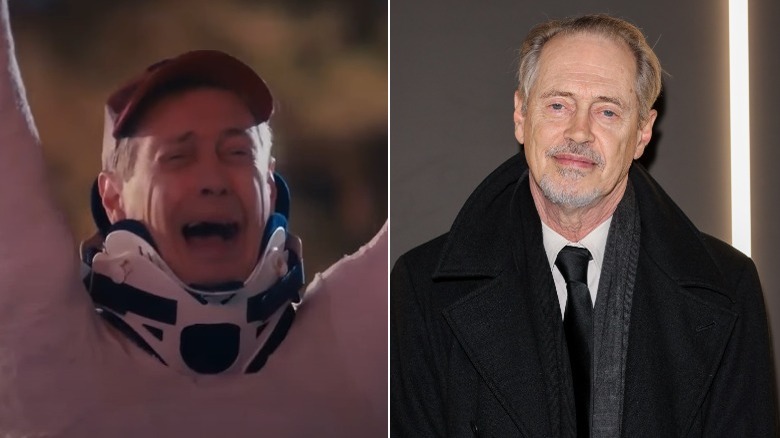 Sony Pictures/YouTube, David M. Benett/Getty
Poor Steve Buscemi. He plays the film's biggest punching bag, Wiley, a former classmate of Lenny and his friends who is constantly getting hurt throughout the movie. It starts with a water park zipline incident that results in him crashing into a shack and being forced to wear a full body cast for the rest of the film, made even worse when "arrow roulette" comes back with a vengeance and targets him.
The same year that Buscemi was getting smacked around as Wiley, he made his first appearance as the ruler of Atlantic City, playing Nucky Thompson on the HBO series "Boardwalk Empire," which ran for five seasons and earned him multiple Emmy nominations. Nowadays, you can find Buscemi on the TBS comedy "Miracle Workers," where he co-stars alongside Daniel Radcliffe in a variety of plots revolving around humorous historical and religious figures in different time periods.
Tim Meadows - Malcolm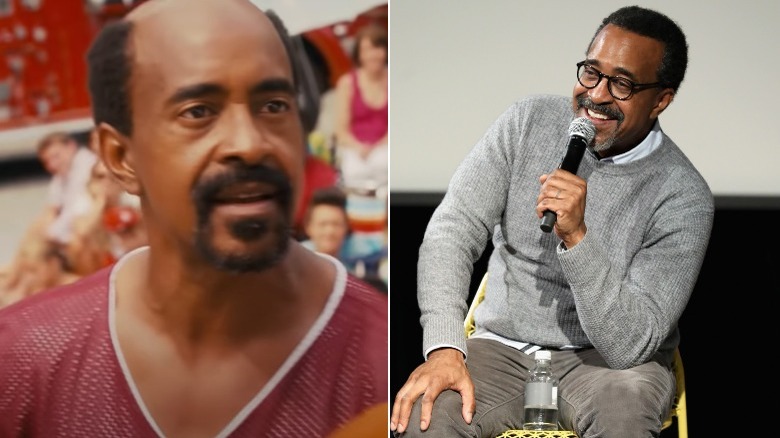 Sony Pictures/YouTube, Cindy Ord/Getty
Malcolm is one of a group of three men who antagonize Lenny and his friends throughout the movie, played by former "Saturday Night Live" cast member Tim Meadows. Not much can be said about Malcolm, other than the fact that he doesn't like Chris Rock's Kurt very much, and that Lenny's group likes to make fun of his baldness. His role in "Grown Ups 2" is even smaller still, but we do get introduced to his son who is almost as bald as he is.
Meadows has been working in comedy for years, appearing in films like "Mean Girls" and "Trainwreck." While most of his films are good, Meadows sticks mostly to television, perhaps most famous for recurring roles on "The Goldbergs" and "Bob's Burgers." He is one of the leads of the Paramount+ comedy series "No Activity," and was also part of the main cast of "School," a spin-off of "The Goldbergs" that lasted for just two seasons.
Colin Quinn - Dickie Bailey
Sony Pictures/YouTube, Noam Galai/Getty
The leader of the group that antagonizes Lenny and his friends throughout the film is Dickie Bailey, played by yet another former "Saturday Night Live" cast member, Colin Quinn. Dickie has a laundry list of grievances against Lenny, chief amongst them the fact that he harbors a belief that Lenny cheated during a decades-old basketball game — a match that will be recreated at the climax of the film.
Quinn starred on "SNL" for several years during the mid-1990s, serving as an anchor for the popular Weekend Update sketch. Since leaving the show Quinn has continued to do stand-up in addition to his acting career. Most recently, he played the father of Amy Schumer's lead character in "Trainwreck," directed his own comedy special on HBO Max, and has released two books that elaborate on his stand-up material. He also reunited with Adam Sandler in Netflix's "Hubie Halloween" in 2020.
Blake Clark – Bobby Buzzer Ferdinando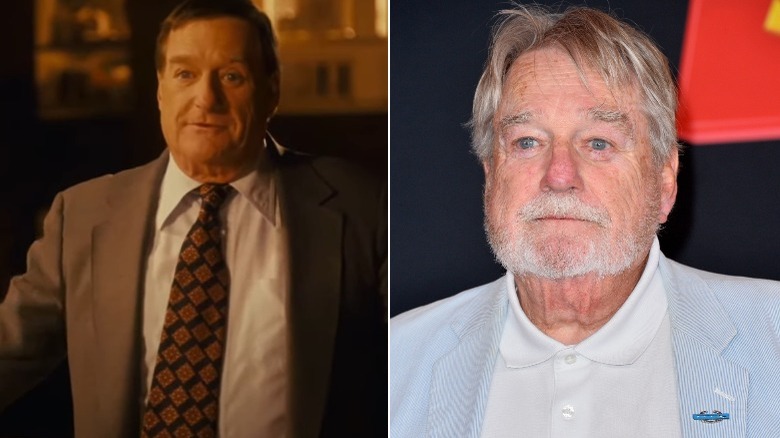 Sony Pictures/YouTube, Featureflash Photo Agency/Shutterstock
Bobby Ferdinando, also known as "Buzzer" to his students, was the coach who brought Lenny and his friends together in the first place. The minor role was played by comedian Blake Clark, who has been working in Hollywood since the 1980s. Clark is one of the many actors in this film who is a frequent collaborator of Sandler's, with some of his more notable roles being the father of Drew Barrymore's character in "50 First Dates" and Farmer Fran in "The Waterboy" (a role he would later reprise in the David Spade comedy "Joe Dirt").
Outside of his Adam Sandler movies, Clark took over the role of Slinky Dog in both the "Toy Story" franchise and other Disney shorts and specials ever since the original voice actor, Jim Varney, passed away. He also has recurring roles in live-action sitcoms such as the Showtime series "SMILF" and the CBS sitcom "United States of Al."
China Anne McClain - Charlotte McKenzie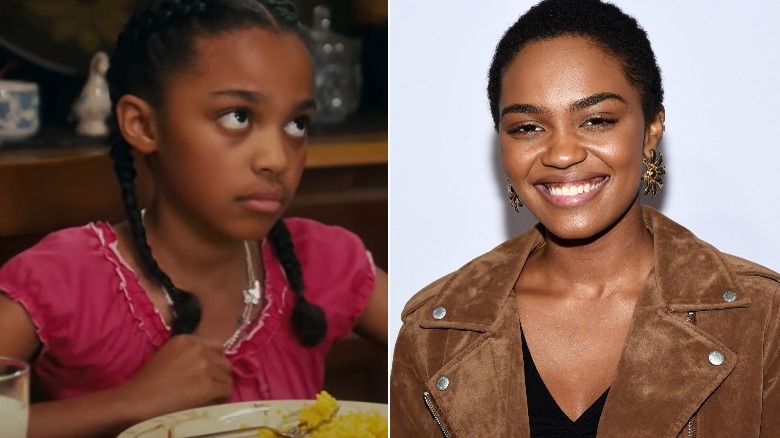 Sony Pictures/YouTube, Amanda Edwards/Getty
Lenny, Eric, and Kurt have a number of children in the film, played by notable child actors. These include Nadji Jeter, known for voicing the character Sam in "The Last of Us" and Miles Morales in the "Spider-Man" video games, and the late Cameron Boyce, who starred in the Disney Channel show "Jessie" and the first three installments in the "Descendants" series. Another former Disney Channel star, China Anne McClain, appeared in the film playing Kurt's daughter, Charlotte. Both the original film and "Grown Ups 2" came out around the same time that McClain was making the rounds on several Disney Channel shows, guest-starring on "Jonas" and "Wizards of Waverly Place" before landing the starring role in "A.N.T. Farm."
After her show ended, McClain continued to act. She played Uma, daughter of Disney character Ursula, in "Descendants" and Lightning in the CW series "Black Lightning." She also has a singing career, both as a solo artist and as a member of the group Thrii, which includes her two sisters, Sierra and Lauryn.
Jamie Chung - Amber Hilliard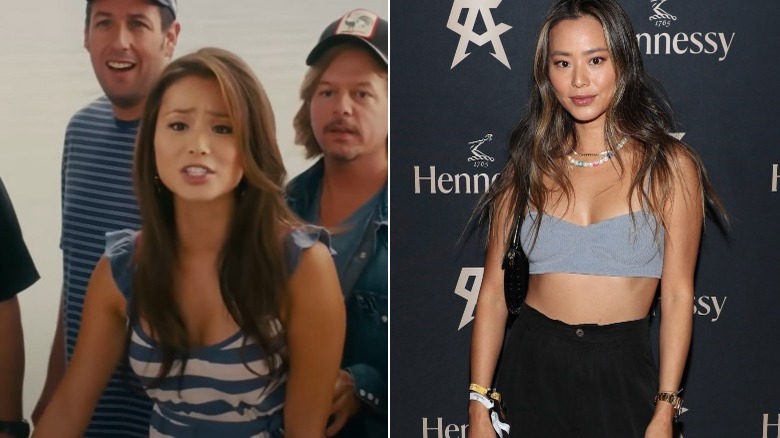 Sony Pictures/YouTube, Jerritt Clark/Getty
A recurring (if problematic) joke in "Grown Ups" is that Rob has several adult daughters, including Amber and Bridget, who the older men can't stop leering at throughout the film. Marcus even goes out of his way to buy them revealing swimsuits so that he can further cement his status as a lecherous middle-aged man with no boundaries. But as creepy, unsettling, and dated as this subplot is, it's hardly the fault of the young women who were cast in the film.
Amber is played by Jamie Chung, who is known for playing Mulan in "Once Upon a Time" and voicing Go Go Tomago in "Big Hero 6: The Series." She is also a former reality television star, having appeared on the first San Diego version of MTV's "The Real World." She later appeared on the tenth season of the spin-off series "The Challenge," also known as "Inferno II," which she ended up winning.