Better Call Saul's Giancarlo Esposito Confirms What We Suspected About Jonathan Banks' On-Set Behavior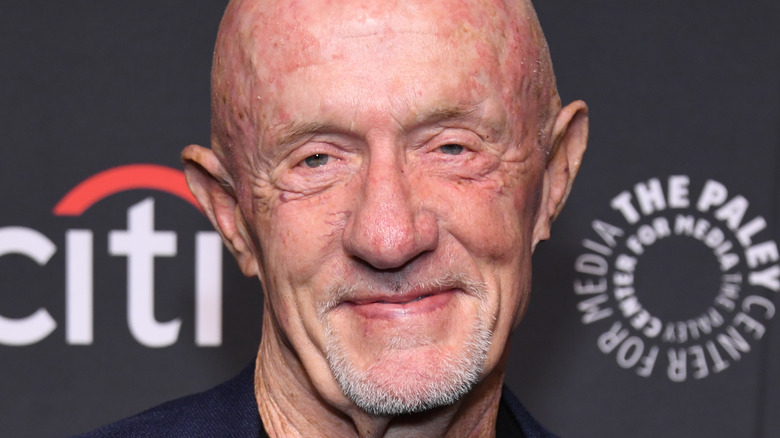 Jon Kopaloff/Getty Images
For four seasons of "Breaking Bad" and six seasons of "Better Call Saul" (not to mention his appearance in the "Breaking Bad" sequel movie "El Camino"), fans have been treated to the particular charms of Mike "The Cleaner" Ehrmantraut, resident problem-solver who works with Saul Goodman (Bob Odenkirk). Mike is played with laconic charm by veteran actor Jonathan Banks, and as multiple seasons of "Breaking Bad" and "Better Call Saul" have revealed new dimensions of his character, the once fearsome tough guy can now be seen as a complex human being who might even be a bit of a softie deep on the inside (within reason, of course).
Might the same thing be true about Jonathan Banks? Banks' "Breaking Bad" and "Better Call Saul" co-star Giancarlo Esposito, who plays the even more fearsome Gus Fring, has some insight into that subject, particularly from his experience working behind the camera as director for the "Better Call Saul" Season 6 episode "Axe and Grind." And he shared some of that insight during an interview.
Giancarlo Esposito spoke fondly of working with Jonathan Banks
Giancarlo Esposito sat down for an in-depth interview with TV Guide about the "Better Call Saul" episode "Axe and Grind," which he directed. The interview covers a lot of ground, and Esposito speaks on his creative process, his thoughts on the significance of the episode for Kim Wexler (Rhea Seehorn), and how he came to direct an episode of the show in which his character doesn't even appear. And he also gives his thoughts on what it has been like to work with Jonathan Banks over the years on both "Breaking Bad" and "Better Call Saul."
In the interview, Esposito says that he and Banks had a difference of opinion on the character of Mike, with Banks seeing him as a man impervious to change, and Esposito seeing more nuance, especially in a scene from "Axe and Grind" between Mike and his daughter-in-law and granddaughter. "He has to give her a directive to go back inside and listen to her mother, which could have been really, really tough," explains Esposito. "That's a directive, an order, but it sets a gentle side of a grandfather," he says, as opposed to the usual situations we've seen Mike give orders in on the job.
As for working with Banks himself, Esposito says that working with the actor can be a challenge simply because of how sharp he is and because, "He also understands Mike better than any of us, and he realizes that Mike has all these colors, and he can pull them out of his back pocket." But Esposito also added, "I contend that Jonathan is a really soft human being underneath his gruff exposure."