Rick And Morty Parodied Hellraiser More Times Than You Probably Remember
When it comes to existential horror, there's no franchise that does it better than Clive Barker's "Hellraiser." The series is based on the legendary author's novella, "The Hellbound Heart," but Pinhead (Doug Bradley) and the Cenobites quickly became horror icons in their own right when the 1987 movie originally arrived in theaters. The body-horror slasher follows what happens when Frank Cotton (Sean Chapman) escapes from the Cenobites' dimension, and he's resurrected as a gross, skinless corpse. From there, Pinhead comes looking for Frank when Kirsty Cotton (Ashley Laurence) solves the demon's puzzle box.
It spawned a franchise of nine sequels, although "Hellraiser IV: Bloodline" was the last one to be released theatrically. Thankfully, there is a brand new "Hellraiser" reboot coming to Hulu in 2022 with "The L Word" star Jamie Clayton in the role of the iconic hell priest. The project from director David Bruckner already has Barker's seal of approval.
"Having seen some of the designs from David Bruckner's new 'Hellraiser' film, they pay homage to what the first film created, but then take it to places it's never been before," the legendary writer explained in a statement. "This is a 'Hellraiser' on a scale that I simply didn't expect. David and his team are steeped in the story's mythology, but what excites me is their desire to honor the original even as they revolutionize it for a new generation" (via Empire Magazine).
Because "Hellraiser" is such an iconic horror franchise, it's been parodied a few times on both "The Simpsons" and "Family Guy." But "Rick and Morty" has also joked about "Hellraiser" more times than you probably remember.
Rick and Morty has made Hellraiser jokes since Season 3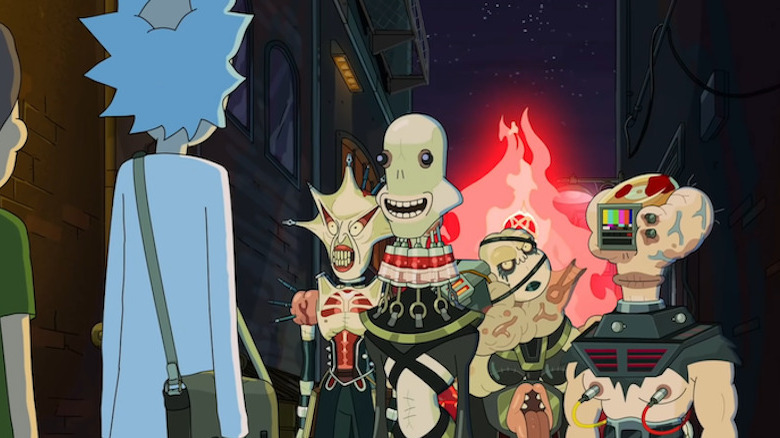 Adult Swim
"Rick and Morty" has always riffed on classic movies while taking shots at generic tropes in science-fiction, action, and horror movies. But when it comes to "Hellraiser," there have been more than a few jokes made at the Cenobites' expense. The first arrived back in Season 3, Episode 5, "The Whirly Dirly Conspiracy," — when Summer Smith (Spencer Grammer) accidentally turns herself inside out thanks to an accident involving one of Rick's (Justin Roiland) gadgets. Beth Smith (Sarah Chalke) says that her daughter has "Clive Barkered herself," this is an obvious nod to Frank Cotton, who spends most of the first movie as a skinless monster.
But the references don't stop there, Lee Hardcastle's stop-motion short series "The Non-Canonical Adventures of Rick & Morty" also takes a jab at "Hellraiser" — as each character takes on a role from the movie in the 14-second episode. Summer plays Kirsty Cotton, with Jerry Smith (Chris Parnell) creeping towards her with a knife as Frank. But all of a sudden, Rick arrives as Pinhead, flanked by Morty (Justin Roiland) as Chatterer, and Mr. Meeseeks as Butterball.
Finally, Season 5 goes all out with the Cenobites in Episode 5, "Amortycan Grickfitti," as it introduces its very own Cenobites. They show up as part of Rick and Jerry's guy's night, as the scientist lets the demons feed off of his son-in-law's misery as an apology for selling them dodgy skin hooks. The Cenobite-inspired demons even have unique grisly skin modifications and tight black leather outfits.
It's moments like these that prove why "Rick and Morty" is so great in the first place — because it's a horror, sci-fi, and action sandbox.