Who Won The Challenge: All Stars Season 2?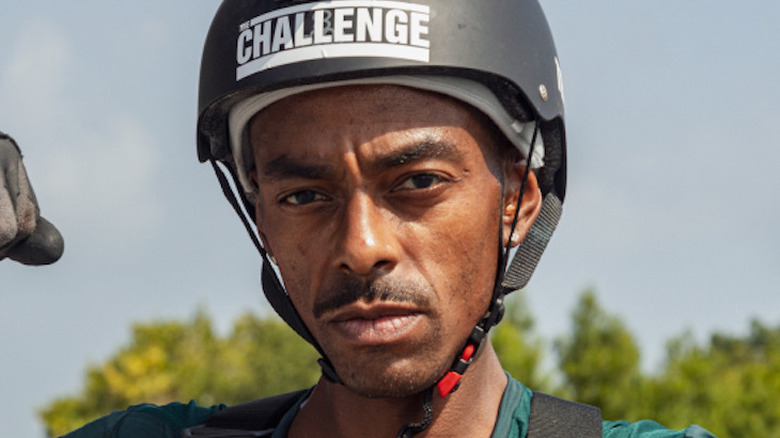 Jesus Paz/MTV Entertainment
"Road Rules" Season 1 alum Mark Long made it his mission to launch a spin-off of "The Challenge" that featured nothing but OGs. The social media campaign, We Want OGs, was a success, and Paramount+ officially debuted "The Challenge: All-Stars" in April 2021. "Road Rules: Semester at Sea" cast member Yes Duffey walked home the first-ever winner of "All Stars," and Season 2 followed that November.
Twenty-four contestants competed in "The Challenge: All Stars" Season 2, including some cast members from Season 1. Ayanna Mackins, Brad Fiorenza, Casey Cooper, Cohutta Grindstaff, Darrell Taylor, Derek Chavez, Derrick Kosinski, Janelle Casanave, Jasmine Reynaud, Jodi Weatherton, Jonna Mannion, Katie Doyle, Kendal Darnell, Laterrian Wallace, Leah Gillingwater, Melinda Collins, M.J. Garrett, Nehemiah Clark, Ryan Kehoe, Sophia Pasquis, Steve Meinke, Teck Holmes, Tina Barta, and Tyler Duckworth all competed for the $500,000 prize. This total was split between two winners — one male and one female.
Four teams powered through the daily challenges to make it to the final, which lasted two days. Darrell and Janelle, Melinda and Nehemiah, Ayanna and Teck, and M.J. and Jonna battled through some seriously tough — and disgusting — challenges to make it to the end of Day 2, where one team came out on top.
M.J. Garrett and Jonna Marrion took home the W in The Challenge: All Stars Season 2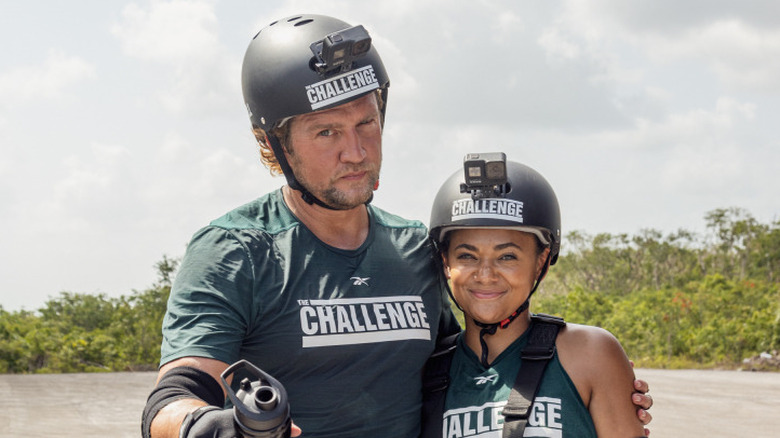 Jesus Paz/MTV Entertainment
Everything boiled down to night two of the final after three teams were left standing. Teck Holmes and Ayanna Mackins quit the challenge after the latter determined she was too exhausted to go on. The final teams were tasked with eating fish-eye tostadas, cricket-stuffed burritos, and cockroach-topped nachos while also having to throw back a glass of blood. After finishing, all three teams made it down a long runway to solve a puzzle that would open up a safe. All three teams struggled with how to open the safe, as which way to turn the lock wasn't clear to them at first.
According to Entertainment Weekly, Jonna Mannion and MJ Garret were the Season 2 winners of "The Challenge: All Stars" after figuring out the tricky lock, which allowed them to run to the finish line. Darrell, Janelle, Melinda, and Nehemiah were understandably upset at their loss. Melinda seemed to take things the hardest as she cried after M.J. and Jonna took off down the runway to their victory. This marks the first-ever final win for Jonna and the second for M.J., who won "The Gauntlet 2" in 2006. 
How it really went down in the last minutes of the final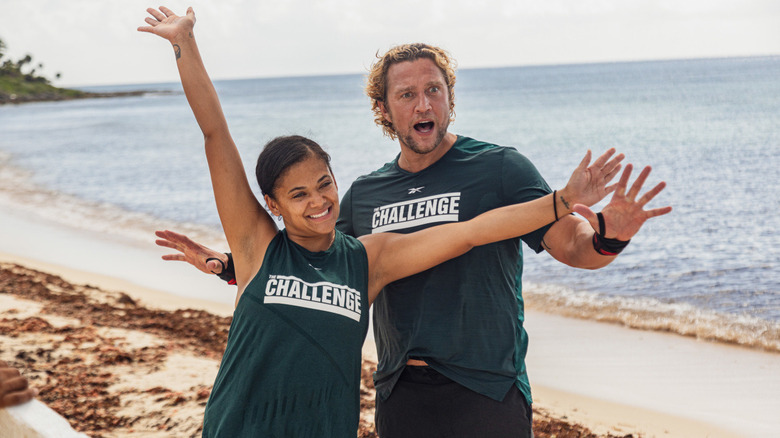 Jesus Paz/MTV Entertainment
Everything is not what it appears to be on reality television. In an interview with Entertainment Weekly, Jonna Marrion and M.J. Garrett revealed the ending was not as close as editing made it seem. "We got to our safe first. It shows Darrell and Janelle getting there first but we actually did," Jonna revealed. She and M.J. said they solved the algebra puzzle before anyone else even arrived, but they couldn't get their safe open. Production apparently told them the safe was broken and told them to leave it and head down the runway to the jet for their victory. After about five minutes of running, a truck picked them up and took them back to try their code again. "By the time we get back, the other two teams are there and I was panicked. And apparently they also had the right numbers. And everybody was having trouble opening the safes," Jonna added.
Thankfully M.J. and Jonna figured out how to open the safe before the other teams. If the situation were reversed and Nehemiah and Melinda or Darrell and Janelle cracked the safe first, it could have caused some controversy behind the scenes due to the producer's mistake.