The Two Seinfeld Scenes Jerry Couldn't Stop Laughing Through While Writing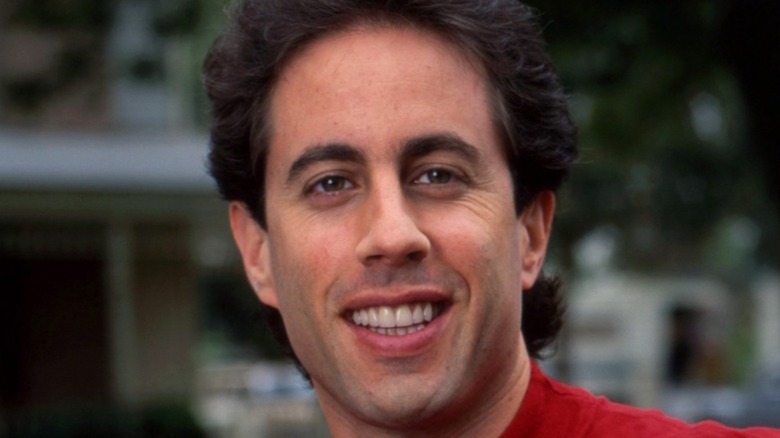 Ann Summa/Getty
"Seinfeld" is widely venerated as one of the funniest television shows ever made (via Rotten Tomatoes). At the center of it all as both co-creator and star was comedian Jerry Seinfeld, who brought a unique sensibility to what was arguably a stale format at the time — the situation comedy.
"Seinfeld" fans all have their picks for the funniest moments throughout the show, whether they watch it according to the star's own model or not. To name just a few, particularly memorable scenes from the series include Kramer (Michael Richards) chugging a beer and smoking a cigarette at the same time and Elaine (Julia Louis-Dreyfus) shooting out psychic beams of rage during a coach class plane trip from Hell. Of course, few could also forget the hilarious incident that causes Estelle Costanza (Estelle Harris) to seek medical attention in Season 4, Episode 11 ("The Contest"). 
However, as it turns out, Seinfeld himself holds two specific sequences in mind when thinking about his favorite scenes in the series, and they may come as a surprise to fans of the show. Writing comedy can be a serious business, but sometimes you can hit a rarefied level where a scene is as funny to write as it is to watch in its completed form. According to Seinfeld, he and Larry David hit that level on multiple occasions during their work on the classic sitcom.
Both of Seinfeld's selections are classic scenes from the show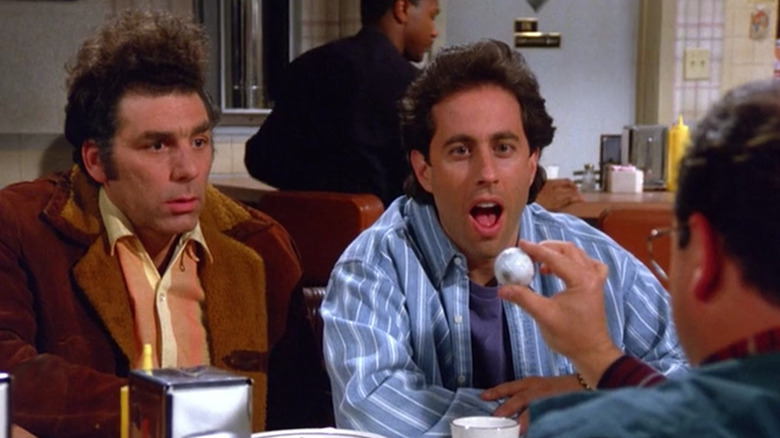 NBC
During a 2014 Ask-Me-Anything session on Reddit, Jerry Seinfeld was asked a question about his history with humor. The commenter wrote, "What was it that made you laugh the hardest that you can remember?" Although he initially made a joke about discovering flatulence as a boy, he later refocused his answer. For whatever reason, Seinfeld chose to focus on the scenes that he found funniest during the writing process, rather than when they were being performed and filmed.
"Larry [David] and I used to have gigantic laughs writing the show," recalled Seinfeld. "I remember one of the first times — when Newman had to take the stand in a courtroom scene, and I believe Kramer cross-examines him, we laughed pretty hard writing that." This comment refers to a scene from Season 4, Episode 4 ("The Ticket") and is a noteworthy reminiscence given how much of the scene's comedic value comes from the performances of Michael Richards and Wayne Knight.
The second scene Seinfeld cited as having made him laugh particularly hard as it was being written is an absolute classic "Seinfeld" scene. In fact, for many fans, this scene comes from one of the best episodes of "Seinfeld." "I also remember writing the last speech of [Season 5, Episode 14] 'The Marine Biologist,' where George tells the story of finding the golf ball in the blowhole of the whale," Seinfeld wrote. "That was a really, really long hard laugh when we wrote that." Notably, Jason Alexander, the actor who portrayed George Costanza, has also recalled the process of developing that particular scene before (via Television Academy Foundation).
Of course, if you're a "Seinfeld" fan, you already know that those long, hard laughs were maintained and even amplified when the sequences made it from writing to execution.