Jesse's Worst Moment Ever On Full House According To Fans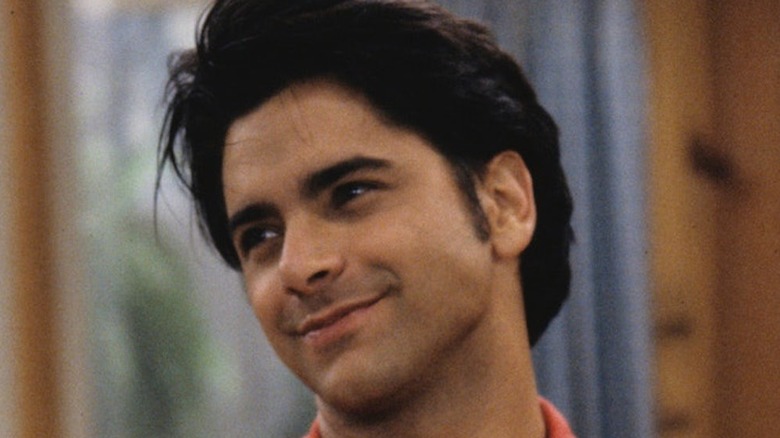 ABC
Jeff Franklin's family sitcom "Full House" ran on ABC from 1987 to 1995 and centers on the ups and downs of the Tanner family. Danny Tanner (Bob Saget) is a widowed father, who is struggling to raise his three daughters: D.J. (Candace Cameron), Stephanie (Jodie Sweetin) and Michelle (Mary-Kate and Ashley Olsen). So, he invites his musician brother-in-law Jesse Katsopolis (John Stamos) and best friend Joey Gladstone (Dave Coulier) to help him with the kids. Other key players include Danny's co-host and Jesse's love interest Rebecca Donaldson (Lori Loughlin) and DJ's quirky best friend Kimmy Gibbler (Andrea Barber).
While all of the characters are beloved in their own ways, Uncle Jesse holds a special place in many fans' hearts. Despite his tough exterior and rock-star lifestyle, Jesse proves himself to be a real softie, who would do anything for his nieces. The series is full of sweet moments between Jesse and the girls, such as when he throws Michelle a makeshift circus party when they get stuck in a gas station and when he helps Stephanie overcome her fear of going to school. It's no surprise that he becomes a great father when he and Rebecca have twins in Season 5.
However, Jesse isn't perfect, and there's one scene in particular that fans have deemed the character's worst moment. Here's what it is.
Fans think Jesse shouldn't have blamed Stephanie for wrecking his bike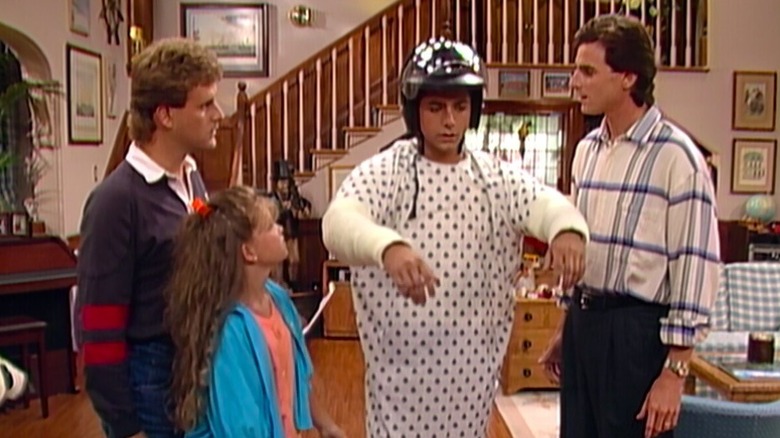 ABC
In Season 2 Episode 1, "Cutting it Close," Stephanie gives Jesse a pretend haircut, but actually cuts off a chunk of his hair by mistake. Fuming, Jesse leaves to get a haircut and in his anger, accidentally wrecks his motorcycle. He has to get casts on both arms and then blames Stephanie for this accident, since she is the reason he needed to get a haircut in the first place. Stephanie already feels guilty over cutting his hair and is now made to feel even worse about being the cause of Jesse's accident. 
In a Reddit post, u/TravoltaFan1978 created a poll to figure out Jesse's worst moment and blaming Stephanie for the accident won in a landslide. Expressing agreement about this unsavory moment being Jesse's worst, u/PerfectNail8 wrote, "I really hated him in that episode where he broke his arms he was so mean to Stephanie." The original poster replied, "I definitely felt awful for Stephanie in that episode." And u/Poke-dermatologist added that the fact that Stephanie was only seven-years-old during this incident makes it even worse.
However, while the motorcycle incident won this poll, "Full House" fans also brought up other moments in the series when Jesse isn't exactly likable. One fan highlighted the incident when Jesse lets a young Michelle walk Comet the dog by herself, which leads to Comet getting temporarily lost, while u/MugBowl pointed out that Jesse trying to be the "fun" chaperone at the museum led to the dinosaur getting destroyed. About the dinosaur display, u/stchape responded, "Ooh yes that episode made me want to punch him."
Stamos calls Uncle Jesse and Full House comfort food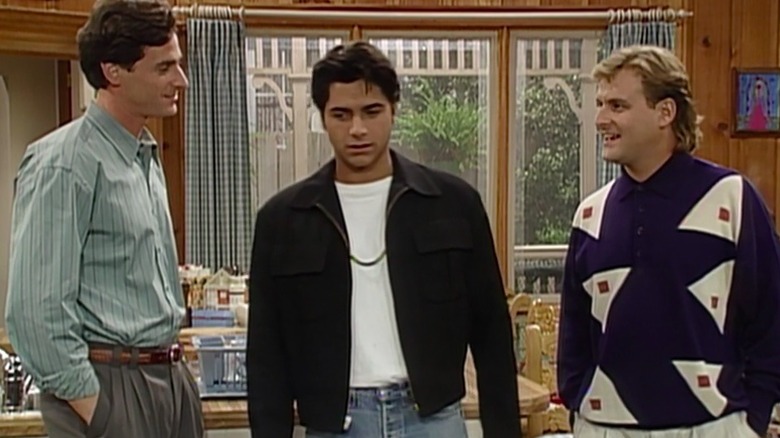 ABC
John Stamos was one of the many original "Full House" actors who decided to return to the show's reboot, "Fuller House," which aired on Netflix in 2016. Stamos had a recurring role on the reboot, appearing in 17 total episodes throughout the five seasons (via IMDb). In an interview with Newsweek, Stamos discussed the decision to return to the character of Uncle Jesse for the reboot, and cited nostalgia as a major reason.
Stamos said, "The bigger point here is that people are craving comfort food. People are craving nostalgia, something that makes them feel safe, right?" Stamos revealed that while filming the first episode, the live audience gave an extended applause just for the reveal of the set, which Stamos said reflects a comfort that he also felt.
The actor continued, "I felt it too. Going into it, I was coming out of a very wonky period and I walked in, onto that stage and that set and 30 years was like 30 minutes. It just jumps time, but it was like 'Ah. I feel safe.'"