The Entire Tanner Family Tree In Fuller House Explained
Few family sitcoms had an impact on the late '80s and early '90s like "Full House" did. Sure, it may be remembered for its corny humor and for the sentimental music that swelled whenever one of the characters learned a big life lesson. Yet the series holds a special place in the hearts of many, who look back on the show with nostalgic affection. "Full House" invited audiences into the lives of Danny Tanner (Bob Saget), Jesse Katsopolis (John Stamos), Joey Gladstone (Dave Coulier), and the three Tanner sisters -– each of whom felt like members of their own families.
In 2016, Netflix released a reboot of the series, aptly titled "Fuller House." The show brought back most of the characters from the original, along with a new generation of family members. With so many new characters added into the mix, it's tough to keep everyone straight. We're here to help readers keep track of the ever-expanding Tanner family tree, so buckle up and let's get started.
The lovable Iorgos "Papouli" Katsopolis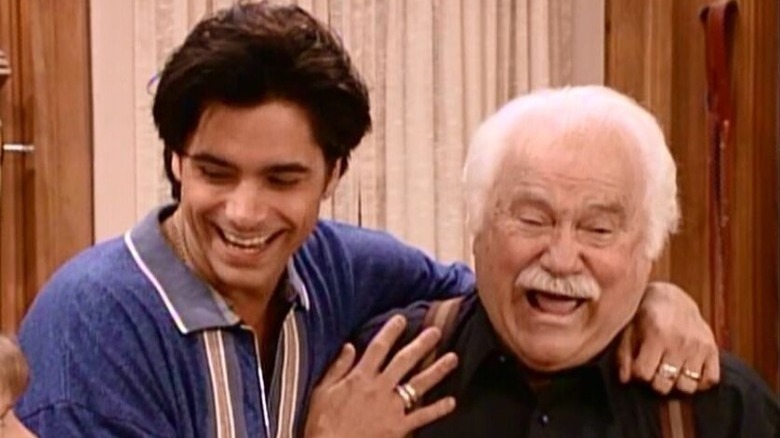 ABC
Iorgos Katsopolis (Jack Kruschen) was the patriarch of the Katsopolis family. Although 89 years old, the lovingly dubbed "Papouli" was a child at heart. He made his one and only appearance in the Season 7 "Full House" episode "The Last Dance," when he visited his grandson Jesse (Stamos) and the Tanner family. During his time with them, Papouli brought joy to the children and adults alike. He taught the family how to cook, and shared with them his famous "Great Dance."
Sadly, Papouli passed away from a heart attack during his visit. This was a very tough time for the family -– especially for Jesse, who shouldered the responsibility of his grandfather's funeral arrangements. This left him very little time to grieve, although having a chat with Michelle (Olsen) about talking through one's feelings finally allowed himself to do so.
Iorgos was born in Greece, where he made his living as a fisherman. He married a woman named Gina, and together the two had a son named Nicholas. It would be Nicholas who would later immigrate to America and continue the Katsopolis line.
Jesse owes his great hair genes to Irene and Nicholas Katsopolis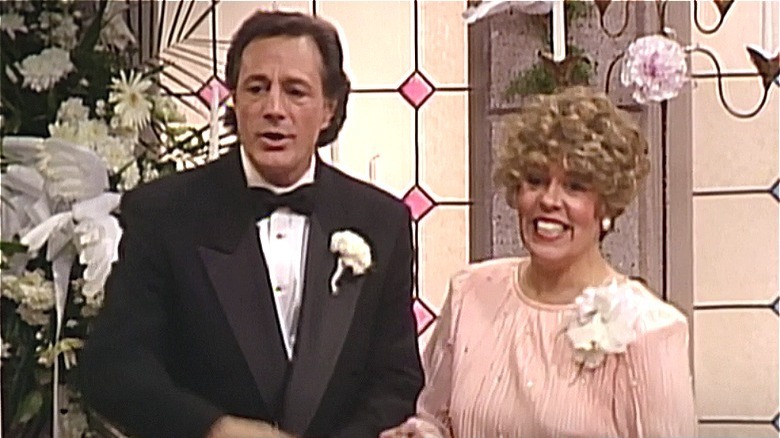 ABC
Nicholas "Nick" Katsopolis (John Aprea) was born in Greece, and later moved to America, where he started his own bug exterminator business. This family endeavor included his son, Jesse -– however, in the "Full House" Season 2 episode "It's Not My Job," tensions sprung between father and son when Jesse left the business to pursue his music career. When Nick threatened to disown Jesse, it was Nick's wife, Irene (Yvonne Wilder), who stepped in to mend the bridge between the two. In the end, Nick still wasn't all that happy about Jesse's new ambition, but accepted him back into the family.
In addition to Jesse, Nick and Irene also had a daughter named Pamela. She would eventually go on to marry Danny Tanner, and was the mother of their three girls. Pamela's death was devastating to both the Katsopolises and Tanners, yet both families managed to come together to help Pam's children in their time of need.
Irene and Nick have had their share of marital spats, but they always seem to find a way to work things out. They often came to visit the Tanner family in "Full House," and Nick also made a guest appearance in the "Fuller House" episode, "Wedding or Not, Here We Come."
Like Jesse, Nick takes great pride in his full head of dark hair. Irene is a doting mother, often sharing fond (and embarrassing) memories of Jesse as a child.
Rebecca Donaldson's Nebraskan roots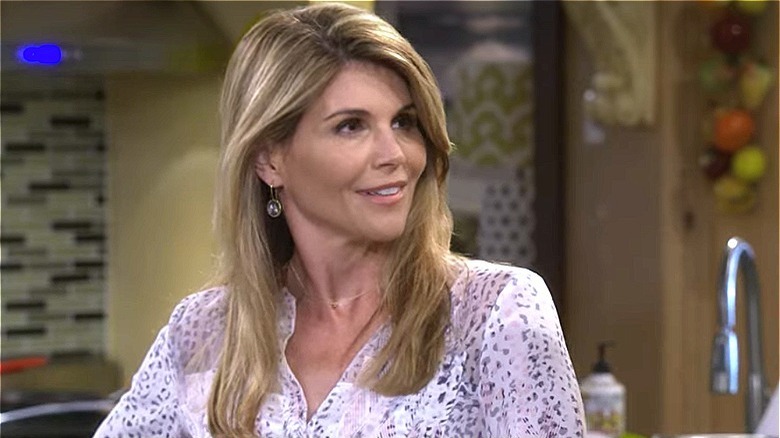 Netflix
Before she was Becky Katsopolis, Rebecca Donaldson (Lori Loughlin) was just a simple country girl living in Valentine, Nebraska. Becky's mother and father are Kenneth (Don Hood) and Nedra Donaldson (Lois Nettleton), who own a farm. Kenneth once told Jesse that before getting married, he was a rodeo cowboy. They met Jesse and the Tanner family for the first time the day before Becky and Jesse's wedding. Kenneth and Jesse had trouble hitting it off at first, as Kenneth wasn't a fan of Jesse's "wild" ways. 
Becky is one of six children -– two girls and four boys –- but has only ever mentioned two of her siblings by name: Corkey and Connie (Debbie Gregory). Becky was once the host of the talk show "A.M. Omaha" before being offered the job of co-host on "Wake Up San Francisco." She relocated to San Francisco, started working with Danny, and immediately caught the eye of Jesse Katsopolis.
Although she told Jesse that she just wanted to remain friends, her view of him eventually changed, and the two began dating. They got married two years later. Becky is a loving aunt to her nieces DJ, Stephanie, and Michelle, and sometimes acts as a surrogate mother to the girls. 
The Katsopolis crew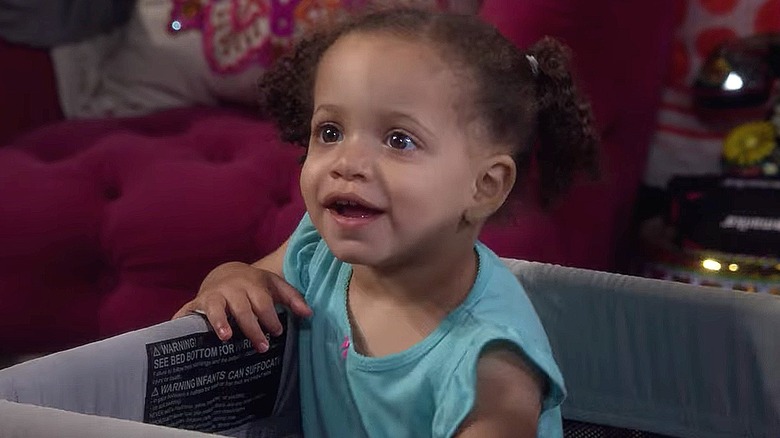 Netflix
Mary Kate and Ashley Olsen weren't the only adorable twins to grace the "Full House" set. In 1991, Nicky (Blake Tuomy-Wilhoit) and Alex (Dylan Tuomy-Wilhoit) Katsopolis were brought into the world by proud parents Jesse and Becky. Being identical, even their parents had trouble keeping them apart. Their mischievous personalities went into full swing once they hit toddlerhood, yet they still managed to bring a bright spot into their mom and dad's lives.   
In "Fuller House," Nicky and Alex are all grown up -– though they have still retained their roguish nature. Now in college, Nicky and Alex have ambitions to own their own fish taco truck. To their father, it seems that the twins have very little direction, but their mom is a bit more understanding. With the boys in college, Becky begins to develop a case of empty nest syndrome. She convinces Jesse that the two should have another baby, and together, they adopt a little girl. They name their new daughter Pamela in memory of Jesse's sister. Pamela was an adorable new addition to the Katsopolis family, and brought a new set of twins to the "Fuller House" crew – Madilynn and McKenzie Jefferson.  
Danny inherited his mother Claire's love of cleanliness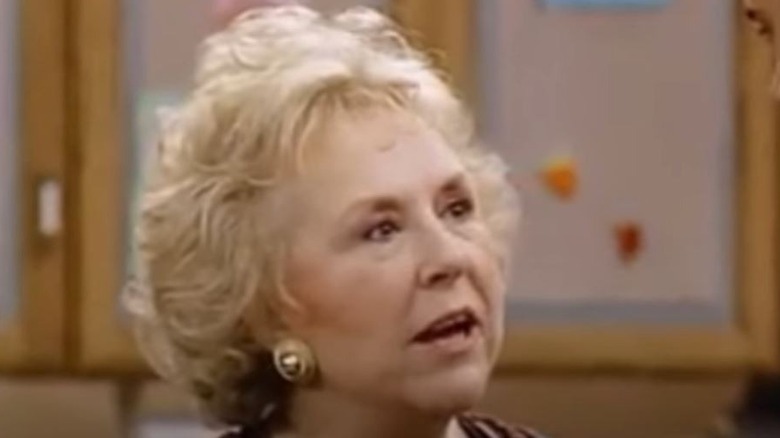 ABC
Not much is known about Claire Tanner (played by Doris Roberts in Season 3 of "Full House"), the mother of Danny and Wendy Tanner, except for her passion for cleaning and her love for her family. Claire lived with Danny and his three daughters for a time to help around the house after Danny's wife died, but moved back home when Joey and Jesse moved in. It was said that Claire is divorced, although her ex-husband's name is never revealed.
During the timeline of "Full House," it's mentioned that Claire lives in Tacoma, Washington. However, in order to be closer to her son and grandchildren, Claire eventually moved to San Francisco. Like Danny, Claire is a neat freak, and she once mentioned that when he was a boy, she and Danny would often bond over cleaning. It seems that her great-grandson, Max, also inherited her love of cleaning in "Fuller House."
Claire is also the mother of Wendy Tanner, a zoologist who moves around a lot for her work. Wendy actually dated Joey for a time on "Full House," although she only appeared for two episodes in the series before disappearing forever.
The Tanner girls
The heart of both "Full House" and "Fuller House" lies with the Tanner sisters. After losing their mother at a young age, DJ, Stephanie, and Michelle were lucky enough to have three dads to help raise them. Over the years, audiences watched as the young girls grew into young women, and overcame many obstacles along the way.
As the eldest, DJ (Candace Cameron Bure) would often take responsibility for her younger sisters. She helped both Stephanie and Michelle through some tough times, while also learning her own valuable lessons along the way. With the help of her dad, Danny, Uncle Jesse, and Joey, DJ grew into a bright and responsible young woman. During her teenage years, DJ started dating Steve Hale (Scott Weinger), and the two had a serious relationship for years. They would eventually rekindle their romance in "Fuller House," and were married in the series finale.
Stephanie (Jodie Sweetin) is the middle Tanner child, and as such, often had to compete for attention. Like her big sister, Stephanie found herself in a lot of tough situations while growing up, which lead to hard lessons. In "Fuller House," Stephanie inherited her Uncle Jesse's love for music, and has talent as both a singer and songwriter. Stephanie moved back to her childhood home to help raise her nephews after DJ's husband passed away.
As the baby of the Tanner family, Michelle was the full of adorable moments on the "Full House" series. When she grew older, she also had her own set of life lessons to learn. She did not join her sisters in "Fuller House," which became a fourth-wall joke in the series. The reason for Mary Kate and Ashley's absence was a simple one -– they now run a successful fashion line. Additionally, Ashley candidly admitted that she did not feel comfortable being in front of a camera anymore.
The Fuller boys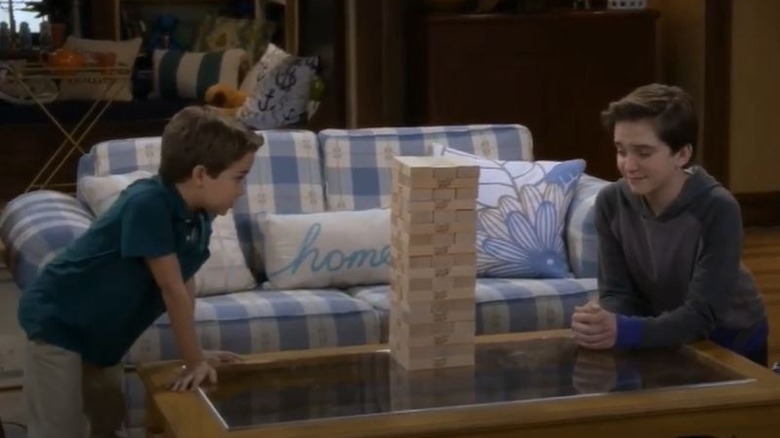 Netflix
The premise of "Fuller House" has quite a bit in common with its predecessor. All grown up with kids of her own, DJ Tanner is now DJ Fuller. After the unfortunate death of her firefighter husband, Tommy, she is left to raise their three boys on her own. However, just as Uncle Jesse and Joey stepped in to help out Danny, DJ's best friend Kimmy and Stephanie provide aid to the Fuller clan.
Jackson (Michael Campion), Max (Elias Harger), and Tommy, Jr. (Dashiell and Fox Messitt) are certainly a handful, but each boy has their own personality and traits that make them special. The eldest, Jackson, is athletic and outgoing, with an interest in both sports and music. Max -– the middle child –- is affectionate, highly intelligent, and enjoys being the center of attention. Like his grandfather Danny, Max also loves to clean. Tommy Jr. is the baby of the three, and like Michelle Tanner before him, he is there to gurgle, grin, and look super cute.
The Fuller boys (like the Tanner girls before them) go through their own trials as they grow up. Even though they may get on each other's nerves, the brothers still love each other and stick together through thick and thin.
Stephanie and Jimmy plus one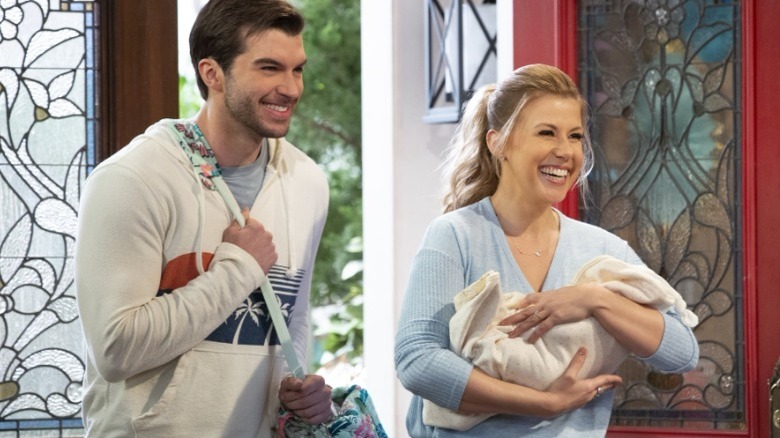 Netflix
As if the surprise that Kimmy Gibbler has a good-looking younger brother wasn't enough, no one could have predicted that Stephanie Tanner and Jimmy Gibbler (Adam Haganbuch) would have ended up together. Yet, somehow, it works. Kimmy and DJ have been best friends forever, and though Kimmy and Stephanie didn't always get along, it seems somehow fitting that Steph would pair up with her little bro.
Jimmy may not be the smartest man in the world, but he has a good heart. He is loyal and considerate, and he loves Stephanie. Although Stephanie is reluctant at first to give Jimmy a chance, in the end she finally admits her feelings for him, and they begin a relationship.
Stephanie originally believes she's infertile, but later finds out she has a few viable eggs. She and Jimmy decide to find a surrogate to carry their child for them. Kimmy volunteers, and later gives birth to Danielle Jo Tanner-Gibbler. After the triple wedding in the "Fuller House" series finale, Stephanie reveals the joyous news to DJ and Kimmy that she is pregnant -– something which they did not believe was physically possible. This miracle was the perfect way to sign off the series, indicating a bright future still to come for the Tanner/Gibbler family.
The Gibbler/Guerrero clan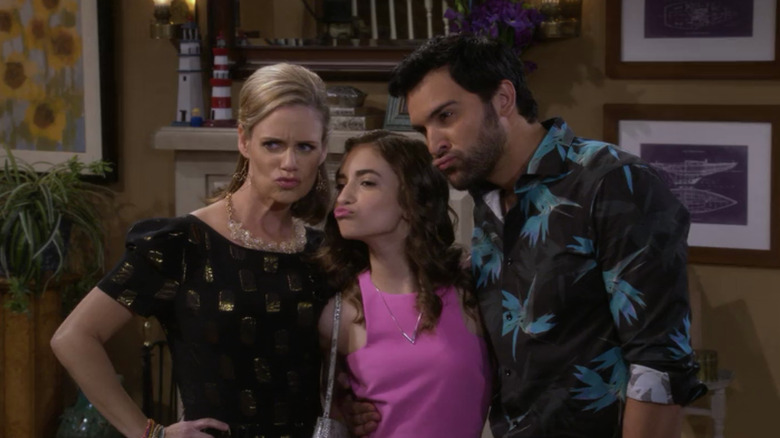 Netflix
If the formula of "Fuller House" has DJ Tanner filling the shoes of Danny, and Stephanie those of Uncle Jesse, who better to take on the role of best friend Joey than Kimmy Gibbler? Kimmy has remained DJ's loyal BFF over the years, so it seems only fitting that she would play a big part in the lives of the Fuller family.
Kimmy has her own motherly duties as well. She and her daughter Ramona (Soni Nicole Bringas) moved into the Tanner home so that Kimmy could help DJ raise her sons. Ramona is not all that thrilled with having to share a living space with the Fuller boys. Yet as the years went by, she and Jackson managed to form a brother/sister type of relationship.
As for Ramona's father, Fernando Guerrero (Juan Pablo Di Pace) and Kimmy have had a fiery on-again, off-again relationship. At the start of "Fuller House," Fernando and Kimmy are divorced, due to him having cheated on her multiple times during their marriage. Yet he claimed to still be madly in love with Kimmy, and eventually he wins her over. The couple were remarried in the triple wedding series finale, "Our Very Last Show, Again."
Joey seems to have fallen far from the Gladstone tree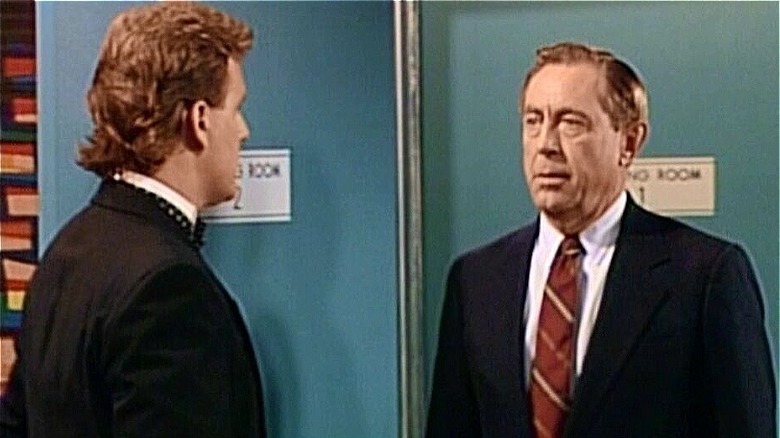 Joey speaks to his father
Known for his cartoonish impressions and childlike humor, Joey Gladstone (Coulier) was one of the surrogate dads on "Full House" who played a big part in the lives of the Tanner girls. He was Danny's best friend in college, and once was an aspiring standup comic. He teamed up with Jesse as a jingle writer for a few years, and eventually got his own TV show, playing Ranger Joe with his puppet sidekick, Mr. Woodchuck.
Joey's father is Colonel Gladstone (Arlen Dean Snyder), a veteran of World War II and a staunch military man. He married Mindy Gladstone (Beverly Sanders), Joey's mother. Unlike her husband, Mindy is a lively, fun-loving woman, and it is likely that Joey got his sense of humor from her. Mindy and the Colonel eventually got divorced, and Joey's relationship with his dad faltered after that.
In the "Full House" episode "Viva Las Joey," Joey gets the once-in-a-lifetime opportunity to open for Wayne Newton while doing standup in Las Vegas. DJ and Stephanie decided to surprise him by inviting his dad, Colonel Gladstone, to the show. However, this led to tensions between father and son, as the Colonel argued that Joey's comedy career was a waste of time and effort. Joey points out to his father that he has always missed out on important events in Joey's life, as he never supported Joey's dreams.
Colonel Gladstone ended up staying to watch Joey's performance, and admitted that he was impressed by what he saw. The two made up at the end of the episode, with the hope that father and son had finally reached an understanding.
Joey and Ginger's kids pay tribute to famous comedians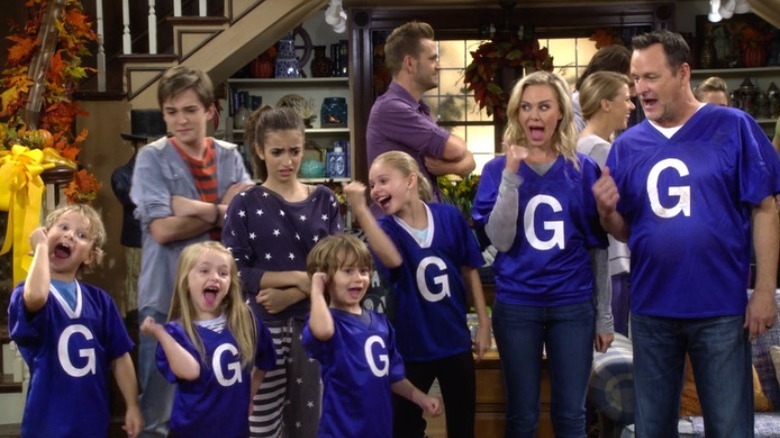 Netflix
Though Joey remained a bachelor throughout the "Full House" series, we discover in the reboot "Fuller House" that his character finally managed to settle down and start a family. Well, maybe "settle down" isn't quite the right phrase. Joey still retained his wacky antics and childlike enthusiasm, and that definitely shows in his parenting style.
In "Fuller House," Joey is married to a woman named Ginger (Laura Bell Bundy). The couple met while Joey was continuing his standup career in Las Vegas. Like Joey, Ginger is a bit eccentric and extremely outgoing. It seems that the two were very busy, as they ended up having four children together.
When Joey and Ginger first introduced the Gladstone kids in "Fuller House" Season 2, their names came as no surprise. Joan (Kingston Foster), Phyllis (Ruby Rose Turner), Lewis (Finn Carr), and Jerry (Noah Salsbury Lipson) were clearly all named after Joey's favorite comedians. Although their names are all incredibly charming, the kids themselves are less so. In fact, the "Gladstone Four" are absolute monsters. They are disrespectful to their parents and to everyone in the Tanner house, yet their mom and dad seem to have no interest in disciplining them whatsoever. Fortunately, the Gladstone kids only terrorized our TV screens for two episodes.