How Bruno From The Disney+ Ms. Marvel Series Could Be More Important Than You Think
Contains mild spoilers for "Ms. Marvel" Episode 1
As Ned (Jacob Batalon) reminds us in "Spider-Man: Homecoming," a superhero always needs a guy in the chair. Who is that, you ask? Someone to watch over the crime fighter they're paired with to back them up and keep them out of trouble, always ensuring that they're at the top of their game when regularly taking on criminals, masterminds, and monsters. In the case of "Ms. Marvel," the latest Marvel Studios Disney+ series, the hero in question, Kamala Khan (Imani Vellani), is backed by her good pal, Bruno Carrelli, who certainly has the smarts to help her out.
Matt Lintz ("The Walking Dead," "The Alienist") plays the teen genius and is one member of an impressive cast. On "Ms. Marvel," he steps up as Kamala's go-to guy for suit enhancements, teasing the likelihood that he'll be doing much more in the way of assisting Kamala embraces her Ms. Marvel mantle. It's a tough job, but thankfully, she has a BFF to do it. Now, of course, there are no small parts in the machinations of the MCU. With that in mind, does Bruno have more to offer both Kamala and the Marvel Cinematic Universe in the grander scheme of things? Well, if Bruno follows in line with his comic book counterpart, he could offer quite a lot to the "Ms. Marvel" story.
Bruno is a super-genius waiting to be put to the test on Ms. Marvel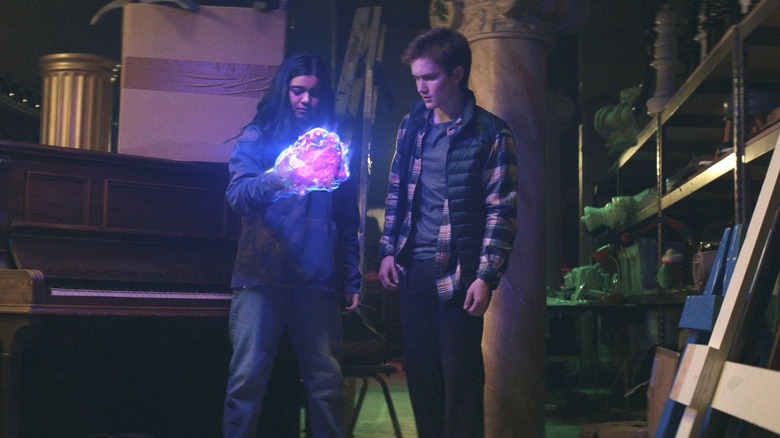 Courtesy of Marvel Studios
Following Ms. Marvel's comics debut in 2014, the Bruno Carrelli we meet on the page has a very different Kamala to deal with. Her shape-shifting power set up in the comics means that her science-boffin buddy has to apply a special synthetic substance of his own making — which is given the oh-so-colorful name "super snot" — to her outfit. When used on her iconic get-up, the elasticity of the material allows her costume to stretch and shrink with Kamala. Bruno's smarts don't stop there, as he can easily understand Inhuman tech when Kamala is taken into the care of the advanced race, much to their surprise.
The "Ms. Marvel" show clearly aims to tell a very different origin story to the Kamala Khan fans are familiar with, but the new course hasn't changed the fact that the show loves to demonstrate how Marvel Disney+ show Bruno is just as bright as his comic book counterpart. In Episode 1, he reveals he's always considering all the angles when he tinkers with adjustments to Kamala's AvengersCon cosplay, going so far as to make her replica photon gloves to add an extra layer of authenticity. From here, it's clear that Kamala's pal (who seems to secretly pine for her) is no time-wasting store clerk and could play a major part in helping her become an even greater hero than the one she sets out to be. Following in the footsteps of Ned, Darcy Lewis (Kat Dennings), or Wakanda's own Shuri (Letitia Wright), Bruno could be one of Marvel's bravest and brightest in the adventures to come.