The Roswell, New Mexico Star Who Starred In The Vampire Diaries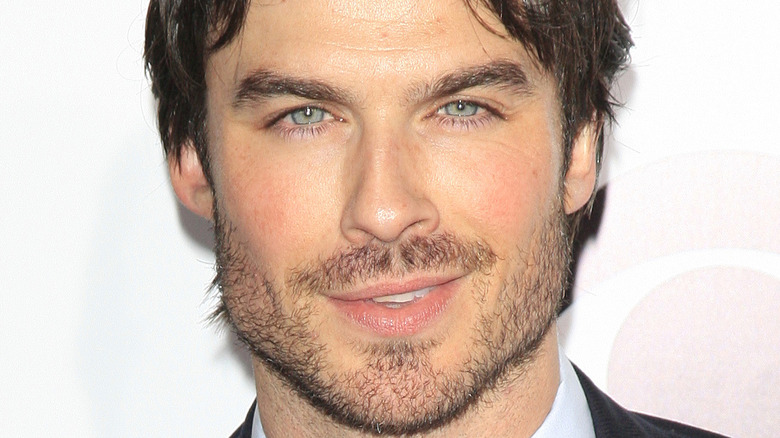 Joe Seer/Shutterstock
One of The CW's biggest shows was the huge eight-season hit, "The Vampire Diaries." Based on the eponymous novels by L.J. Smith, "TVD" debuted in 2009 under showrunner Julie Plec, in the midst of the vampire craze, with its "Buffy the Vampire Slayer" vibes and the first "Twilight" film hitting theatres that year. Both critics and audiences loved the show. Viewers couldn't get enough of one of TV's best love triangles: Nina Dobrev's Elena Gilbert falls in love with both vampire Salvatore Brothers, "good guy" Stefan (Paul Wesley) and hottie bad boy Damon (Ian Somerhalder).
The long-running series made stars of much of its cast — especially among The CW's audiences. Somerhalder, who previously did a short stint on Season 1 of "Lost," co-produces and plays physician Luther Swann on Netflix's "V-Wars," per Us Weekly, and started a bourbon company with Wesley. Wesley recently appeared in CW's "Tell Me a Story." Dobrev is co-producing and starring in the forthcoming film "Sick Girl." Their other co-stars, such as Candice Accola, Kat Graham, and Matthew Davis, continue to work steadily, and many of them continued their roles in the series' spinoffs, particularly in 2013's "The Originals." Davis' Alaric is currently continuing his story in "Legacies."
If you're a fan of young adult-oriented genre shows, or of all things CW, you'd probably recognize the star who was in both "The Vampire Diaries" and The CW's latest hit, "Roswell, New Mexico," but perhaps you forgot.
The Vampire Diaries' Tyler Lockwood has a new supernatural obsession
The CW frequently hires from within, so it's not surprising to see a "Vampire Diaries" star in "Roswell, New Mexico." Michael Trevino, who played werewolf-vampire hybrid Tyler Lockwood on "TVD," traded in vampires and werewolves for aliens.
Trevino currently plays surgeon Kyle Valenti in "Roswell, New Mexico," alongside Jeanine Mason as Liz Ortecho and Nathan Dean Parsons as Max Evans. The series is a reboot of 1999's moderate hit "Roswell," which aired for three full-length seasons — racking up more episodes (61 total) than the current hit. Both are based on the YA books "Roswell High" by Melinda Metz. The new series finished its 3rd season in October, and "Roswell, New Mexico" Season 4 is right around the corner, airing June 6.
Trevino appeared in many television shows since his 2005 debut, including "Charmed," "Without a Trace," and "Bones," before landing a recurring role in "The Riches," opposite Minnie Driver. But his role as Tyler Lockwood put him on the map — and won him back-to-back Teen Choice Awards for TV Male Scene Stealer in 2011 and 2012. Tyler officially left Mystic Falls in 2015 but returned a few times in the final two seasons, including the March 2017 series finale. After a few lesser-known projects, Trevino moved to "Roswell, New Mexico." He made his theatre debut as Raskolnikov in a 2019 Santa Monica adaptation of Dostoyevsky's "Crime and Punishment," and directed a short film in 2021. He is currently co-producing a new feature written by his "Roswell, New Mexico" costar Michael Vlamis (via Deadline).