The Sons Of Anarchy Character You Forgot Dave Navarro Played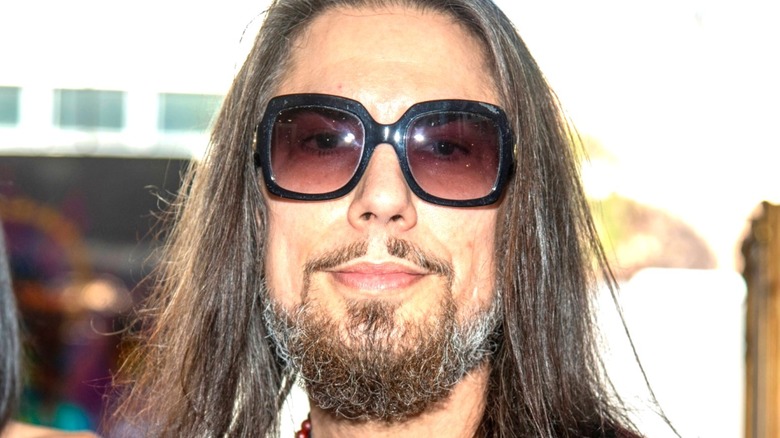 Eugene Powers/Shutterstock
From 2008 to 2014, the TV world seemed enthralled with the motorcycle action crime drama "Sons of Anarchy." Created by Kurt Sutter, the series focuses on SAMCRO leader Jax Teller (Charlie Hunnam) as he tries to keep his gang operating while he copes with his own uneasiness about their outlaw ways. The show is full of unflinching moments that undoubtedly caused a lot of behind-the-scenes drama, but "Sons of Anarchy" is also a remarkable modern Shakespearean tragedy that brings up the complexities of familial bonds, betrayal, and brotherhood. Just as you might hear your neighbors noisily revving those Harleys, it was apparent that "Sons of Anarchy" had announced its arrival in a way that could not be ignored.
Proof of its place in the pop culture landscape could also be seen in the show's surprisingly varied guest star appearances. "Sons of Anarchy" has seen celebrities from all walks of Hollywood life — Ashley Tisdale of "High School Musical" fame; Joel McHale, who at the time was getting laughs on NBC's hit show "Community"; and the Guinness Book of World Records most-watched man on television, David Hasselhoff, just to name a few. One of the most surprising guests on the series is probably rocker Dave Navarro. The musician, who has served as lead guitarist for Jane's Addiction and The Red Hot Chili Peppers, as well as host of "Ink Master," got the chance to play a character on "Sons of Anarchy." 
Navarro appears as Arcadio Nerona for two seasons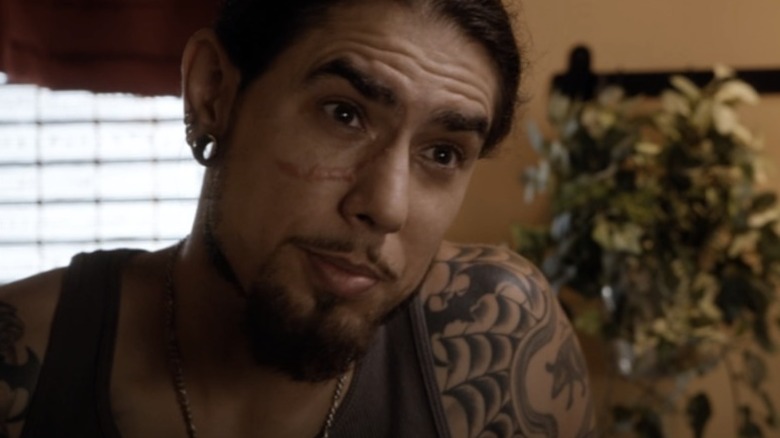 FX
Per The Hollywood Reporter, during the last two episodes of "Sons of Anarchy" Season 5, Navarro portrays Arcadio Nerona, a member of the Byz Lats street gang. The Byz Lats gang is introduced in Season 5 via their affiliation with former leader Nero Padilla (Jimmy Smits). As Nero becomes more involved in the lives of Jax and Gemma Teller Morrow (Katey Sagal) throughout the season, the Byz Lats begin working together with SAMCRO. It's also revealed in the series that Arcadio is the cousin of Nero, and that family link makes his final appearance in "Sons of Anarchy" much more tragic.
In Season 6, Arcadio meets his demise because of his cousin. In the episode "One One Six," Arcadio is last seen trying to help his girlfriend escape from SAMCROW. The gang is trying to keep her hidden from authorities, as a tragic incident related to her deceased son can be traced back to the club. However, Arcadio's girlfriend is convinced that the gang will eventually kill her. As Arcadio holds off Jax and Gemma at gunpoint and plans to join his girlfriend in an escape, Nero murders him with a shot to the head. The family murder is horrific, and could even be seen as a bit of foreshadowing for the conflict between Jax and Gemma in the final season.
Jane's Addiction performed a song for the show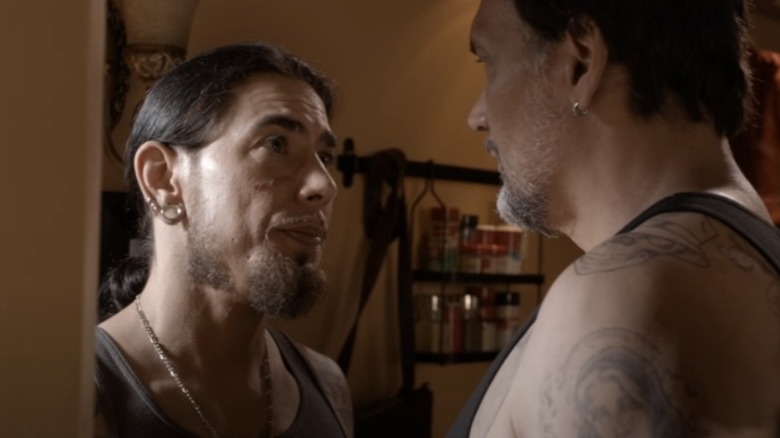 FX
Honestly, it would be a shame to have a rock musician appear on your show and not get some type of musical contribution. Fortunately, "Sons of Anarchy" got just that out of Dave Navarro. His band Jane's Addiction recorded a cover of The Rolling Stones' "Sympathy for the Devil" for Season 5. The cover is much more grounded and rustic than the Rolling Stones' rock and roll original. It fits the show better than a well-worn black leather vest, as its overall tone is similar to the series' theme song, "This Life." That could honestly be on purpose, as Navarro's initial relationship with the show began thanks to his friend Dave Kushner, who also worked on the theme song (via Interview Magazine).
While some fans may have expected a brand new song from the band, artists performing famous covers for "Sons of Anarchy" was actually something of a tradition, as the soundtrack largely focused on covers of well-known songs. Even one of the series' stars got the chance to show off their musical chops, with Katey Sagal performing several covers throughout the series, including "Son of a Preacher Man" and "The House of the Rising Sun." It actually brought her career full-circle, as before her big TV break on "Married... with Children," Sagal had released a few albums and performed backup singing for artists like Bob Dylan (via Los Angeles Times).