The Tom Hanks Mobster Drama You Likely Didn't Know Was Based On A Graphic Novel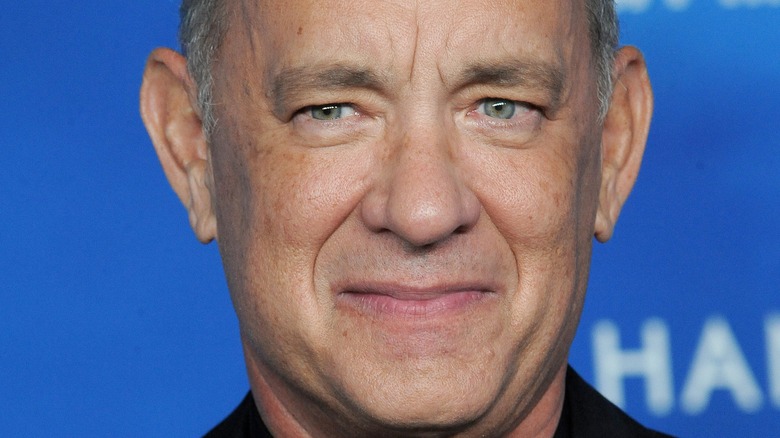 Tinseltown/Shutterstock
Tom Hanks is an actor with one of the most prolific careers in Hollywood. His numerous and memorable film roles, spanning multiple decades, have displayed an impressive range few other leading actors could match. From voicing Woody in "Toy Story" to FBI agent Carl Hanratty in "Catch Me If You Can," Hanks' work has had such a noticeable impact on the world of pop culture. And it appears that the actor has no plans to slow down. Hanks is currently attached to a film adaptation of the graphic novel "Here" from author Richard McGuire (via Deadline).
The project may have raised a few eyes because it reteams Hanks with "Forrest Gump" director Robert Zemeckis and writer Eric Roth. But "Here" isn't only a special reunion for Hanks because of Zemeckis and Roth. It's also a return to a particular type of project. Fans may initially think that "Here" serves as Hanks' first comic book-related movie. However, "Here" isn't the first time Hanks has worked on a film adaptation of a graphic novel. In 2002, the actor starred in an acclaimed mobster drama pulled from the pages of a DC comic.
Road To Perdition is based on a graphic novel
At the time, the Great Depression-era film "Road To Perdition" felt like a departure from Hanks' usual roles of relatable good guys. Before the film, we'd become used to seeing the actor portray lovable everymen such as Chuck Noland in "Cast Away." Instead, in "Road To Perdition," Hanks portrayed feared Irish mob enforcer Michael Sullivan, who travels on a path of revenge with his son after a horrible betrayal by his employers. The grizzled character is a more complex shade of murky gray. He's also originally a comic book character. The movie, directed by Sam Mendes, is based on the 1998 DC Comics graphic novel by writer Max Allan Collins and artist Richard Piers Maynard (via DC Comics).
If the story of an anti-hero killer and his son walking the path of vengeance sounds a little familiar to manga fans, that's because "Road To Perdition" was influenced by a samurai classic. In an interview with BBC, Collins revealed that "Road To Perdition" is an homage to "Lone Wolf And Cub" by Kazuo Koike and Goseki Kojima. In "Lone Wolf And Cub," a skilled samurai executioner is betrayed by his shogun master and travels on a path of revenge with his infant son. It is not hard to connect the thread between "Road To Perdition" and the manga. It's also not too difficult to see just how wide of an influential net "Lone Wolf And Cub" has placed over western media. For instance, even "The Mandalorian" could be seen as a "Star Wars" homage to the iconic Japanese comic (via Den Of Geek).
There are some notable differences between the graphic novel and film
It's scarce for a movie version of a comic book to remain 100% exact as its source. From minor story tweaks in the MCU to taking extreme liberties with character designs in "Batman" movies, certain things are guaranteed to differ when a graphic novel is adapted into a film. Yet it's worth noting that the "Road To Perdition" movie didn't stray too far from its comic book source in the eyes of its original creator. "I find it interesting and a little humorous that if you listen to Sam Mendes and [cinematographer] Conrad Hall, they think they've strayed," Collins said to Entertainment Weekly. "I've even seen a couple places say it's 'loosely based on the graphic novel.' The fact is that about two-thirds of it is directly from the graphic novel."
Despite using a large portion of the comic, some key differences are hard not to notice. For one, compared to the film's somber tone, the original comic can feel more like a pulp affair (via Time) that probably brings to mind old sensational comics like "The Shadow." The level of violence isn't the same between the two either. As the film ventures into showing some offscreen deaths, its comic counterpart isn't afraid to graphically show way more spilled blood. There are also some notable differences between the characters. The most significant is that Jude Law's character of Harlen Maguire is entirely new and not featured in the comics. And, if a movie sequel to "Road To Perdition" is ever greenlit, there is still plenty of comic book story to use. Collins has authored sequels to the original series that continue the journey of Michael O'Sullivan's son and his grandson (via DC Comics).