Forrest Gump Wasn't Filmed Where You Probably Thought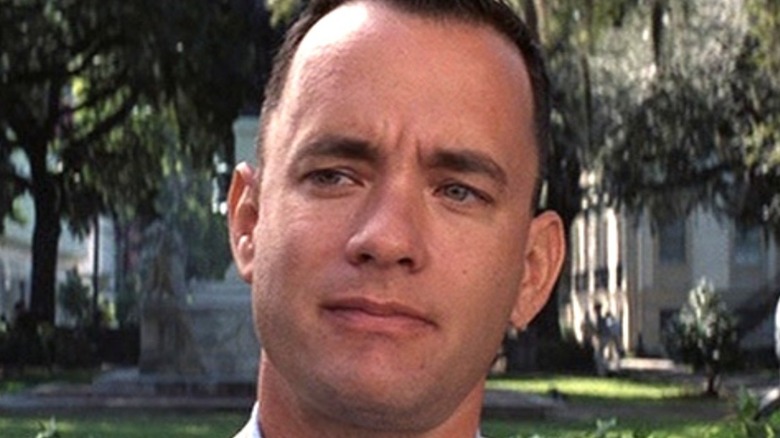 Paramount Pictures
"Forrest Gump" was one of the biggest movies of the mid-1990s, winning six Oscars, including best picture, best director, and best actor at the 1995 Academy Awards ceremony, according to the New York Times. The film, which centers on a slow but kindhearted man named Forrest Gump (Tom Hanks) and also stars Robin Wright, Gary Sinise, and Sally Field, is primarily set in the fictional town of Greenbow, Alabama, although Forrest's charmed life takes him to the White House and New York City and even on a three-year trek across the country.
But it all starts with a bus stop scene where Forrest chitchats with various strangers about his life, which had Hanks asking director Robert Zemeckis, "Is anybody going to (care) about this?" (via USA Today). Turns out they did. Millions of moviegoers followed Forrest all across America — or so they thought — as he retold his story.
Forrest Gump wasn't filmed in Alabama at all
Forrest Gump's Alabama hometown is a big part of his story. Several scenes showcase his mom's Alabama boarding house, but the film wasn't actually shot in the Heart of Dixie. The Lowcountry & Resort Islands Tourism Commission reveals that most of the movie was filmed in South Carolina and Savannah, Georgia.
The Gump family home is really located in Yemassee, South Carolina, and the house was actually hastily built for the movie and then torn down after filming wrapped. Ditto for the farmhouse that Forrest's childhood friend and future wife, Jenny (Robin Wright), lived in. Childhood scenes, such as the famous "Run, Forrest, run!" segment when teen bullies chase the title character down a wooded dirt road, were filmed in Yemassee and Beaufort, South Carolina (via Smithsonian Magazine).
Scenes set at the University of Alabama, where Forrest Gump is a star football player, weren't filmed at the school's Bryant–Denny Stadium but were instead shot in California, at East Los Angeles College's Weingart Stadium, according to Deep South Magazine. Even more surprising is that the Vietnam scenes in the movie were filmed at Hunting Island State Park in South Carolina. According to the tourism commission, some war scenes were shot at the Ocean Creek Golf Course on Fripp Island, and mountains and some trees were later added in by the film's special effects department.
Also according to Deep South Magazine, the bus stop bench scenes were filmed in Chippewa Square in Savannah, Georgia, and producers had to take extra steps to get the scene set up. In order for the bus to pull up on Forrest's right side as he sat on the bench, the direction of one-way traffic near Chippewa Square had to be changed during filming.
Tom Hanks helped pay for one of the most expensive on-location shoots in the film
Bennekom/Shutterstock
One of the most memorable scenes in "Forrest Gump" — the character's iconic cross-country run — entailed a costly, 27-day filming schedule that took place all along the East Coast, per USA Today. The famous "interview scene" from Forrest's iconic cross-country run was not filmed on a bridge over the Mississippi River as is stated in the film but was instead shot on the historic Woods Memorial Bridge, which crosses over the Beaufort River in South Carolina, according to the tourism commission.
But the cross-country trek, which ended in Arizona and Utah's Monument Valley according to Smithsonian Magazine, probably wouldn't have happened if Tom Hanks and Robert Zemeckis didn't open up their checkbooks. After Paramount Pictures refused to pay to shoot the extensive running segment, the two agreed to split the cost, as well as cover insurance for another scene with the stipulation that they'd get a bigger stake in the movie profits (via The Hollywood Reporter) — a smart move, in retrospect.
Hanks made out in the end — "Forrest Gump" became a bonafide box office blockbuster, earning over $678 million worldwide (via Box Office Mojo), and the Oscar-winning actor earned around $65 million dollars after making those savvy production deals.