Whatever Happened To The Cast Of Mr. Deeds
In the first decade of the 2000s, Adam Sandler headlined more than a dozen movies. Love them or loathe them, Sandler's comedies have always maintained a loyal audience, and the vast majority have been major box office successes, even when the critical reception has been less than favorable. Despite the fact that about 84% of his movies have received rotten scores from critics on Rotten Tomatoes, Sandler's high volume of output has earned him a spot on the list of Hollywood's 100 most bankable stars. To date, his films have earned just shy of $3 billion at the domestic box office and even more overseas.
2002 in particular was a big year for Sandler, as he showcased his surprising range: He took a highly acclaimed dramatic turn in Paul Thomas Anderson's "Punch Drunk Love," provided a collection of vocal performances in the animated Hanukkah movie "Eight Crazy Nights," and both starred in and executive produced in the comedy "Mr. Deeds." 
This 2002 film is a modern remake of "Mr. Deeds Goes to Town" from 1936. Gary Cooper previously starred in Sandler's role as Longfellow Deeds, and Frank Capra took home his second of three Academy Awards for Best Director for the original film. The 2002 update was directed by frequent Sandler collaborator Steven Brill. Brill also directed Sandler in "Little Nicky," "The Do-Over," "Sandy Wexler," "Hubie Halloween," and the musical standup special "Adam Sandler: 100% Fresh."
The cast of "Mr. Deeds" is packed with plenty of Adam Sandler regulars, as well as some new faces in the Adam Sandler universe. So, let's check in on what these actors have been up to in the two decades since the film's release.
Adam Sandler (Longfellow Deeds)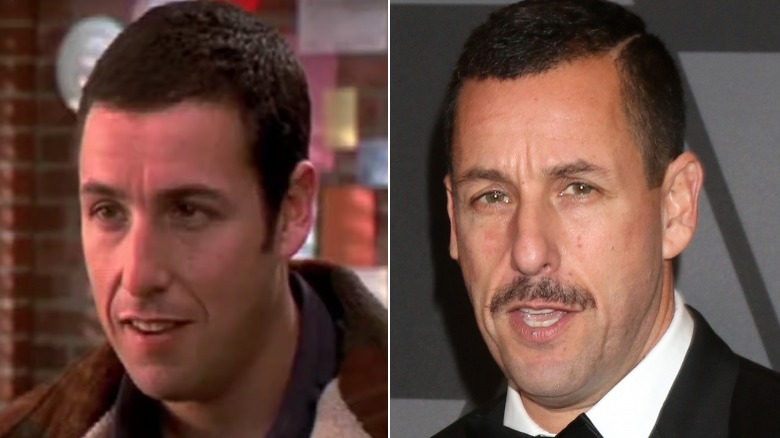 Kathy Hutchins/Shutterstock & Sony Pictures
In the years since "Mr. Deeds" was released, Adam Sandler's career has had some ups and downs, but has shown no signs of slowing down. With dozens of credits over the past two decades, Sandler has continued with his trademark comedy fare, as well as occasionally branching out into more dramatic territory. Films like "The Meyerowitz Stories: New and Selected," "Funny People," and "Uncut Gems" have showcased the more serious side of Sandler, while movies like "Grown Ups," "You Don't Mess with the Zohan," "Jack & Jill," and "That's My Boy" cater to his more expected comedy crowd. Sandler has also had a handful of voice acting roles in recent years, most notably lending his voice to Dracula in the "Hotel Transylvania" animated children's movie series.
Sandler's career saw a significant boom in the streaming era, as his movies became some of the most viewed titles on Netflix, totaling over 2 billion hours watched (via World of Reel). His popularity in the age of streaming led to a massive $250 million deal with Netflix in 2014 to create four original projects for the platform, which made him one of the highest paid actors around. The results left both parties satisfied enough to want to extend their deal twice: first in 2017, and then in 2020 (via Business Insider). Films made as a part of this Netflix deal include "The Ridiculous 6," "Hubie Halloween," "Murder Mystery," "The Do-Over," "Sandy Wexler," and more. A sequel to "Murder Mystery" is currently in the works.
Winona Ryder (Babe Bennett)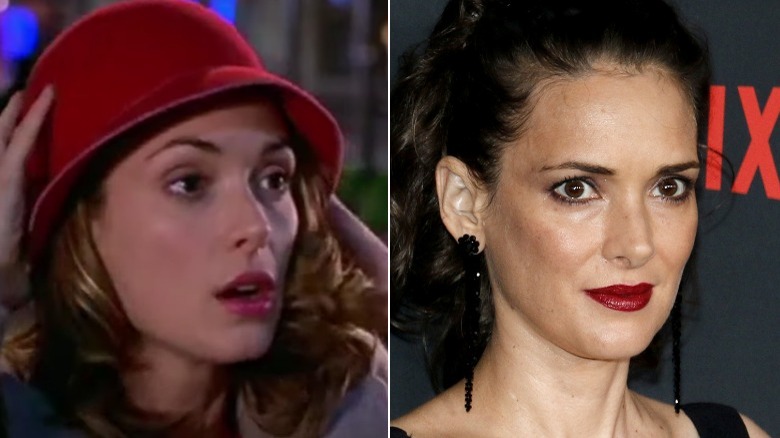 Tinseltown/Shutterstock & Sony Pictures
Winona Ryder co-starred alongside Adam Sandler in "Mr. Deeds" as his love interest, Babe, who is also a tabloid reporter with a secret agenda to write a piece on him and his newfound wealth. Before "Mr. Deeds," Winona Ryder's career got off to a strong start with starring turns in cult classics "Beetlejuice" and "Heathers" within her first couple of years in the industry. She followed up these early successes with films like "The Age of Innocence," "Bram Stoker's Dracula," "Edward Scissorhands," "The Crucible," and "Girl, Interrupted," among others.
Shortly before the release of "Mr. Deeds" in 2002, Winona Ryder was embroiled in controversy in December of 2001 when she was arrested for felony grand theft and possession charges (via NY Daily News). She was quickly released on bail, but the incident may have had an effect on the momentum of her career, as audiences didn't see Ryder on screen again until the mid-2000s. Ryder eventually began to appear in noteworthy films in later years, such as "A Scanner Darkly," "Black Swan," and the 2009 reboot of "Star Trek." 
More recently, Ryder's most notable projects have been television series for HBO and Netflix. For HBO, she co-starred in two David Simon-helmed mini-series: 2015's "Show Me a Hero" and 2020's "The Plot Against America." However, without a doubt, her most prominent role of late has been her starring role as Joyce Byers on the Netflix original series "Stranger Things."
Jared Harris (Mac McGrath)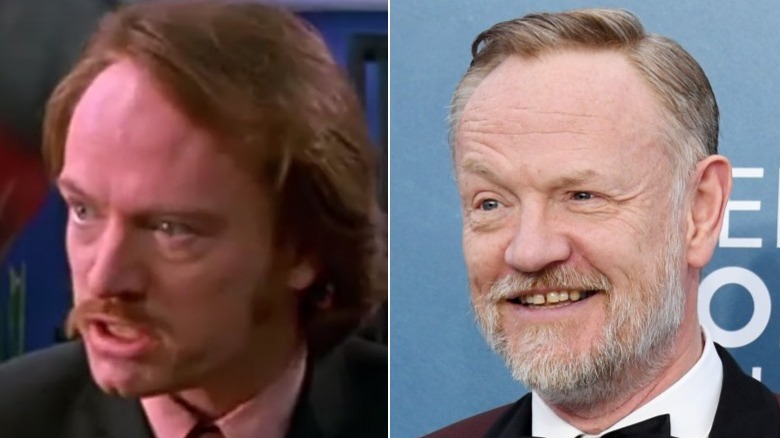 Jon Kopaloff/Getty & Sony Pictures
In "Mr. Deeds," Jared Harris plays Mac McGrath, the head of the tabloid "Inside Access" where Babe (Winona Ryder) works. Though he plays an Australian in the film, Jared Harris is British in reality and continues to act regularly in both U.K. and U.S. productions. Like many others, Harris started out his career with small bit parts in various projects. After quietly making a name for himself as a talented and dependable character actor throughout the 1990s and 2000s, Harris began getting more and more major roles around the 2010s. Recurring parts on the television shows "The Riches," "Fringe," and especially "Mad Men" helped to boost his career moving forward.
Some of Jared Harris's most noteworthy film roles include Ulysses S. Grant in Steven Spielberg's "Lincoln," Dr. Nicholas in the recent superhero film "Morbius," and Moriarty, Sherlock Holmes's arch nemesis, in Guy Ritchie's "Sherlock Holmes: A Game of Shadows," a role which he will reprise in the upcoming "Sherlock Holmes 3." Harris's most prominent work continues to be in television with recurring appearances on the likes of "Carnival Row," "The Terror," "The Expanse," and "Foundation." His two highest-profile performances in recent years have been on the massively popular series "The Crown" and the HBO mini-series "Chernobyl."
John Turturro (Emilio Lopez)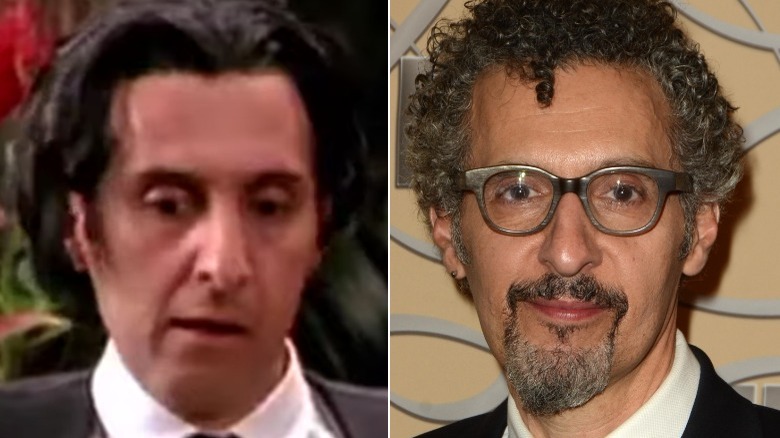 Kathy Hutchins/Shutterstock & Sony Pictures
John Turturro played Emilio, the off-kilter butler, in "Mr. Deeds." This was the first collaboration between Adam Sandler and John Turturro, but they would go on to work together three more times in "Anger Management," "You Don't Mess with the Zohan," and most recently in "The Ridiculous 6." Before making "Mr. Deeds," Turturro had long since established himself as a consummate character actor with many memorable film appearances throughout the '80s and '90s.
Much of Turturro's best work has come courtesy of his frequent collaborations with the Coen Brothers, who have worked with him on "Miller's Crossing," "The Big Lebowski," "Barton Fink," and "O Brother Where Art Thou?" In the years since "Mr. Deeds," Turturro has appeared in both blockbuster movie franchises and smaller indie films. He joined the cast of Michael Bay's first "Transformers" movie in 2007 and went on to appear in three of the long-running franchise's sequels over the next decade. Other noteworthy films include "Secret Window," "Hands of Stone," "Cars 2," and most recently, "The Batman."
Television has brought some of Turturro's most memorable performances in recent years. The two HBO mini-series "The Plot Against America" and "The Night Of" provided him with complex and impactful characters. Most recently, Turturro played a supporting character in the acclaimed Apple TV+ original series "Severance." Turturro has also written and directed a handful of movies, all of which he starred in as well: "Romance & Cigarettes," "Fading Gigolo," and "Jesus Rolls," in which he reprises his character from "The Big Lebowski."
Steve Buscemi (Crazy Eyes)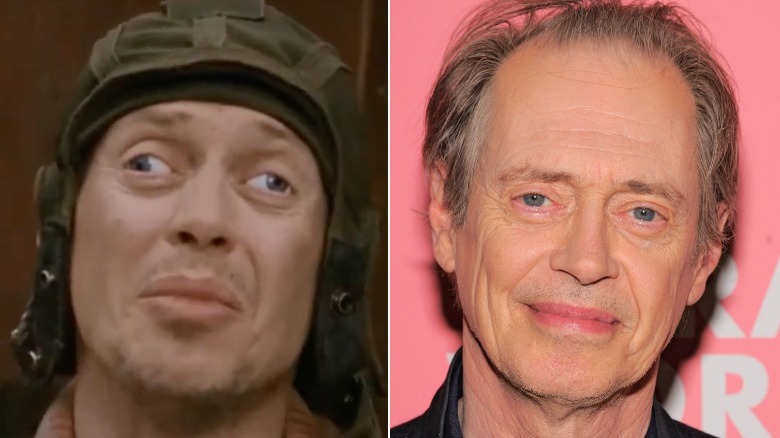 Ron Adar/Shutterstock & Sony Pictures
Similarly to John Turturro, Steve Buscemi is another actor, who has collaborated on many projects with both Adam Sandler and the Coen Brothers. In "Mr. Deeds," Buscemi plays the memorable side character of Crazy Eyes. Buscemi and Sandler first co-starred together in the 1994 crime comedy "Airheads" alongside Chris Farley and Brendan Fraser. Buscemi and Sandler have worked together on a staggering total of 15 movies over the years, most recently in 2020's "Hubie Halloween."
Following "Mr. Deeds," Buscemi worked with another one of his frequent collaborators — Robert Rodriguez — in the kids' movies "Spy Kids 2: The Island of Lost Dreams" and "Spy Kids 3: Game Over." Other significant films that Buscemi has appeared in since "Mr. Deeds" include "Big Fish," "The Messenger," "The Incredible Burt Wonderstone," "The Death of Stalin," and "Monsters University," in which he reprises his vocal role as Randall, the villain from "Monster's Inc." 
Buscemi has also had many noteworthy television appearances in the years since "Mr. Deeds," starting with his role as Tony Blundetto on "The Sopranos." Buscemi also directed several episodes of "The Sopranos," and continued to lend both his acting and directing talents to series like "Portlandia," "30 Rock," "Miracle Workers," and both "Unbreakable Kimmy Schmidt" and "Park Bench with Steve Buscemi," where he plays himself. While these have all been memorable performances, Buscemi's biggest television role is undoubtedly his starring turn as Enoch Thompson on the HBO original series "Boardwalk Empire," which ran for five seasons.
J.B. Smoove (Reuben)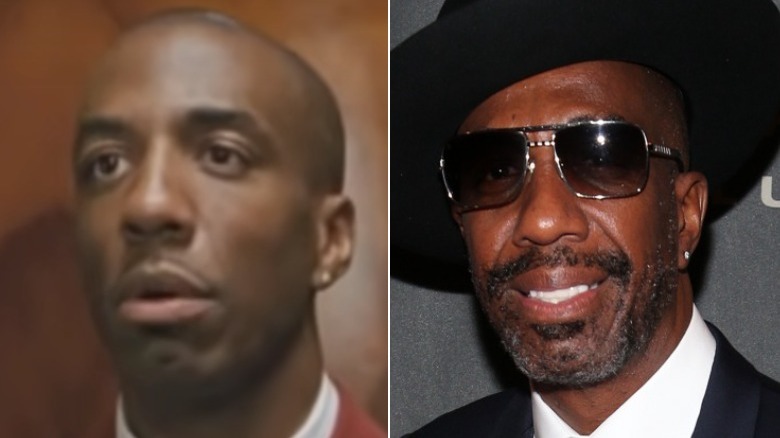 Rob Kim/Getty & Sony Pictures
J.B. Smoove appeared as Reuben the elevator operator in "Mr. Deeds," just a year after his first prominent film role in "Pootie Tang." After more than a decade apart, Sandler and Smoove acted together once more in "Top Five." Chris Rock wrote, directed, and starred in "Top Five," and Rock and Smoove previously collaborated on "Pootie Tang," as well as the TV series "Everybody Hates Chris."
In addition to acting, Smoove has also had a successful career as a standup comedian. Soon after appearing in "Mr. Deeds," J.B. Smoove joined the "Saturday Night Live" team as a writer and occasional supporting performer. Smoove's major breakout role as an actor was as Leon Black on "Curb Your Enthusiasm," which he joined in 2007 during the show's sixth season. The character was so popular that Smoove even wrote a book in character as Leon Black titled "The Book of Leon: Philosophy of a Fool."
The BET original "Real Husbands of Hollywood" offered Smoove the opportunity to play a fictionalized version of himself in the Kevin Hart-led mini-series. Other recurring television roles include "Bent," "The Last O.G." and most notably "The Millers." Smoove's distinctive voice and cadence has led to work in animated shows like "Woke," "American Dad!" "Fairfax," "Harley Quinn," "Black Dynamite," and "Teenage Mutant Turtles." Recently, Smoove made his way into the Marvel Cinematic Universe as Mr. Dell in both "Spider-Man: Far From Home" and "Spider-Man: No Way Home."
Erick Avari (Cecil Anderson)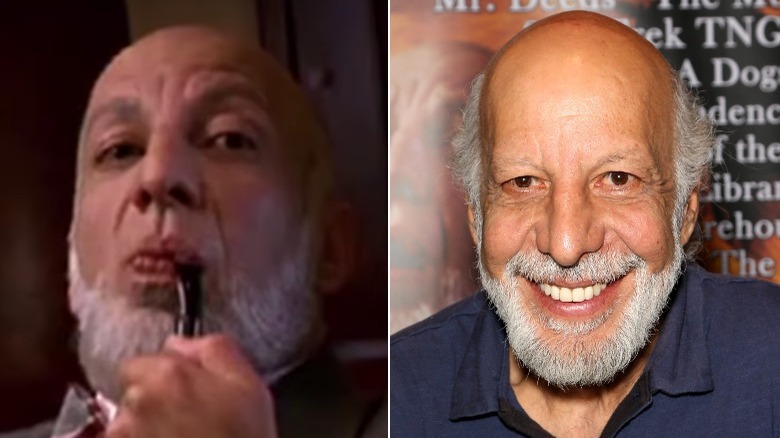 Gabe Ginsberg/Getty & Sony Pictures
Erick Avari plays general counsel Cecil Anderson in "Mr. Deeds." Adam Sandler and Erick Avari have not acted together since, but Avari has appeared in two additional films made by Sandler's Happy Madison production company. Sandler served as an executive producer for "The Master of Disguise" and "Paul Blart: Mall Cop," both of which featured Avari in supporting roles.
Avari is a character actor, who has appeared in over 150 movies and television shows throughout the course of his career. Some of the biggest films of his career post-"Mr. Deeds" include "Daredevil," "Charlie Wilson's War," and "Hachi: A Dog's Tale." Avari frequently guest stars on individual episodes of television shows, such as "Parenthood," "The Mentalist," "NCIS," "Lie to Me," "Castle," "Leverage," and many more. He occasionally has appeared as a recurring character on series like "Heroes," the 2003 reboot of "Dragnet," "Warehouse 13," "The Brink," and most recently, "The Chosen."
Peter Gallagher (Chuck Cedar)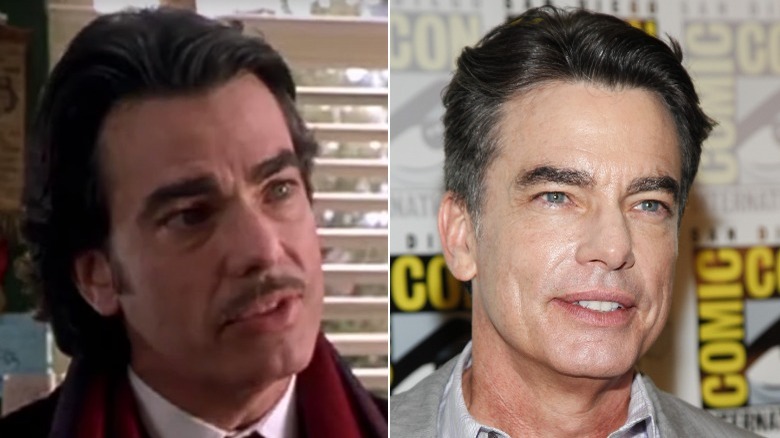 Brad Camembert/Shutterstock & Sony Pictures
Peter Gallagher plays Chuck Cedar, the scheming villain of "Mr. Deeds." Gallagher's acting career kicked off in the 1980s and since then, he has continued performing consistently, accruing over 100 credits to his name. Prior to "Mr. Deeds," Gallagher had already given some of his most memorable film performances in the likes of "American Beauty" and "Sex, Lies, and Videotape," as well as smaller roles in the Robert Altman films "Short Cuts" and "The Player."
Post-"Mr. Deeds," Gallagher's career picked up more speed in the world of television. In fact, it was just one year later that he landed arguably the biggest role of his filmography as Sandy Cohen on "The O.C." Gallagher's other significant television projects have included "Cover Affairs," "Californication," "Rescue Me," "Grace and Frankie," "Togetherness," "Law & Order: Special Victims Unit," and "Grey's Anatomy." While he has had fewer major film roles since focusing his efforts on television, a few movie highlights from his career since 2002 include "Hello, My Name is Doris," "Palm Springs," and "Burlesque."
Harve Presnell (Preston Blake)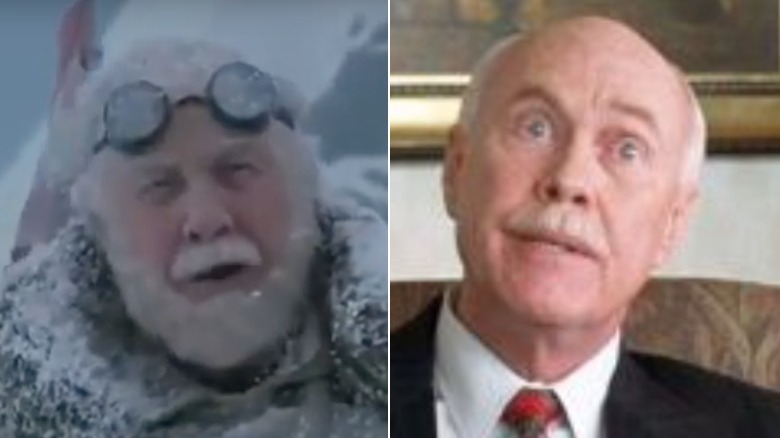 Sony Pictures
Harve Presnell plays Preston Blake in "Mr. Deeds," the billionaire who dies by freezing at the top of Mt. Everest and leaves his money to Longfellow Deeds. Presnell's film career kicked off with a bang in 1964 with "The Unsinkable Molly Brown." The film earned six Oscar nominations, three Golden Globe nominations, and Presnell himself took home the Most Promising Newcomer award at the Golden Globes (via IMDb). Presnell's roots were in singing first and foremost, and this classically-trained opera singer worked frequently in musical theater, including in the Broadway production of "The Unsinkable Molly Brown" (via The NY Times).
The majority of Presnell's biggest film roles were already behind him by the time he appeared in "Mr. Deeds," with performances in the likes of "Fargo," "Face/Off," and "Saving Private Ryan" leaving lasting impressions on audiences in the 1990s. He appeared in only a handful of films after "Mr. Deeds," including "Old School," "Flags of Our Fathers," and "Evan Almighty." He continued acting up until his death in 2009 at the age of 75. His final film, "Love Ranch," was released posthumously.
Peter Dante (Murph)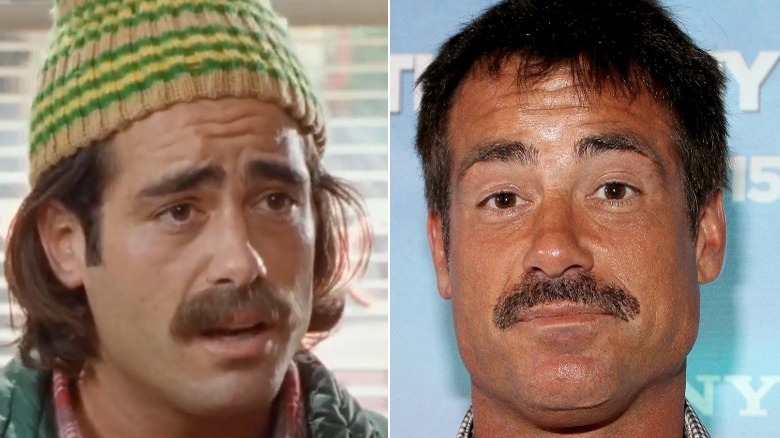 Marc Andrew Deley/Getty & Sony Pictures
Adam Sandler has a propensity for casting his friends in his movies, and Peter Dante is one of the less famous actors to reap the benefits of Sandler's friendly casting process. The two became friends in the '90s while Dante was working as a production assistant on "The Larry Sanders Show" (via The Hartford Courant). Dante has 30 credits to his name, almost all of which have been in movies that Adam Sandler has starred in or produced with Happy Madison.
Dante and Sandler first collaborated in 1998 on "The Wedding Singer" and have worked together more than a dozen times since. In the years following his turn as Murph in "Mr. Deeds," Dante appeared in Sandler comedies such as in "Eight Crazy Nights," "Grandma's Boy," "I Now Pronounce You Chuck and Larry," "Jack and Jill," "That's My Boy," and "Grown Ups 2," which was their last collaboration to date in 2013. Dante's characters frequently share his own name in these Sandler productions.
In recent years, Peter Dante has been embroiled in a string of controversies. He was arrested on felony charges for threatening to murder his neighbor, was thrown out of a Los Angeles restaurant after a heated altercation with a waitress for refusing to wear a mask during the COVID-19 pandemic, and was sued for assault and defamation-slander in a court case that alleged he made violent and anti-Semitic remarks towards another man.
Conchata Ferrell (Jan)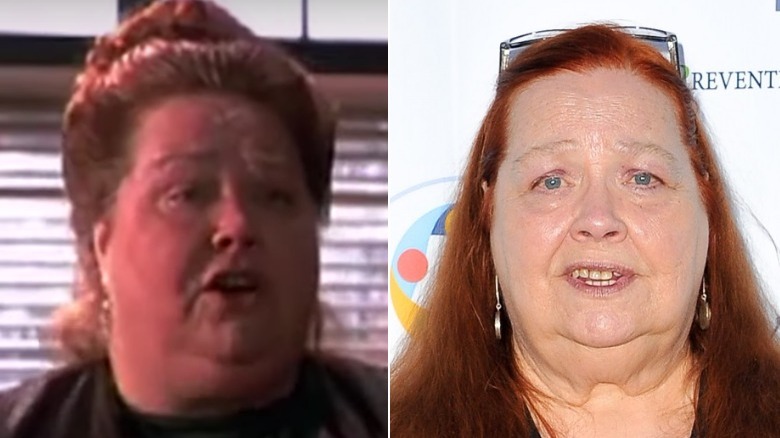 Allen Berezovsky/Getty
Conchata Ferrell played Jan in "Mr. Deeds," a friend/coworker in the pizzeria where Longfellow Deeds works before coming into his new wealth. Ferrell began acting in the 1970s and worked consistently until her death of cardiac arrest in 2020 at the age of 77 (via Deadline). Throughout her nearly five-decade-long career, Ferrell appeared in over 130 movies and television shows.
Most people are likely to recognize Conchata Ferrell from a television series she landed in the year following "Mr. Deeds." Ferrell appeared in over 200 episodes of the CBS sitcom "Two and a Half Men" as Berta the housekeeper, and she received two Primetime Emmy nominations for her work.
Other notable roles following "Mr. Deeds" include "Krampus," "The Ranch," and a vocal performance in the Tim Burton-directed "Frankenweenie," which was her second collaboration with Burton after her appearance in "Edward Scissorhands." Ferrell's final performance was a supporting role in the 2020 comedy "Deported." The movie was released just a few months ahead of her passing.
Allen Covert (Marty)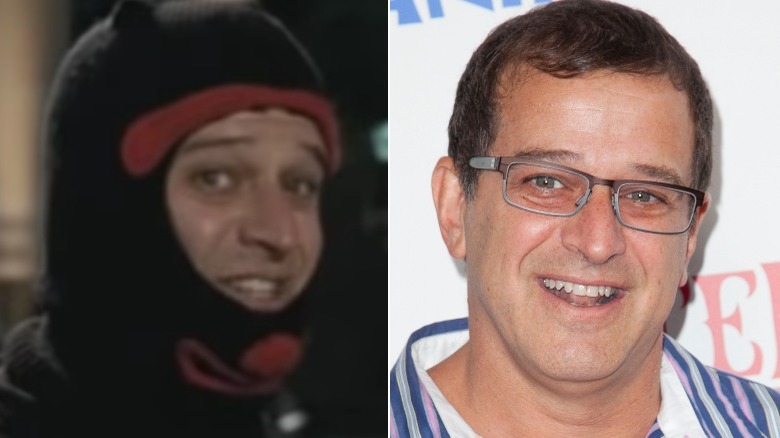 Imeh Akpanudosen/Getty & Sony Pictures
Allen Covert is another actor, who has appeared in many Adam Sandler films but not much else. In addition to acting, Covert also writes and produces exclusively for projects either starring Adam Sandler or made by Sandler's Happy Madison production company. Covert has collaborated with Sandler on 50 film and video projects as an actor, writer, and/or producer. To put those 50 collaborations into perspective, it's important to note that Covert only has 48 acting credits total to his name.
Sandler and Covert first met at NYU and then worked together on the critically panned comedy "Going Overboard" (also known as "Babes Ahoy"), which was Sandler's first film role (via PopEntertainment.com). Covert often plays unnamed bit parts in Sandler's movies, but he does occasionally take on a larger role, such as in "Mr. Deeds," where he plays an "Inside Access" reporter who helps out Winona Ryder's character. To date, Covert's biggest acting role has been in the Happy Madison production of "Grandma's Boy," which he wrote, produced, and starred in as Alex. Covert also recently made small appearances in "Murder Mystery," "Hubie Halloween," and "The Wrong Missy," all of which Sandler produced for Netflix.
Blake Clark (Buddy Ward)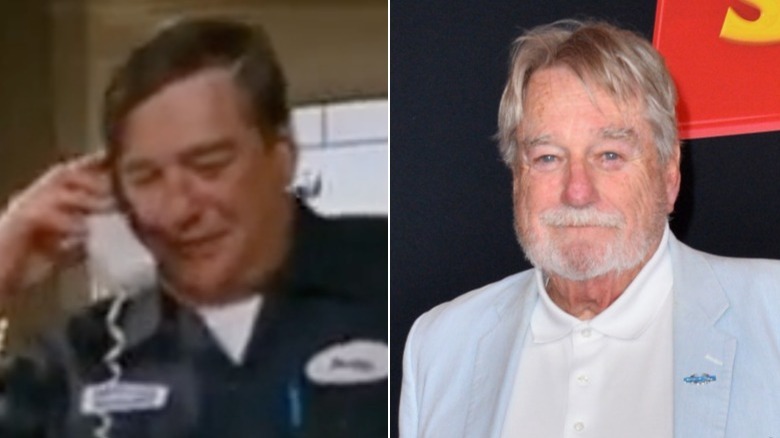 Featureflash Photo Agency/Shutterstock & Sony Pictures
Blake Clark is another actor who has appeared in over a dozen movies that either star or were produced by Adam Sandler. After acting together in the 1991 Bobcat Goldthwait film "Shakes the Clown," Clark and Sandler went on to work together on "The Waterboy," "Little Nicky," "Eight Crazy Nights," "50 First Dates," "Click," "Grown Ups," "That's My Boy," "The Ridiculous Six," "Hubie Halloween," and many more. In "Mr. Deeds," Clark plays Buddy, the father of the quarterback for the New York Jets.
Unlike Allen Covert and Peter Dante, however, Blake Clark's career extends beyond Adam Sandler movies. Clark got his start in acting in the 1980s with shows like "Remington Steele" and movies like "St. Elmo's Fire." In the years since "Mr. Deeds," Clark has appeared in the Coen Brothers' films "Intolerable Cruelty" and "The Ladykillers," the George Clooney-directed "Leatherheads," and television shows like "SMILF" and "United States of Al." Clark has also found success as a voice actor with projects like "Fish Hooks," "Rango," and the "Toy Story" series, in which he voices Slinky Dog.
John McEnroe (as himself)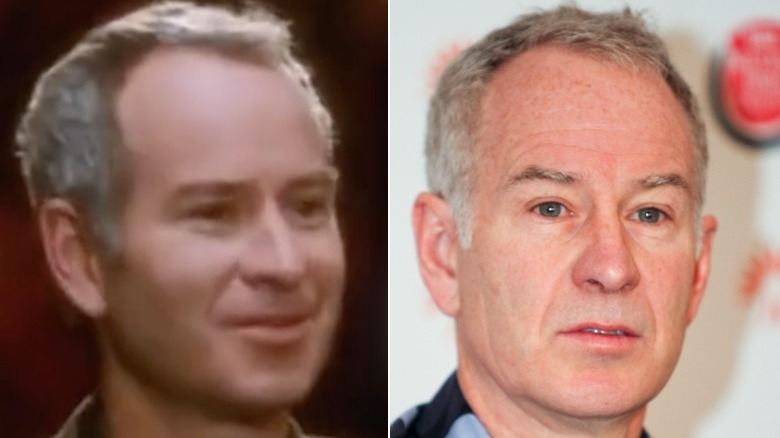 Ana-Maria Tanasescu/Shutterstock & Sony Pictures
John McEnroe is something of an oddity amongst the cast of "Mr. Deeds" in that he isn't really an actor, though he would go on to appear in more than two dozen movies, shows, and short films. Long before ever stepping foot on a film set, McEnroe had earned international acclaim as the world's No. 1 tennis player (via Tennis Fame). He is a member of the tennis hall of fame and was even called the Pablo Picasso of tennis. Multiple movies and documentaries have been made about McEnroe's legendary tennis career, including the noteworthy 2017 film "Borg vs. McEnroe," in which Shia LaBeouf plays John McEnroe.
McEnroe played himself in "Mr. Deeds," something he would go on to do several more times over the years, including in other Adam Sandler films like "Anger Management," "You Don't Mess with the Zohan," and "Jack and Jill." Out of John McEnroe's 28 credits, he plays himself in almost all of them, which includes the likes of "Ocean's Eight," "30 Rock," and "Curb Your Enthusiasm." Most recently, McEnroe has been featured as the narrator of the Netflix original series "Never Have I Ever," which was co-created by Mindy Kaling.