Who Played Papouli In Full House?
The original incarnation of "Full House" aired on ABC for eight seasons, and it featured a large cast of characters. Fans grew to love the Tanner family, headed by patriarch Danny (played by Bob Saget). Over the years, extended family members were introduced, such as cousin Steve from Baltimore (yes, that was Candace Cameron Bure's real-life brother, Kirk), and the smarmy Stavros, played in a dual role by John Stamos.
One of the most memorable family members on the show was Iorgos Katsopolis, aka "Papouli." The elderly grandpa with the bushy white mustache appeared in two "Full House" episodes, "Greek Week" in 1990, and "The Last Dance" in 1994, per IMDb.
In the latter episode, the difficult topic of death was tackled when Papouli, the Greek great-grandfather of the Tanner children on their late mother Pam's side, died in his sleep while in town visiting the family. Youngest Tanner child Michelle's (Mary-Kate and Ashley Olsen) tearjerking reaction to Papouli's death was one of the most heartbreaking moments ever shown on the ABC series. The dark death segment was so out of the usual realm of "Full House" that producers from the show consulted with an expert in death education for children before finalizing the script, per The Hartford Courant. 
Papouli has lived on in "Full House" reruns for nearly 30 years, but who was the actor that played the beloved Greek grandpa?
Papouli was played by Oscar-nominated character actor Jack Kruschen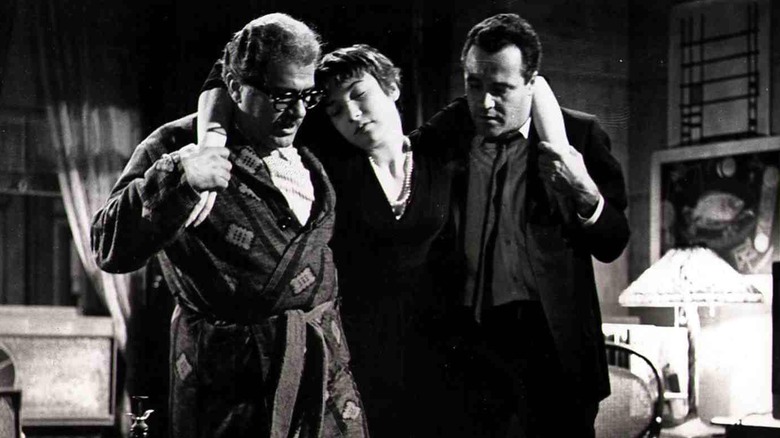 United Archives/Getty Images
For decades. the man who played the Papouli character was a familiar face to movie and TV fans. Canadian actor Jack Kruschen had more than 225 acting credits in a resume that dated back to the 1940s, per IMDb -– and that didn't count his prolific work as a radio actor. As a high school student, Kruschen was "discovered" by a scout for CBS Radio while performing in a Hollywood High production, and he was soon cast in a radio show, according to The New York Times.
Way before he landed the famous "Full House" role, Kruschen appeared in everything from "Little House on the Prairie" to "The A-Team." He also had that Greek grandfather thing down, playing "Papa" Papadapolis in a recurring role in the 1980s sitcom "Webster."
However, he made his biggest mark on the big screen. Kruschen scored a best supporting actor nomination for his role as Dr. Dreyfuss in the 1960 Jack Lemmon/Shirley MacLaine movie "The Apartment." "Billy Wilder and Jack Lemmon were the best things that ever happened to me," Kruschen once told The Los Angeles Times. "They worked with me, helped me, brought out the ability to use whatever I have learned of my craft."
After dealing with health issues for several years beforehand, Kruschen died while traveling on April 2, 2002, at age 80.