It's Time To Talk About That Stunning The Boys Season 3 Cameo
Contains spoilers for "The Boys" Season 3, Episode 1
If our reunion with "The Boys" has taught us anything, it's that the unfiltered and irreverent superhero show is trying to up the ante in just about every area. Homelander (Antony Starr) is even more unhinged than before, the shock factor is just about at capacity thanks to a sneezing fit, and it takes one cameo in the first five minutes to show just how much heat Season 3 is bringing.
In the debut episode of Season 3, the festivities kick off with a hefty scene from the propaganda film "Dawn of the Seven." In a clear, humorous homage to the MCU and other big comic book movies, the titular "heroes" go up against Stormfront (Aya Cash) in a very questionable retelling of recent events from Season 2. Given the way Vought Industries runs things in this universe, it's a twisting of the tale we know all too well. The whole hilarious cut is punctuated by the debut of an A-list actor stepping into the role of Stormfront, who is now permanently out of action.
Charlize Theron as Stormfront is a Strange stroke of genius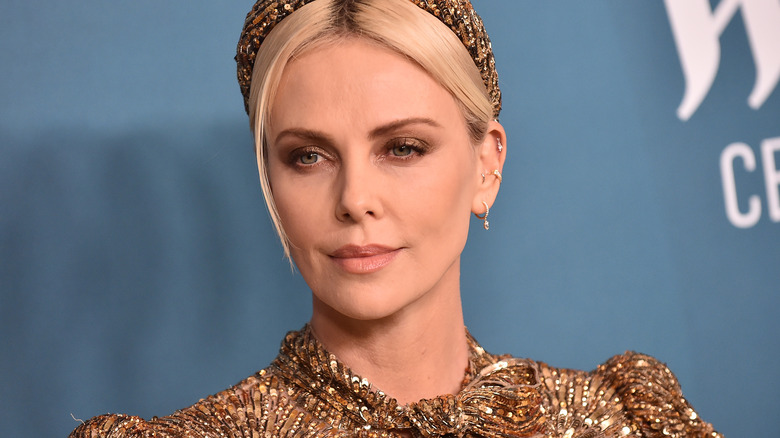 DFree/Shutterstock
That's right — to rehabilitate the image of Nazi insurgent Supe Stormfront, Vought made the savvy call to go with perennial Hollywood A-lister and veteran action star Charlize Theron. The former "Long Shot" co-star of Seth Rogen (who also produces "The Boys" and has made a cameo himself in the past) isn't around for long, but the brevity of her appearance doesn't dampen the excitement of actually seeing her on screen. Of course, what makes it an even greater gag is that this isn't her first guest appearance in a comic book adaptation this year.
Call it luck or careful planning, but seeing Charlize Theron make a cameo less than a month after she did so in "Doctor Strange in the Multiverse of Madness," is a meta moment that hits just right. Marvel has often been used as target practice in the best way possible for "The Boys," so having a newly minted MCU star take on the role feels a propos. 
Might there be a chance that other big-league stars from either the MCU or the DCEU turn up as we get deeper into Season 3? We can only hope, and prepare to be most likely offended when "The Boys" returns next week on Amazon Prime.