Is Chad Duell Actually Leaving General Hospital?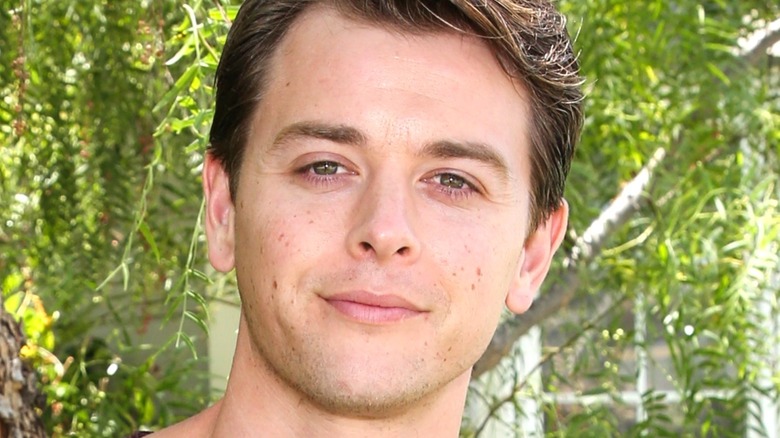 Paul Archuleta/Getty
Chad Duell has been playing Michael Corinthos, son of mob scion Sonny Corinthos (Maurice Benard) and his estranged wife Carly (Laura Wright), on the popular and long-lived ABC daytime drama "General Hospital" since 2010. In that time, he's been through a lot of romantic travails and has become somewhat notorious for burying almost all of his romantic interests (per Soap Dirt). However, current lady love Willow Tait (Katelyn MacMullen) hasn't yet fallen to the Corinthos curse. They are co-parenting Michael's son, Wiley, with the late Nelle Benson (Chloe Lanier), and Michael is helping Willow cope with the recent passing of her adoptive mother, Harmony Miller (Inga Cadranel). But Carly suspects an ugly truth — that Willow's biological mother is in fact her rival for Sonny's love, Nina Reeves (Cynthia Watros), which would make Nelle and Willow siblings. 
With such a juicy storyline afoot, Michael is naturally front and center on the show. This is why fans were stunned when they tuned in to the June 1 episode to see that Michael was suddenly being portrayed by a new actor. Will Robert Adamson be taking over the role of Michael for good? And what's happened to Duell? Has he left "General Hospital" behind? 
Duell's absence will be a temporary one
Fear not, Port Charles fans — Chad Duell will be back in the role of Michael soon. The actor took to his Twitter on June 1 to confirm that his absence will be temporary. "I'm good.. I'll be back filming next week. Was covid related. Robert did great," the tweet reads. The actor even added a smiley face for an extra measure of reassurance. Presumably, once Duell tests negative for the virus, he'll be back on the job.
Robert Adamson took to his own Instagram to thank "General Hospital" for choosing him to come in as a temporary emergency recast. In his post, he noted that it wasn't easy following in Duell's footsteps, writing, "Huge shoes, brother. I was exhausted. Had no idea what the hell I was talking about, but we got the job done."
This isn't the first time that "General Hospital" had to deal with casting issues related to the COVID-19 pandemic. Actors Ingo Rademacher and Steve Burton both departed the show after refusing to comply with the show's vaccination requirements in the fall of 2021.