Aaron Paul Snagged More Than One Iconic Prop From The Set Of Breaking Bad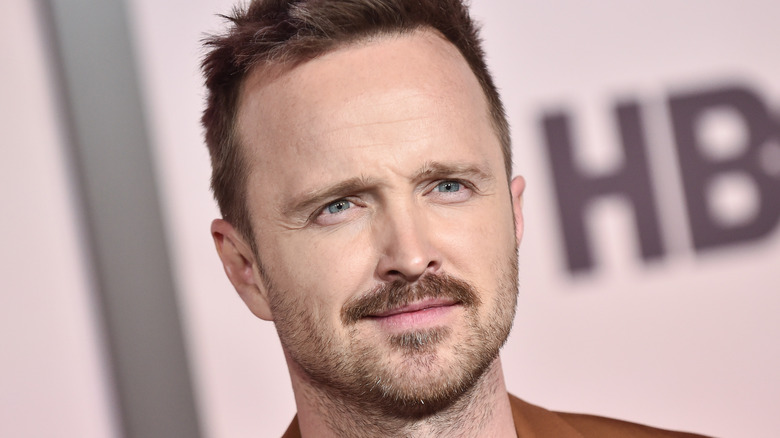 DFree/Shutterstock
It's not abnormal for actors and other creative types associated with a hit show to take home a few souvenirs along the way. It would seem that the cast members of the AMC series "Breaking Bad" are no exception as each of them reported taking home their fair share of cool memorabilia from the show.
"Breaking Bad" follows high school teacher Walter White (Bryan Cranston) as he enters into the dangerous underworld of manufacturing and dealing crystal meth with a former student, Jesse Pinkman (Aaron Paul). There are also many memorable props that appear and sometimes recur throughout the series.
All central cast members of the crime drama departed the set for the final time with at least one unique souvenir in tow. According to Entertainment Weekly, Anna Gunn snagged a family portrait, while Bob Odenkirk of "Better Call Saul" took home a bus stop ad for his fictional lawyer. Of course, Heisenberg's signature pork pie hat is one of the most recognizable pieces of "Breaking Bad" memorabilia, and it shouldn't surprise anyone that more than one cast member made off with at least one hat. 
However, there's one particularly notable item that Paul had his eye on for a while.
Aaron Paul really wanted the pink teddy bear
The iconic pink teddy bear appears as a symbol of shattered innocence and foreboding throughout the second season of "Breaking Bad." Though its origins are initially mysterious, pertaining to some horrible event that occurs at the White residence, we know where it comes from by the end of the season. 
This was the prop that Aaron Paul was especially interested in bringing home after the show wrapped in 2013. "Vince Gilligan has promised me the burnt pink teddy bear from Season 2," Paul told Entertainment Weekly. "I really wanted something that symbolized Jesse in a way." 
Interestingly, the actor's reasoning for this specific request appeared to be at least partly sentimental. "I think that pink teddy bear really symbolized the relationship between Jesse and Jane," Paul said. "It wouldn't have landed in Walt's pool if it weren't for Jane's father." Here, Paul is referring to the jaw-dropping Season 2 finale of "Breaking Bad," in which two airplanes collide over Walter White's suburban neighborhood.
Unsurprisingly, this wasn't the only item Paul took home from his time on the iconic show. Paul also admitted to latching hold of Jesse Pinkman's "THE CAPN" license plate and one of Heisenberg's many hats. As for the other leading actor from "Breaking Bad," Bryan Cranston kept it straightforward and to the point, taking home another of Heisenberg's trademark hats and a pair of sunglasses. "That's my prized possession," Cranston told Entertainment Weekly. 
Notably, the white briefs Cranston wore in the series premiere went for almost $10,000 at an auction that included a variety of other iconic mementos from the show (via The Hollywood Reporter).