Only Eagle-Eyed Fans Were Able To Spot This Detail In Better Call Saul Season 6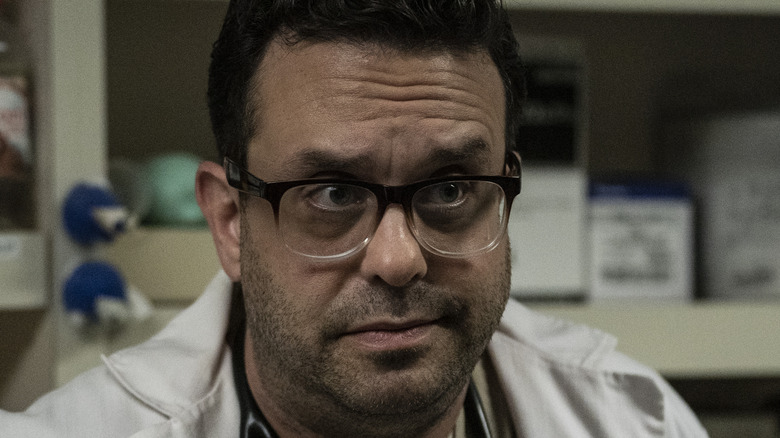 Greg Lewis/AMC/Sony Pictures Television
"Better Call Saul" has always been intrinsically paired to its predecessor series "Breaking Bad" by the sheer nature of its existence as a prequel (and sometimes sequel) to the original meth-peddling series created by Vince Gilligan. The newer series most frequently runs on two tracks: one following Jimmy McGill's (Bob Odenkirk) long, arduous path toward working as criminal lawyer Saul Goodman, and another following Mike Ehrmantraut (Jonathan Banks) as he becomes tied to Gustavo Fring's drug smuggling operation. As a result, "Better Call Saul" is filled with Easter egg ties to "Breaking Bad," cameos from characters who play pivotal roles in the original show, and details that add perspective to the goings-on of Albuquerque's criminal underworld. In "Better Call Saul," one of the main connections Jimmy and Mike carry to that criminal underworld is Dr. Caldera, a veterinarian who also moonlights as a man who can put would-be criminals in touch with each other for jobs in a discreet fashion.   
One specific detail in Season 6 provides an eye-opening moment that lays a path forward for how Saul grows into the most well-connected person in the city for criminal activities. In "Axe and Grind," Saul and Kim (Rhea Seehorn) visit veterinarian Dr. Caldera (Joe DeRosa) to test the stimulant drug they plan on giving Howard (Patrick Fabian) as part of their plan to convince his peers he's actively using cocaine while working as an attorney. Dr. Caldera tells Saul and Kim that he plans on leaving Albuquerque and abandoning his less-than-legal life as a middleman for criminal contacts in the Albuquerque area to focus on what he truly loves: working as a veterinarian.
Saul and Kim notice a Best Quality Vacuum Repair business card
When Dr. Caldera tells Saul and Kim he's quitting the less-than-legal lifestyle, he even shows the pair his booklet full of the information for his contacts; naturally, they're all encrypted should it fall into the wrong hands. As Saul and Kim check out the booklet, Kim notes one business card that is written in English — Best Quality Vacuum Repair — before Caldera takes it back out of their hands.
This scene should raise heads for any "Breaking Bad" fan watching the prequel series: Saul grows into the go-to guy for criminal services in Albuquerque by the time "Breaking Bad" rolls around, and he's the person who connects Walt and Jesse with Ed the Disappearer (Robert Forster) via Best Quality Vacuum Repair in the first place. Ed has not appeared in the "Better Call Saul" prequel timeline yet, but he did make an appearance in the black-and-white Gene sequence that opens the Season 5 premiere "Magic Man."
"Who knows if these things would have ever landed, but I was always interested to see exactly how Robert's character placed Gene into this Cinnabon world," co-creator Peter Gould told Entertainment Weekly in 2020 about ways "Better Call Saul" wanted to work in Forster's character before the late actor died in 2019. While Forster himself won't appear again, it seems likely that the series will show more directly how Saul gains access to him via Caldera's little black book. The veterinarian says he plans on selling the booklet to finally rid himself of the criminal lifestyle, and Saul and Kim should receive a large sum of money from the Sandpiper settlement soon after "Plan and Execution."