Spike Cancels The Mist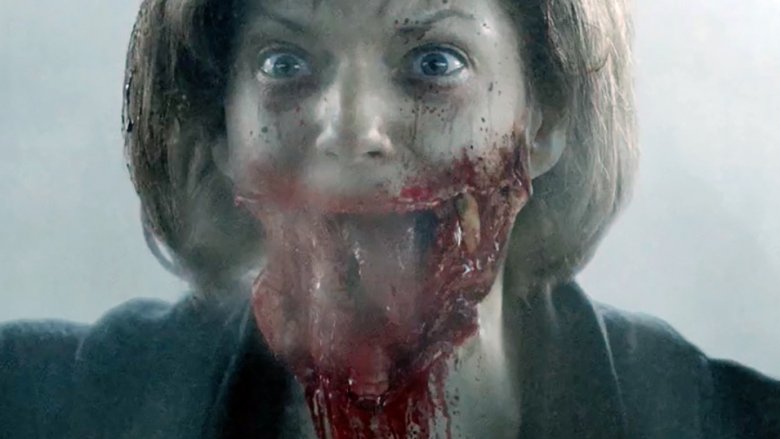 Spike TV
There's nothing hazy about this decision. 
Spike TV has officially canceled The Mist after just one season, The Hollywood Reporter has confirmed. 
Based on the Stephen King novella of the same name, The Mist was ordered in a straight-to-series commitment in April of this year. The pick-up was part of the Viacom-owned cable network's initiative to re-enter the original scripted series scene after abandoning previous efforts like Red Mars and the Jerry Bruckheimer-produced drama Harvest. 
The Mist—which starred Morgan Spector as Kevin Copeland, Alyssa Sutherland as Eve Copeland, and Frances Conroy as Nathalie Raven, among others—launched on Spike in late June to a promising start. Over a million viewers tuned into the premiere episode of The Mist, with live-plus-three-day Nielsen returns. Unfortunately, the remainder of the series' run failed to reach the heights its first episode did, barely pulling in 800,000 viewers (even with DVR) later on. Among adults aged 18 to 49 years, The Mist wasn't even able to crack cable's top 30 scripted shows. 
These low ratings could be a major factor in the network's decision to pull the plug, but there's another element at play. according to THR, Spike is making changes to ready itself for its impending rebranding as Paramount Network. That shift is set to take place in January 2018 as a portion of a larger overall plan to reinvigorate Viacom, the network's corporate parent. Spike/Paramount Network president Kevin Kay told the outlet in March that The Mist had potential to shift over to the new network for its second season, so long as its first run performed well. Sadly, we know how that turned out. 
The network is planning to launch with a collection of high-end scripted series including the Weinstein Co.-produced drama Yellowstone, starring Ready Player One star Tye Sheridan; the Taylor Kitsch and Michael Shannon-led miniseries Waco; and two TV Land-developed series, American Woman and Heathers.
The Mist will be missed, but at least it avoided the fate of the shows that got canceled before they aired a single episode.