The Iconic DC Superhero You Likely Didn't Know Was Played By Jesse McCartney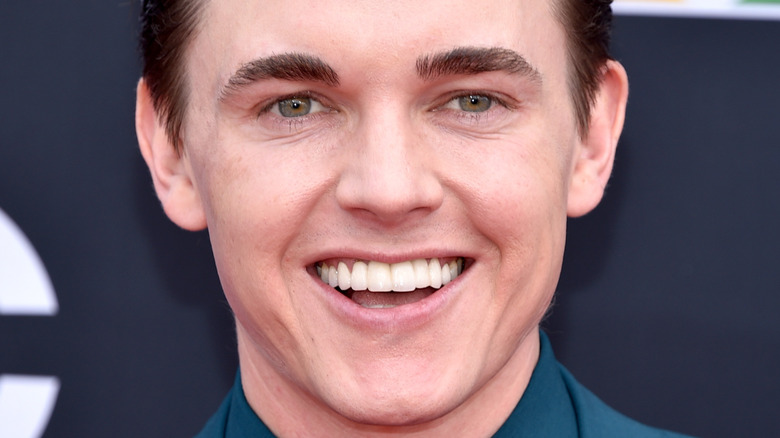 John Shearer/Getty Images
Jesse McCartney is ostensibly most known for his music career, which was at the height of its popularity around the mid-2000s. His songs "Shake," "Body Language," "Leavin'," and "Beautiful Soul" were all huge hits, with the latter two even making it into the top 25 of Billboard's Hot 100. However, the singer has also had a sustained career in film and television simultaneously.
After gaining attention for a two-year stint on the soap opera "All My Children" between 1998 and 2000, McCartney played himself, or thinly veiled versions of himself, in multiple projects through the 2000s. He voice acted in the "Alvin and the Chipmunks" franchise, as well as did voice work for the popular "Kingdom Hearts" game series. His most recent film role was a supporting part in the panned 2020 romantic comedy "Love, Weddings, and Other Disasters" (via IMDb).
While working on all these various projects, McCartney was also able to bring an incredibly popular character from DC Comics to life on television, and he's played the role for over a decade now.
Jesse McCartney voices Young Justice's Nightwing
On "Young Justice," Jesse McCartney voices Dick Grayson, more commonly known by his mononym Nightwing. McCartney has voiced the role since 2010. Grayson was the first Robin, Batman's protégé and one of the only people with that title to receive a remotely happy ending, as The Joker famously killed Grayson's replacement Jason Todd.
Once Grayson left Batman's care, he operated under the name Nightwing, as suggested to him by Superman. The Man of Steel aimed to help Grayson through an identity crisis after his rocky departure from the Batman family, telling the story of a Kryptonian hero called Nightwing, whose identity was never uncovered. Grayson then takes on the name for himself. Since his first appearance in the comics in 1984, Nightwing has been the leader of the Teen Titans, had his own comics line, and been part of the video game "Injustice: Gods Among Us," which has been adapted into a film. 
On "Young Justice," Nightwing leads a team currently consisting of Superboy, Miss Martian, Tigress, Zatanna, Rocket, and Aquaboy (who assumed the title of Aquaman after King Orin's retirement). During Season 1, Grayson was still working as Robin. He did not take up the Nightwing mantle until the debut of Season 2 when the group faces off with the alien bounty hunter Lobo. The show jumped five years into the future between these first two seasons, introducing new characters, and having Robin's transformation into Nightwing take place off-screen.