Why Katey Sagal Was So Worried About Her Sons Of Anarchy Character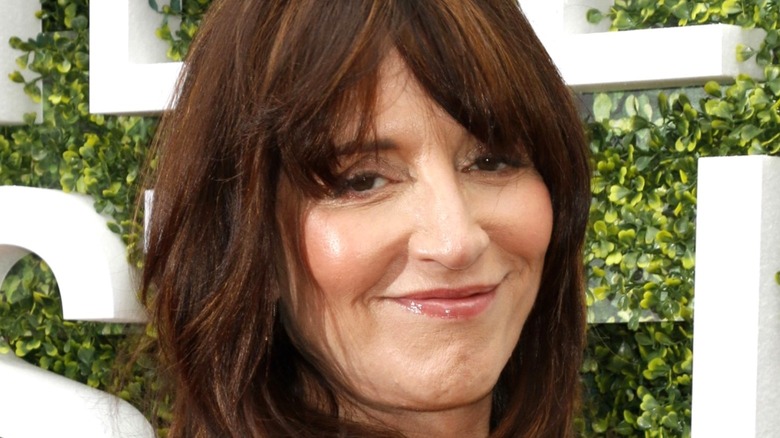 Kathy Hutchins/Shutterstock
Throughout her illustrious career, Katey Sagal has held a number of comedic roles, from housewife Peggy Bundy on "Married with Children" to the voice of Turanga Leela on "Futurama." Though these two characters remain staples in the world of pop culture, neither got fans talking quite like another of Sagal's performances, one that incites shock in viewers rather than laughter.
For seven riveting seasons (minus one episode), Sagal starred in the FX hit series "Sons of Anarchy" as Gemma Teller Morrow, the tough-as-nails matriarch of Sons of Anarchy Motorcycle Club Redwood Original, also known as SAMCRO. She's fiercely protective of her son Jax Teller (Charlie Hunnam) and the club, and she will go to any lengths –- even murder –- to ensure their survival. Over the course of the show, viewers learn some concerning details about Gemma, including that she had a hand in the death of John Teller, her husband and Jax's father. They also see her commit some horrifying acts, most notably the brutal killing of Jax's love Tara Knowles (Maggie Siff) in the kitchen.
Sagal's portrayal of Gemma may have earned her a Golden Globe in 2011 (via IMDb), but the actress sometimes worried about how her character came off to the fans.
Katey Sagal thought fans would hate Gemma after she killed Tara
One of Sagal's most unforgettable moments in "Sons of Anarchy" comes in Season 6, Episode 13 ("A Mother's Work"), when she believes Tara has betrayed Jax and SAMCRO. Gemma's protective instincts kick in and she viciously attacks and kills Tara with a carving fork. This ultimately leads to Gemma's own demise in Season 7, Episode 12 ("Red Rose") at the hands of Jax.
When "A Mother's Work" aired in 2013, Sagal feared that fans would turn on Gemma. After all, she did take away the love of her son's life. She told People Magazine, "When I first realized that Gemma was going to kill Tara, I had a moment like [...] man, nobody's going to wanna see Gemma again. She's killing beloved Tara."
But this was far from the case. In fact, "Sons of Anarchy" fans got creative with their memorabilia when they had the chance to meet Sagal. "[T]he very next day, I went to do an autograph session and people were showing up with forks for me to sign. Like the way I killed Tara," said Sagal.
Nearly a decade later, many still stand by Gemma. On Reddit, u/schree421 praised, "She may have been a manipulator and a liar, but she was who she was and never tried to be anything different." Some actually preferred Gemma over Tara, who they found annoying. U/obannion_the_great said, "Tara's brutal death scene was ultimately a relief, but I was obviously sad to see Gemma go/leave the series [...]"