The Only Redeeming Part Of Adam Sandler's Jack And Jill According To Fans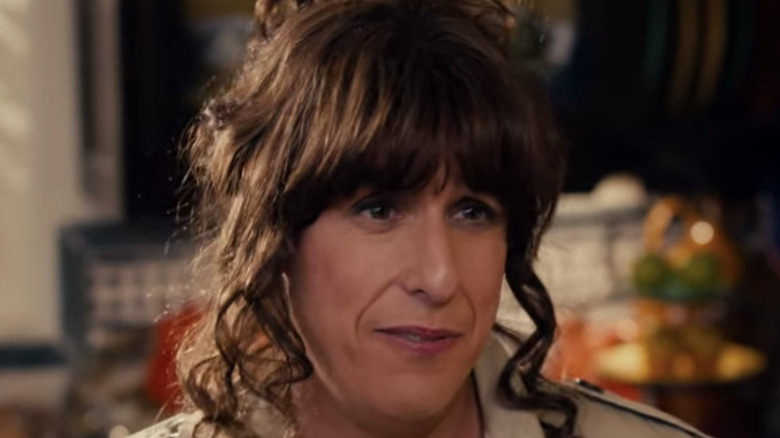 Sony Pictures Releasing
Despite the fact that Adam Sandler's recent performances in films such as "Uncut Gems" and "The Meyerowitz Stories" have earned the legendary comedian newfound respect as a dramatic actor, it will still be a long time before anyone forgets Sandler's role in the universally panned "Jack and Jill." The film saw Sandler portraying twins Jack and Jill Sadelstein, who live extraordinarily different lives and are forced to reconcile with one another when Jill stays over for Thanksgiving.
To say that audiences and critics hated the film would be an understatement. "Jack and Jill" is widely regarded as one of the worst films ever made, and perhaps the worst film of Sandler's entire career. The film was a box-office bomb, holds an abysmal 3% rating on Rotten Tomatoes, and was nominated for a record-setting 12 Razzies at the 32nd Golden Raspberry Awards (via The Hollywood Reporter). The film swept every category that year, earning 10 Razzies in categories such as worst picture, worst director, worst screenplay, as well as worst actor and worst actress (both of which went to Sandler). All told, "Jack and Jill" has a horrific reputation that is hard to move past, even when you're an actor as prolific as Adam Sandler. That said, there is one part of the movie that fans can't help but love, despite how atrocious the rest of said movie might be.
Fans absolutely love the Dunkaccino scene in Jack and Jill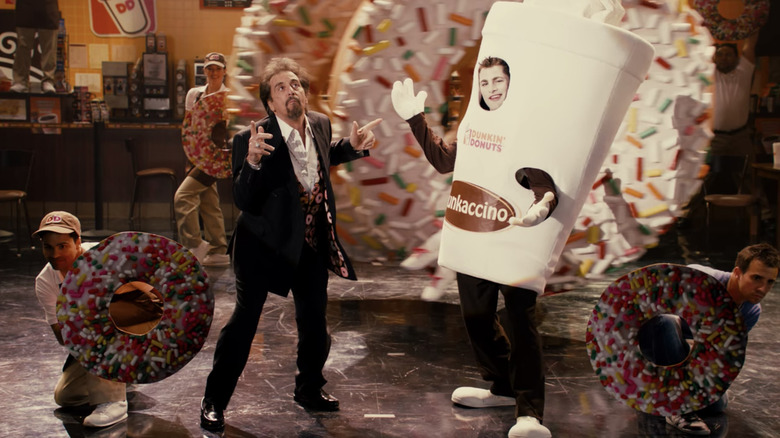 Sony Pictures Releasing
According to fans on Reddit, Al Pacino's performance in "Jack and Jill" is the only redeeming part of the entire movie. In the film, Jack, who works at a successful advertising agency, is tasked with convincing Al Pacino to star in a Dunkin Donuts commercial and promote a drink called the "Dunkaccino." In the end, the commercial wraps up, complete with Al Pacino rapping about the "Dunkaccino" beside a man dressed as a coffee cup. The scene itself is absolutely hysterical, especially out-of-context, and fans are convinced that the entirety of "Jack and Jill" might have been worth it just for the fever dream that is "Dunkaccino."
"Yes, but it gave us Dunkaccino so," wrote u/Gerrywalk in response to a Reddit post panning "Jack and Jill" for its poor box office performance and critical reception. "To me, the legacy of Al Pacino is screaming, anger, and this movie," wrote u/Person884. "At least we got dunkaccino out of it," echoed u/CBOThrow in the same thread. Hilariously, even the Rotten Tomatoes critical consensus makes reference to Pacino's shockingly funny role in the film, saying: "Although it features an inexplicably committed performance from Al Pacino, "Jack and Jill" is impossible to recommend on any level whatsoever." Considering the fact that "Jack and Jill" remains one of the most unquestionably loathed movies in film history, it is pretty remarkable that some fans have managed to find a silver lining and enjoy some parts of the film, however small.