Why Red Dagger From Ms. Marvel On Disney+ Looks So Familiar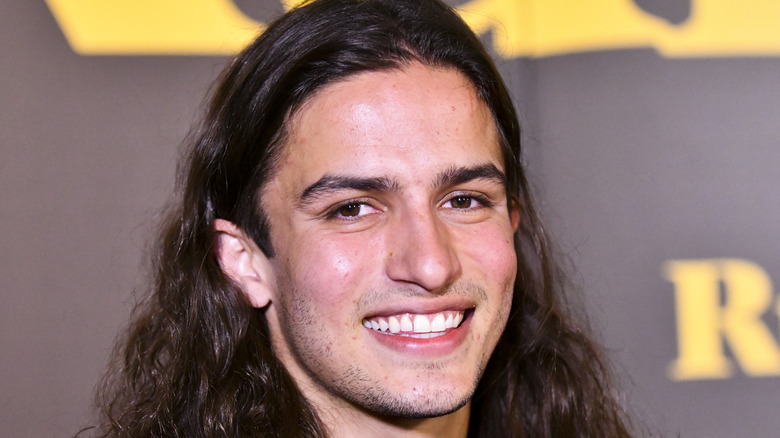 Rodin Eckenroth/Getty Images
Marvel's Disney+ series "Ms. Marvel" follows Kamala Kahn, aka Ms. Marvel (Iman Vellani), as she becomes one of the Marvel Cinematic Universe's youngest superheroes. The production seemingly promises to completely overhaul the character — or at the very least, her power set, which features a lot more stretching and a lot less glowing purple energy crystals in the comics. There are facets of Kamala's story that suggest she'll be mostly the same, though. Take Red Dagger, for instance. Without boring non-comic readers, Red Dagger is a young Pakistani vigilante named Kareem who allies himself with Ms. Marvel after moving to America. Ten points to anyone who can guess what weapon the kid uses (daggers. It's daggers).
For those combing the available footage, it's possible that Kareem looks a little bit familiar. That's because the actor who plays him has grown up on-screen. Born in 1999, Aramis Knight (quick aside: Has anyone ever had a cooler name?) earned his first acting credit in 2005. Since then, he's accrued over 40 projects to his name, and several of them are high-profile properties in which he's prominently featured. Here are the highlights of Aramis Knight's career.
Knight's first film role was as a cute little kid
For his first full-length film, Aramis Knight joined the cast of "Rendition," a 2007 political thriller starring Reese Witherspoon, Jake Gyllenhaal, Peter Sarsgaard, Alan Arkin, and Meryl Streep. Broadly, the story follows the United States government's horrific racial profiling and vicious abuse of power in the days post-9/11. More specifically, Anwar El-Ibrahimi (Omar Metwally) is kidnapped and tortured by the U.S. government on suspicion of terroristic plots while his wife, Isabella (Witherspoon), investigates his sudden, unexplained disappearance. Knight portrayed Jeremy El-Ibrahimi, Anwar and Isabella's son.
He doesn't get to do much in "Rendition." After all, he was barely eight years old at the time. Functionally, he was an incredibly cute little prop that Witherspoon dragged from Point A to Point B. The movie ends well enough, with the family reunited and the politician who authorized the operation publicly ruined, but it's still wildly simplistic portraiture of how cruel the US government was toward any person who can be considered "other."
Knight played a snarky brat on Psych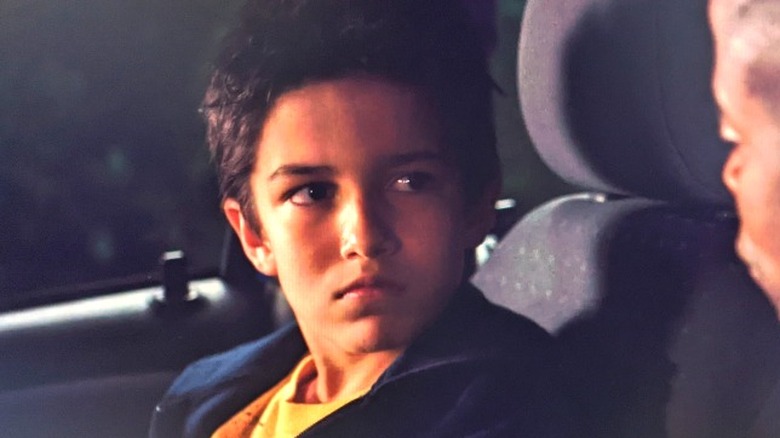 USA Network
Following "Rendition," Aramis Knight appeared in a series of one-off roles in prominent television productions such as "Hannah Montana," "Lost," and "NCIS." Notable among these was his appearance on USA's comedy police procedural "Psych," which follows Shawn Spencer (James Roday Rodriguez), a brilliant detective who holds little value for societal rules (read: He's a tool, but he's funny about it). Instead of using his incredible skill set within the law, he pretends to be psychic and solves crimes in the most ludicrous way possible. Hey, it makes for good TV.
In one episode, Knight plays Justin, a little kid who hires Shawn and Gus (Dulé Hill) to retrieve his Darth Vader collectible action figure from the home of a British ambassador. Together, in 2011, they kicked off the sixth season of "Psych" with a snarky bang and some light breaking and entering charges.
Knight steals an apple in The Dark Knight Rises
In 2012, Aramis Knight returned to the big screen in a small way by appearing briefly in "The Dark Knight Rises." For the four people who've never heard of it, "The Dark Knight Rises" is the final installment of Christopher Nolan's prolific "Batman" trilogy and follows Bruce Wayne, aka Batman (Christian Bale), as he clashes against Bane (Tom Hardy), Miranda Tate, aka Talia al Ghul (Marion Cotillard), and Selina Kyle, aka Catwoman (Anne Hathway), for the fate of Gotham City. He also romances two of them, but which two is anyone's guess. The project also stars Gary Oldman, Joseph Gordon Levitt, Morgan Freeman, and Michael Caine.
Knight is credited only as "Kid with Apple" but may be better credited as "Kid Who Steals Apple from Jerk Faces" because he goes all Aladdin on a pair of thugs and has to be rescued by Selina Kyle. The moment serves as evidence that Selina isn't always the worst and that, sometimes, she can be kind of nice too.
Knight fights to save Earth in Ender's Game
The very next year saw Aramis Knight back on the movie screen in "Ender's Game," a science-fiction film based on the 1985 novel of the same name by Orson Scott Card. The movie follows Andrew "Ender" Wiggin (Asa Butterfield), a young boy who attends Battle School, where he, along with others his own age, undergoes a series of simulations that test his abilities to lead armies into space. The movie culminates in despair when Ender realizes that the simulations were real and that he actually led a number of human lives to their ultimate sacrifice. The film also stars Harrison Ford, Hailee Steinfeld, Abigail Breslin, Ben Kingsley, and Viola Davis.
Knight appears as a Battle School student who goes by the moniker of Bean. Like Ender, Bean is incredibly intelligent and is put through a veritable hell of trials. Unlike Ender, though, Bean is a side character in "Ender's Game." Now, if Lionsgate would have made more adaptions of Card's work, that would've changed since Bean goes on to star in four consecutive books known hilariously as the Bean Quartet.
Knight portrayed an angsty hero in Into the Badlands
2015 saw a slightly more mature and infinitely edgier Aramis Knight appear in an AMC science-fiction series "Into the Badlands." The story is set approximately 500 years into America's future, where a war-ravaged society has given up on modern weaponry and reverted to swords and crossbows and other pointy things. In many ways, it's a standard dystopian story, all the way down to new religions and obnoxious factions warring over territories. In addition to Knight, the series, which received three seasons from 2015 to 2019, stars Daniel Wu, Orla Brady, Emily Beecham, and Ally Ioannides.
Knight portrayed M.K., a young man who lost his mother and also happens to carry near-deific dark energy inside his chest. M.K. is associated with a number of factions throughout the series, but this all dives into fantasy terminology best left forgotten. Suffice it to say that he's important, he rises through the ranks wherever he goes, and everybody wants him — but not always in a nice way.
Knight is a high school bully in Runt
Rounding out this list is Aramis Knight's 2020 film "Runt," a dramatic thriller starring the late Cameron Boyce. The story follows Cal (Boyce), an average teenager who grows colder and more callous as the world and the people in it are cruel to him. The film is named after the dog Cal gets to stave off loneliness. Full disclosure: The dog dies ... brutally. "Runt" is not a happy project by any stretch of the imagination. Aside from Boyce and Knight, the film also stars Brianna Hildebrand, Jason Patric, and Tichina Arnold.
Knight plays Vic, an aggressive football player who makes Cal's life hell because it's easier than accepting responsibility for his own actions. Considering he killed Runt, any empathy that could be felt for what Cal does to him in revenge is pretty thin. To make matters darker, "Runt" offers no solution to the problems it portrays, opting to showcase a somber reality rather than a moral victory.