Why Stranger Things Fans Are Worried About Eddie In Season 4, Volume 2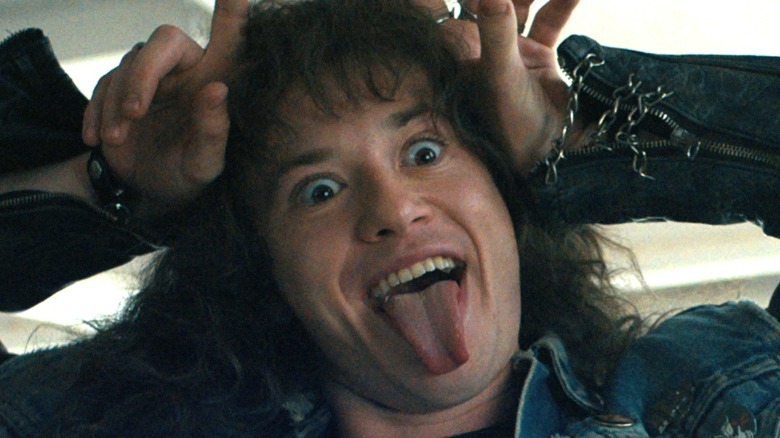 Netflix
Contains spoilers for "Stranger Things" Season 4, Volume 1
Among the raft of fresh characters introduced to the faithful fan base totally obsessed with Netflix's "Stranger Things" in Season 4, Volume 1, Eddie Munson (Joseph Quinn) has emerged as a popular face. The chill, big-haired, "Dungeons & Dragons"-obsessed, metal-loving dude comes off as rude at first, but he's thrown a monkey wrench into a number of the show's central relationships.
As the head of the Hellfire Club, a "Dungeons & Dragons" group he runs at Hawkins High School, he's become a mentor figure for Dustin Henderson (Gaten Matarazzo). This has complicated Dustin's close friendships with Steve Harrington (Joe Keery) and Lucas Sinclair (Caleb McLaughlin). He's also tragically on the scene when cheerleader Chrissy Cunningham (Grace Van Dien) is murdered by an unexplained force before his horrified eyes, which means he becomes a valuable resource as the monstrous creature from the Upside Down, Vecna, threatens the lives of everyone in Hawkins.
But as much as fans truly love Eddie, with Season 4's final two episodes still waiting to be released on July 1, they're also pretty worried about his future.
Stranger Things fans think Eddie is a goner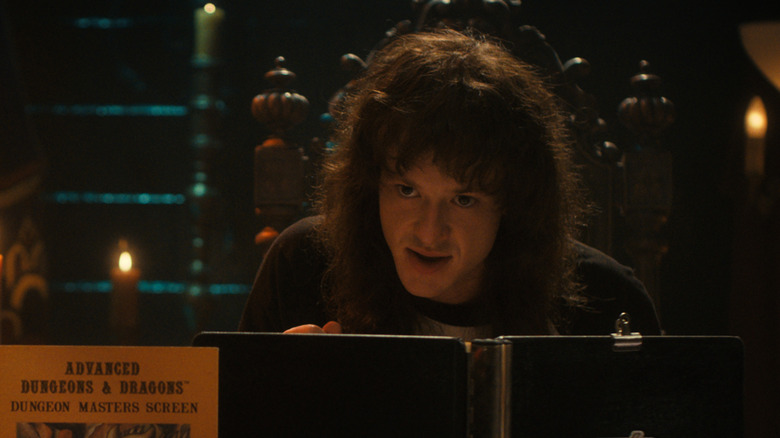 Netflix
"Stranger Things" fans hanging out on the show's subreddit are pretty concerned that wherever the show ends up going in Season 5, Eddie might not make it to the final dance intact.
A number of fans are convinced he's going to nobly sacrifice himself to save the show's main cast. "Really like his character and it's unfortunate that they are def going to sacrifice him, or should I say he's going to sacrifice himself," u/Love-Pineapple-Pizza said, adding, "Eddie talks about running away, being scared several times during Vol 1. His send[-]off is gonna be overcoming his fear and facing it." Since fans already know that one of Vecna's biggest weaknesses is connected to the power of music, and Eddie is a known guitarist, they think his skills might be a big factor in finally defeating the monster to his own detriment. Redditor u/Shredder604 also pointed out that since Eddie is a suspect in Chrissy's murder, his dying makes better narrative sense than him running away.
Redditor u/Impossible_Fly4510 thinks that "it follows that they needed to bring in a loveable character to die this season so that the main gang can survive until the final season, at which point it could be that nobody is safe."
But a number of fans disagree with u/Love-Pineapple-Pizza's notion. "I kinda hope he survives just because his death is too obviously telegraphed," said u/blublub1243. Redditor u/voodoomoocow thinks the show's producers are playing things close to their vests: "I sorta think they are pushing him to replace Steve. I hope I am wrong and would like both to survive."
Viewers will have to wait until July 1 to find out if Eddie will be back for the final season of "Stranger Things."