Karl Urban Finally Weighs In On His Buzzy Wolverine Fan Casting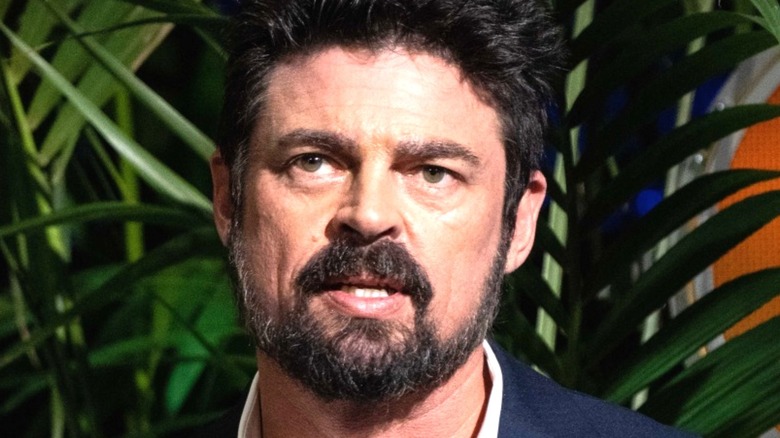 Jeff Spicer/Getty
Though most comic book fans will no doubt recognize Karl Urban as the de facto lead of Amazon's black comedy superhero series "The Boys" (adapted from the comic book series of the same name by Garth Ennis and Darick Robertson), the New Zealand actor has actually a appeared in a several high-profile comic-book adaptations over the years. Before he was ever knocking heads as Billy Butcher on "The Boys," Urban joined the Marvel Cinematic Universe as Skurge the Executioner in "Thor: Ragnarok," and also starred in 2012's cult-favorite "Dredd," the latter of which saw Urban taking on the lead role as the eponymous Judge Dredd.
All told, it's clear that Urban is no stranger to the spotlight that comes with the superhero genre, which is perhaps why some fans have been calling for the actor to take over as one of Marvel's most iconic heroes, Wolverine.
For fans of "The Boys," it's easy to see how the revenge-driven antihero Billy Butcher could be tweaked into the infamously ill-tempered Canadian mutant with a penchant for brutality, and it certainly helps that Urban himself already looks the part. Indeed, fans on Reddit have been incredibly vocal in their support of Urban taking over the role in the Marvel Cinematic Universe (that is, if and when the franchise ever decides to introduce the X-Men), and this fan-favorite casting has actually gotten so popular that Urban himself decided to weigh in on the prospect in a recent interview.
Urban believes he is too old to portray Wolverine
During a recent interview with The Guardian, Urban was informed of his X-Men fan-casting by interviewer Stuart Heritage, who described how all across Reddit one can find photoshopped pictures of the actor as Wolverine. In response, the actor simply laughed and proceeded to break down exactly why casting him as Wolverine would never work. 
"It's flattering," Urban said, "but you have to rationally think about it. I'm what, two years younger than Hugh Jackman? I mean, if I was a studio looking to cast someone as Wolverine, I'd pick someone I'll get three films out of. You're not going to get three films out of Karl Urban unless you want a 65-year-old Wolverine."
Though Urban's response will no doubt be disappointing to some fans, he does make a strong case for why he should not be considered for the role, even if he could knock it out of the park. Indeed, Urban is older now than Hugh Jackman was when he filmed 2017's "Logan," which featured a world-weary Wolverine who was well past his prime. As Urban himself admits, to cast the actor as Wolverine would only work if the studio was aiming for an older version of the character — and while the incredible critical response to "Logan" makes the case that perhaps an older Wolverine is something viewers love, starting with the character already aged up certainly limits his future possibilities. Further complicating Urban's fan-casting is the fact that, once again, he was already in the MCU as Skurge.
Clearly, Urban does not believe he would ever be considered for Logan. Still, considering just how popular this casting is, we doubt the actor's comments will have any effect on the fans who want to see him wield the claws.