The Chicago Med Season 7 Finale Detail That Has Fans Thoroughly Confused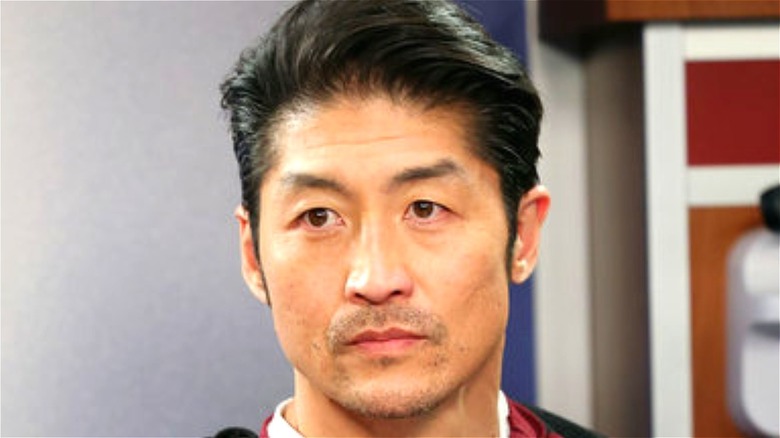 George Burns Jr/NBC
Contains spoilers for "Chicago Med" Season 7 finale, "And Now We Come to the End"
The ending of "Chicago Med" Season 7 is a pretty fun ride even by the lofty standards of the "One Chicago" franchise. Doctors Halstead (Nick Gehlfuss) and Scott (Guy Lockard) are left in fiery danger that seems custom made for a "Chicago Fire" intervention, and pretty much everyone else has a nice plotline that either wraps up some lingering issues to leave them free for new storylines, or raises the stakes for Season 8.  
That being said, not everyone is entirely on board with everything that happens in "And Now We Come to the End," though it's not necessarily because they don't like the plot. There's just one particular plot point that some viewers have found somewhat strange. Let's take a closer look at the "Chicago Med" Season 7 finale detail that has fans thoroughly confused.
The restaurant's elevator situation is pretty confusing
The Season 7 finale has plenty of things going on, but encounters with hardened criminals and flaming buildings notwithstanding, arguably the most dramatic plotline in the episode is Dr. Sharon Goodwin's (S. Epatha Merkerson) birthday dinner at a top floor restaurant. The birthday acquires a double meaning when Goodwin's daughter, Tara (Nicolette Robinson), goes into labor — conveniently just as the elevators in the building go down. Fortunately, the Goodwins are able to take care of things just fine, and after some improvisation and drama, Dr. Goodwin delivers her own granddaughter. 
In the Reddit discussion about the episode, some "Chicago Med" fans expressed confusion about the safety measures of the restaurant in question. "So, the restaurant has a single elevator? No staircase? Sounds like a death trap," u/mattcasey28 pointed out the restaurant's apparent lack of emergency exits. "No freight elevator for vendor deliveries?" u/Irving_Forbush chimed in. 
The restaurant in the episode is a very real high-end place called The Signature Room, and multiple redditors who have visited the place note in the thread that its elevator access is indeed very exclusive. As for emergency exits, u/dragonlover5672 pointed out that while there's no reason to believe there isn't one, there's a chance that no amount of staircases would help the characters in this particular predicament. "I'm sure they had a staircase, but go ahead and ask a woman in active labor if she'll walk down a bunch of stairs," they wrote. In other words, it seems that "Chicago Med" picked a pretty perfect place for this dramatic birth scene.