The Ms. Marvel Star You Likely Forgot Played A Character In Netflix's Jessica Jones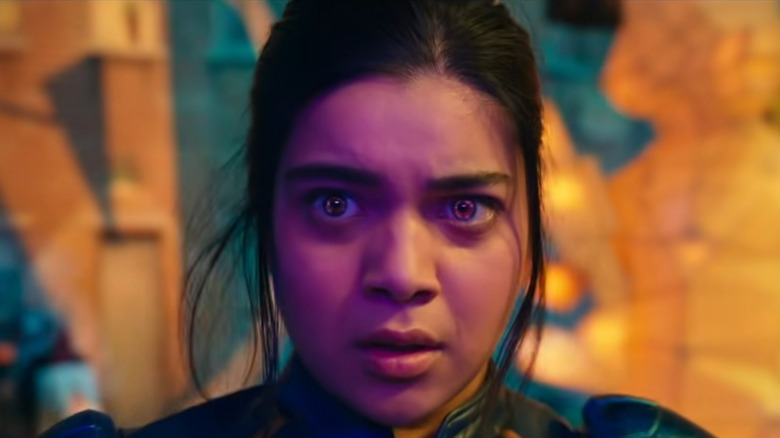 Marvel Studios/Disney+
Before Disney+ came along and treated superhero fans to series such as "WandaVision," "Loki," and the upcoming "Ms. Marvel," Netflix was the main destination for the MCU's myriad of television projects. "Daredevil," "Luke Cage," "The Punisher," "The Defenders," "Iron Fist," and "Jessica Jones" provided a grittier street-level alternative to the blockbuster allure of the film franchise, essentially giving fans the best of both worlds. Some viewers and critics enjoyed the series' edgier approach to comic book adaptations too, as evidenced by their scores on Rotten Tomatoes. 
"Jessica Jones" was one of the more acclaimed shows of the bunch, and some performers from the series would like to reprise their roles in future MCU projects. With that in mind, one "Jessica Jones" star will return to the MCU as part of "Ms. Marvel," but she won't be playing the same character that she portrayed in the past. Then again, her tenure on "Jessica Jones" was so short-lived that some fans have probably forgotten all about it at this point, so there shouldn't be any confusion when "Ms. Marvel" finally arrives on Disney+.
Adaku Ononogbo appeared in one episode of Jessica Jones
Netflix/Marvel/Disney+
Adaku Ononogbo is set to play a character named Fariha in five episodes of "Ms. Marvel" (per IMDb), and early reports suggest that she will have a significant role in the story. While little information is known about the character at the time of this writing, a casting report described Fariha as a smart and intimidating woman of Sudanese heritage who's willing to do whatever it takes to get the job done (via The Direct). Fariha doesn't appear to be based on a comic book character, but Marvel's Fandom page notes that she's a member of a group operating in Jersey City.
Prior to joining "Ms. Marvel," meanwhile, Ononogbo portrayed Sheena on "Jessica Jones." The character appeared in Season 2's "AKA Freak Accident" episode, where she had a scene with Jeri Hogarth (Carrie-Ann Moss). It was a brief cameo in the grand scheme of things, but Ononogbo's profile has only grown since then, and "Ms Marvel" will undoubtedly boost it even more. 
However, Ononogbo has longed to have a more substantial role in a superhero project. In 2014, she campaigned to play Vixen for DC. While that dream casting never came to fruition, it's worth noting that Vixen has an interesting connection to "Ms. Marvel." According to Cosmic Circus, "Ms. Marvel" creator G. Willow Wilson wrote "Vixen: Return of the Lion," a five-issue limited series which sees the titular character return to her homeland to take on a warlord.