The Wendy's Commercial You Didn't Realize Starred Hayden Panettiere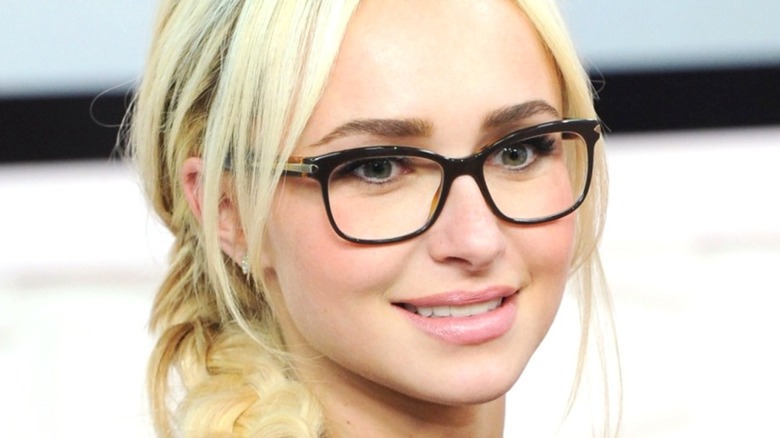 Craig Barritt/Getty
Actress Hayden Panettiere has often made headlines for her high-profile acting career as well as her personal struggles, but one thing's for sure: She's never boring. 
Fans may have first seen her in "Remember the Titans" from 2000, or they may have first encountered her during her Disney teen idol days, starring in the Disney Channel Original Movie "Tiger Cruise" in 2004, "Ice Princess" in 2005, and "Bring It On: All or Nothing" in 2006 (via IMDb). Her cheerleader role in the latter of these films foreshadowed her most famous casting, Claire Bennet, in ABC's "Heroes" in the following few years (she was the cheerleader of "Save the cheerleader, save the world"). She has also played the titular character — another cheerleader — in "I Love You, Beth Cooper" and has shown up in several "Kingdom Hearts" video games. 
More recently, Panettiere escaped from her teen-era typecasting to portray singer-songwriter Juliette Barnes in six seasons of "Nashville," and her next known project is the sixth installment of "Scream" (reprising her role from the fourth film in the franchise). If you're a fan, though, there is one project of Panettiere's you might have missed. Back in 1996, she was in a Wendy's commercial pushing chicken nuggets.
Panetierre built her career on TV commercials
Born in 1989 (according to IMDb), Hayden Panettiere became an actress early. By the age of 5, she was starring in "One Life to Live." But like many actors trying to break into the business, she started her career in commercials. In a 2017 interview on "Late Night with Stephen Colbert," she pointed out that she had done about 50 ads. She was already a seasoned veteran at age 6, when she told interviewer Maury Povich that of all the commercials she'd been in, the one for Triaminic children's medication was the toughest because she had to pretend to be a sad, sick child. 
Even after her career started taking off, she didn't fully stop doing commercials, even though her resume had expanded to include more recognizable productions like "Ally McBeal," "Malcolm in the Middle," and "A Bug's Life." In 2007, she did an ad for Neutrogena that the Cut thought in 2020 was "eerily ahead of its time." In 2013, she became "the face of cotton" as part of Cotton Incorporated's The Fabric Of Our Lives campaign (per FarmProgress). 
In 2016, she joined the ranks of famous Carl's Jr. "commercial girls," which include Paris Hilton, Kim Kardashian, Jenny McCarthy, Heidi Klum, Padma Lakshmi, and others (via Page Six). Panettiere's daughter was born in 2014 (via Us), so she did this sexy ad post-partum, while publicly struggling with post-partum depression (via USA Today). But her childhood Wendy's ad maintained a special place in her credits.
Panettiere's Wendy's ad was especially memorable for the up-and-coming child star
Although she absolutely went on to do bigger and better things, Hayden Panettiere's Wendy's commercial from 1996 was particularly memorable for the actress. 
That wasn't just because of the entertainment value of the commercial itself, which is high. In the ad, she tells the viewer that her brother asked her to watch his chicken nuggets for a minute while he was gone so that no one else would eat them. "But when someone gets nuggets, it's hard not to try one," she says, biting into one as a voiceover extols the virtues of 99-cent nuggets on the super value menu. When her brother (played by Billy Kay) returns to find an empty box, he asks, "Who ate my nuggets?" Cheekily, Panetierre replies, "Dave Thomas." Cut to Wendy's founder Thomas himself, who appears to be smiling at the little girl. 
Panettiere appreciated the ad because of who she was able to work with and what it led to. "Dave Thomas was still around, God bless him, and I got to do a couple of Wendy's commercials with him," she told Stephen Colbert in 2017. Dave Thomas died in 2002 (via Wired), six years or so after the spot aired on television. Panettiere also says she booked "The Tonight Show with Jay Leno" as a result of that job when she was just seven years old. "When you're seven, everything is great. Everything is amazing. You are the best," she said about her self-confidence at that age.