Here's One Big Reason For Star Trek Fans To Be Excited About Strange New Worlds' Episodic Format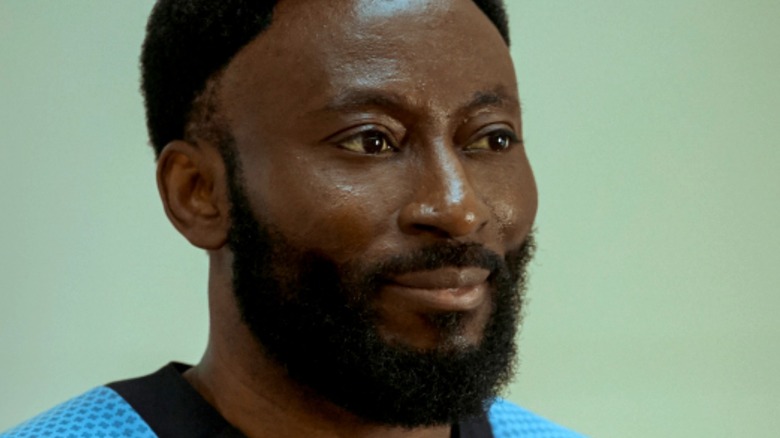 Marni Grossman/Paramount+
"Star Trek" television newcomer "Star Trek: Strange New Worlds" is an absolute romp as it digs deep into all of the things that make "Star Trek" so iconic. With the crew of the Enterprise sporting colorful, retro uniforms and broadcasting a positive message of hope and discovery, "Strange New Worlds" is chronologically set before the events of the original "Star Trek" series led by William Shatner and Leonard Nimoy. The new franchise stars Anson Mount, Ethan Peck, Jess Bush, Christina Chong, Celia Rose Gooding, Melissa Navia, and Rebecca Romijn as key Enterprise crew.
Premiering in early May 2022, "Strange New Worlds" has been an absolute smash hit with critics, with the show currently holding around a 98% critics score on Rotten Tomatoes. Mount, who plays legendary Starfleet Captain Christopher Pike, was asked by The Hollywood Reporter what it was like to finally sit in the captain's chair aboard the USS Enterprise. The actor replied, "It was amazing. And it was also the feeling of finally because we had been held back so long due to the pandemic." He added, "Some acquaintances from NASA wrote a letter to the cast and crew, which I got to read, explaining how much 'Star Trek' meant to them, and how much it means to scientists, and how powerful the imagination can be in crafting our future."
With so much hype following this fledgling "Star Trek" series, some fans have taken to Reddit to discuss an aspect of the show's format and why they are hopeful for the show's future.
Fans believe Strange New Worlds' episodic format will lead to epic two-part episodes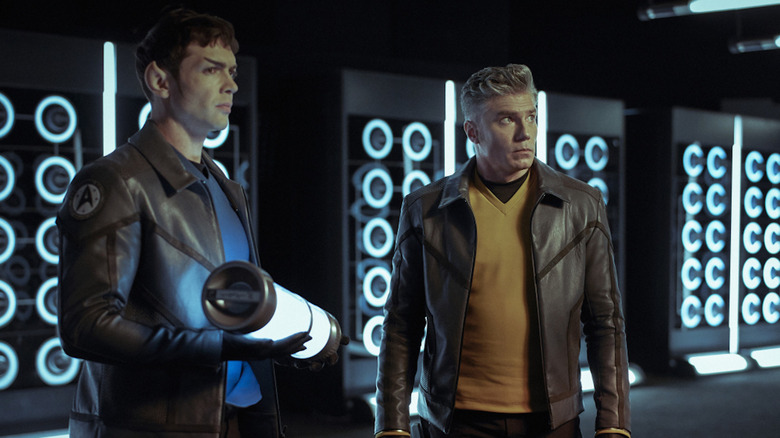 Marni Grossman/Paramount+
Starting the conversation on the subreddit r/StrangeNewWorlds, Redditor u/oatmeal_dude said, "With more and more shows being completely serialized, I have found that it is hard to remember specific episodes or even have a favorite episode since everything blends together. With ' Strange New Worlds' being episodic, I think any two-part or multi-part episodes will be significantly impactful." They continued, "I always remember the two-part episodes of ['The Next Generation'], or on shows like 'Stargate,' being the equivalent of full TV movies. I am so excited to see what they do with the show."
Reddit user u/Internal-Motor wholeheartedly agreed with the original poster's comments and stated that some of the best episodes of "Star Trek: The Next Generation" were two-part episodes. They also went on to describe how an episodic format makes cliffhangers that much more potent because the tendency of serialized television shows is to end every episode on a cliffhanger, which completely diminishes its effect. Elsewhere in the conversation, u/neontetra1548 enthusiastically replied that the first time they see a "To be continued" card pop up on "Strange New Worlds," they are going to lose their mind and that two-part "Star Trek" episodes are usually pretty amazing.
Two-part Star Trek episodes have always been a fan-favorite
The conversation over why it's exciting to see "Star Trek: Strange New Worlds" embracing the episode format continued on Reddit with u/ToBePacific, who also agreed with the above sentiments. The Redditor said that when every episode ends on a cliffhanger, there's nothing special about it, but when the majority of episodes are resolved, a cliffhanger carries far greater importance. U/JackSparrowJive is also a supporter of the episodic format and elaborated how episodic television shows are significantly easier to just pick up and watch and episode, as opposed to an ongoing drama. With so many comments regarding "Star Trek: Strange New Worlds," it seems like the future is very bright for Trekkies.
It is important to remember how many two-part episodes have resonated with fans over the many different "Star Trek" shows. CBS even went so far as to release a list of some of the best "Star Trek" episodes ever and included several two-part episodes. Some two-parters that made the cut were "The Best of Both Worlds," which sees Picard transform into a Borg, "Time's Arrow," which involves Data (Brent Spiner) and historical figures of the 1800s, and "Chain of Command," which is about an ingenious Cardassian trap involving a supposed biological agent. It is for these reasons that "Star Trek" fans are enthusiastic about any potential two-part episodes for "Strange New Worlds."