It's Always Sunny In Philadelphia Gang Developing New Fox Sitcom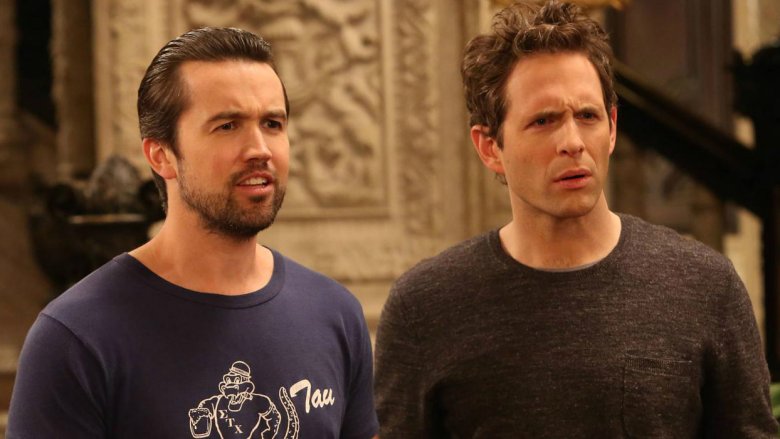 FX
While the future of It's Always Sunny in Philadelphia seems a little cloudy, the guys behind the show are broadening their horizons.
Deadline reports that Fox has given a pilot production commitment to a new sitcom executive produced by Rob McElhenney, Glenn Howerton, and Charlie Day. The currently untitled show is described as a family comedy about an unconventional blue-collar family in working class America, and it will be a multi-camera show instead of a single-camera series like It's Always Sunny in Philadelphia.
McElhenney will also write along with former It's Always Sunny executive producer Rob Rosell. There's no word about the cast just yet.
It's actually the second pilot that McElhenney, Howerton, and Day have in the works for Fox. The network also ordered a pilot for Cool Kids, which revolves around three guy friends in a retirement community who are top dogs until a rebellious woman challenges their place. 
Meanwhile, Howerton may not return to It's Always Sunny after NBC picked up his new comedy A.P. Bio, produced by Lorne Michaels and Seth Meyers. In the season 12 finale of It's Always Sunny, his character Dennis Reynolds left on a cliffhanger. 
Each of the main cast members have been taking on new things lately. Kaitlin Olson stars in her own Fox comedy The Mick, McElhenney is directing the live-action Minecraft movie, and Day has become a bona fide movie star with Horrible Bosses, Pacific Rim, and Fist Fight. 
Until we hear more, check out one theory that could change the way you watch It's Always Sunny in Philadelphia.