Did Obi-Wan Kenobi Just Drop A Sick John Wick Reference?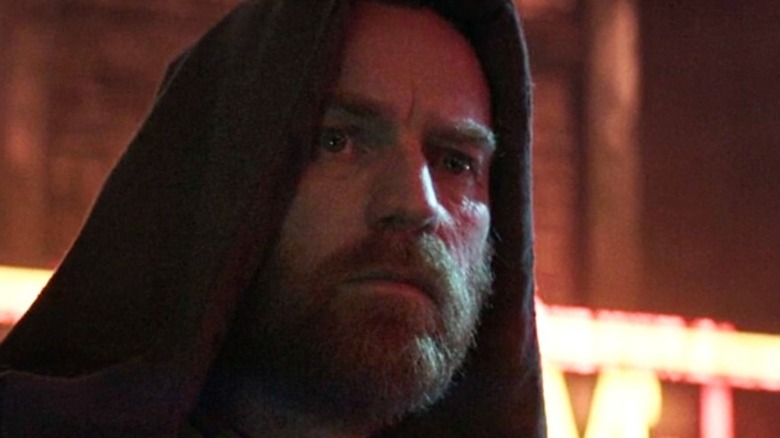 Lucasfilm/Disney+
Contains spoilers for "Obi-Wan Kenobi"  Part II 
All Disney+ "Star Wars" shows come with plenty of franchise baggage, and on the surface at least, "Obi-Wan Kenobi" is the most lore-laden show of them all. After all, it focuses on the titular Jedi (Ewan McGregor), who's hiding on the iconic desert planet Tatooine in the years between "Revenge of the Sith" and "A New Hope." Yet, the show almost immediately breaks out of this potentially suffocating mold, as Obi-Wan decides to head off to have his own adventures ... which reach out in some pretty peculiar directions.
Since it's one of the biggest and most influential franchises in movie history, it's easy to think that "Star Wars" is generally the intellectual property other works refer to, instead of the other way around. However, a certain moment in "Obi-Wan Kenobi" Part II makes it easy to believe that this particular part of the franchise may have actually paid homage to a younger pop culture fixture. In fact, some might even think that "Obi-Wan Kenobi" just dropped a sick "John Wick" reference. Could this major "Star Wars" Disney+ show really have given a nod at the popular Keanu Reeves assassin movie series? Let's take a look at the available evidence. 
The bounty sequence of Obi-Wan Kenobi Part 2 seems familiar to some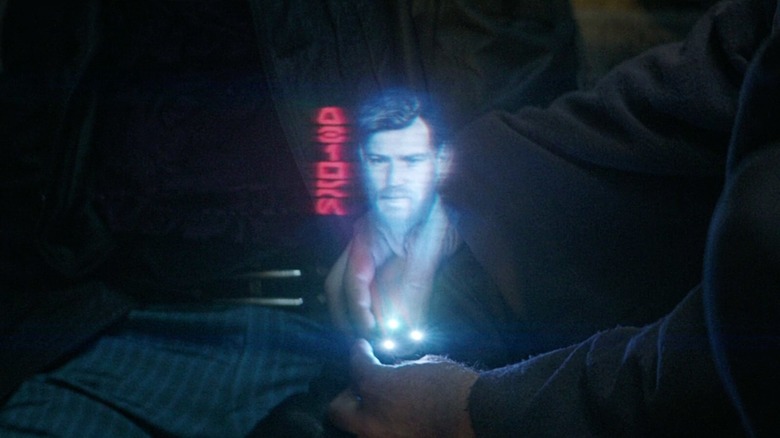 Lucasfilm/Disney+
"Obi-Wan Kenobi" Part II features a very "John Wick"-esque moment when Reva (Moses Ingram) attempts to one-up the Grand Inquisitor (Rupert Friend) by catching Obi-Wan before him. Her chosen method is to alert the entire town to hunt for the Jedi with a cool bounty hologram mass transmission which seems very close to the excommunicado sequence in "John Wick 2," when John's freshly former assassin colleagues learn that the hunt is on.
The apparent reference hasn't gone unnoticed by the fandom. "John Wick excommunicado moment in part 2 when everyone in city searching for Obi-wan," user @zapppz wrote on Twitter. Others expressed very similar views. "Ep 2: John Wick meets Obi-wan," @pessoaformdavel tweeted. 
There are also fans that feel that the "excommunicado" bit is but one part of the "John Wick" homage, and suggest that the show's general vibe is essentially a big old nod to the Keanu Reeves movies. "Honestly Obi-Wan doing John Wick is a real slam dunk honestly, can't believe I'm surprised that's what they're going for, should have been obvious," @KevKoeser tweeted. Meanwhile, @KalGotTheSauce managed to identify the "John Wick" vibes of "Obi-Wan Kenobi" before the show even dropped, based on trailer alone. "Never knew I needed an Obi-Wan Kenobi show where he's going John Wick on people but this show has me excited," they wrote shortly after the May the 4th "Obi-Wan Kenobi" trailer dropped.  
These fan observations might actually be onto something, because as it turns out, there actually is a surprising, yet very real connection between the "John Wick" franchise and "Obi-Wan Kenobi."
Joby Harold has worked on both Obi-Wan Kenobi and the John Wick franchise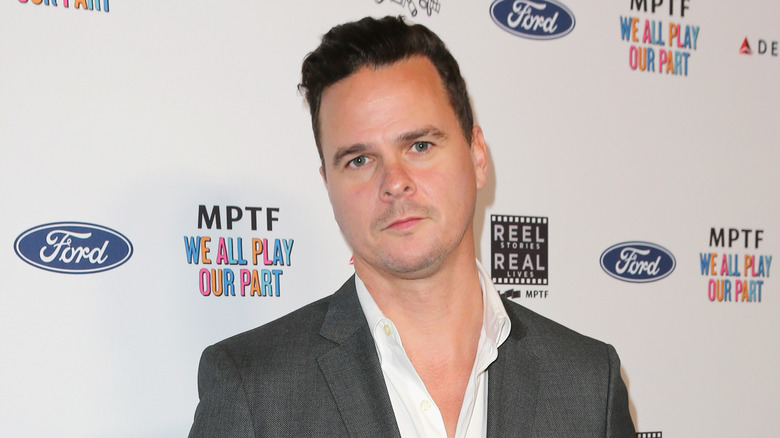 Tasia Wells/Getty Images
Joby Harold, a writer and executive producer of "Obi-Wan Kenobi," also happens to be an executive producer in "John Wick: Chapter 3 — Parabellum." This is the installment of the "John Wick" franchise that just so happens to deal with Mr. Wick's difficulties after he's declared excommunicado. Variety reported Harold's "Obi-Wan Kenobi" writer gig in 2020, and he has certainly been busy, seeing as he has writer, story, or teleplay credits on each of the show's six episodes. 
Harold isn't listed as a writer for "John Wick 3," and he's obviously just one of the many people who've been working on "Obi-Wan Kenobi." Still, Part II's strong "lone warrior vs. the world" energy may not be a coincidence when you remember that a guy who has worked with the "John Wick" franchise — which is pretty much the reigning king of the genre — was involved in the production. In fact, you could say that Harold is something of a specialist of the "against all odds" genre, seeing as he also executive produced Tom Cruise's "Edge of Tomorrow," and co-wrote the screenplay for Zach Snyder's "Army of the Dead." 
It remains to be seen whether future episodes of "Obi-Wan Kenobi" continue to invoke hints of "John Wick," or whether the show intends to veer in a completely different direction. After all, its Disney+ predecessor, "The Book of Boba Fett," has no trouble devoting entire episodes to the Mandalorian (Pedro Pascal), a character from another "Star Wars" show. Perhaps "Obi-Wan Kenobi" intends to juxtapose Obi-Wan's lonesome survival antics with Darth Vader's (Hayden Christensen) far more ruthless and high-profile missions — or maybe it will stay on the course Part II has seemingly chosen. Either way, fans should have very little to complain about.