The Chicago Fire Season 10 Finale Used Recycled Footage And Fans Noticed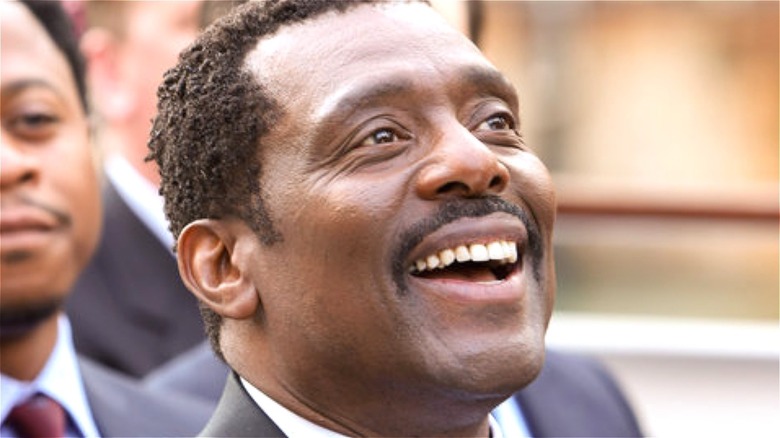 Adrian S. Burrows Sr./NBC
Contains spoilers for "Chicago Fire" Season 10, Episode 22
On May 25, NBC aired its final episode of "Chicago Fire" Season 10. As promotional materials made abundantly clear in the lead-up to its premiere, the episode's centerpiece is the wedding of series stalwarts Stella Kidd (Miranda Rae Mayo) and Kelly Severide (Taylor Kinney). Of course, being a show with a flair for the dramatic, both Kidd and Severide go through their fare share of unexpected events in the lead-up to their big moment.
Severide, for example, kicks a knife-wielding man out of a window, killing him. Kidd and Severide, meanwhile, find out shortly before their ceremony that their planned venue is unavailable. Fortunately, the returning Matt Casey (Jesse Spencer) secures them a new spot on short notice, after which their wedding proceeds more-or-less as scheduled. Unfortunately, however, near the episode's end, a mysterious truck pulls up to the cabin where Kidd and Severide are staying after their wedding, and its driver may well be the villainous Thomas Campbell (Eric Slater) out for vengeance.
While on paper this could make for a sufficiently dramatic season finale, some fans were disappointed by the episode's events. One Reddit user, for example, started a thread titled "Underwhelming..." in which a number of commenters criticized the episode for a perceived lack of drama. Furthermore, compounding fans' issues, another viewer happened to notice a shot the episode reused from a scene much earlier in the series.
The final episode of Chicago Fire Season 10 reuses a shot from Season 1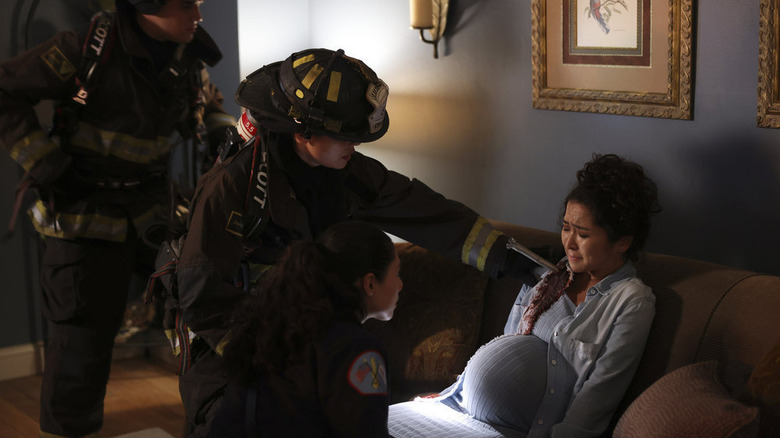 Adrian S. Burrows Sr./NBC
Early on in the Season 10 finale, in the lead-up to the big Stellaride wedding, almost all of the Firehouse 51 team is called to stop a fire from burning down an apartment building. Meanwhile, one of the apartment's residents is in labor. Of course, the team saves the woman in peril and successfully delivers her baby. That said, including screenshots from both episodes as evidence, Twitter user @caseysbrett pointed out that the footage of the baby is not original to the episode, but first appeared in Season 1, Episode 7. Fittingly, in the Season 1 episode from which the clip originates, Casey is similarly tasked with delivering a baby amidst a large-scale car wreck.
In an interview with TVLine, "Chicago Fire" co-creator Derek Haas said he wanted the finale "to be super happy, everybody cheering at the end. It's all hugs and kisses, and the wedding goes exactly as planned, and every one of our characters shows up and doesn't miss it. But [producer Andrea Newman] said that she couldn't stand that." Whether reusing the baby footage was the result of last-minute plans to inject the episode with added drama or simply for convenience's sake, at least one viewer took notice and shared their findings with the "Chicago Fire" fanbase at large.