Lorraine Bracco's Emotional Tribute To Ray Liotta Will Have You In Tears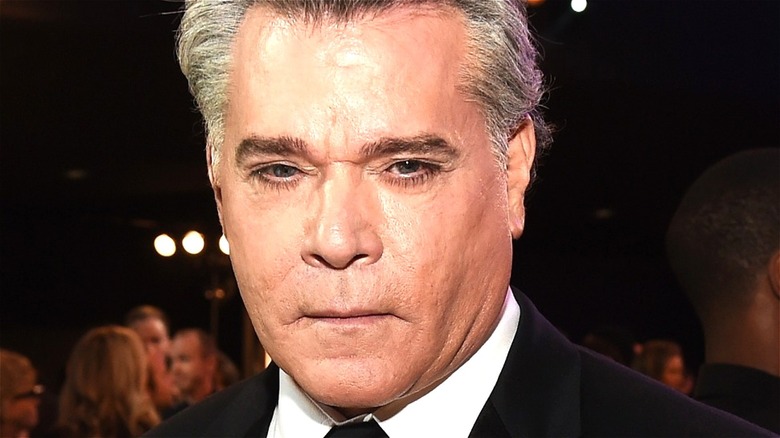 Mike Windle/Getty
Actors Lorraine Bracco and Ray Liotta will always be wed in the minds of cinephiles everywhere after appearing together in the 1990 gangster epic "Goodfellas." In the film, Bracco and Liotta played fictionalized versions of real-life spouses Henry and Karen Hill, who wind up entangled in the dealings of the Gambino crime family. Though the world of danger and deceit initially seems welcoming and glamorous, drugs and danger soon descend on the Hill household, ultimately wrenching Henry and Karen apart in a most tragic fashion (per Biography).
The Martin Scorsese epic won Liotta and Bracco a lot of critical praise when the film was released. In fact, Bracco even received an Academy Award nomination for Best Actress in a Supporting Role (via Oscars.org). However, it would seem that the actors came away from the film's creation with an even more valuable gift — friendship. In the wake of Ray Liotta's death at the age of 67, Bracco shared her memories of her late co-star, and what she said may make you cry.
Bracco said Liotta was her favorite part of making Goodfellas
Only a few hours after the news of Ray Liotta's death began to hit the airwaves, the actor's "Goodfellas" co-star Lorraine Bracco took to Twitter to express her sadness at his loss. Bracco said, "I am utterly shattered to hear this terrible news about my Ray." In paying tribute to her late friend, Bracco explained that people all over the world still regularly approach her to ask about "Goodfellas" and tell her how much they love the film. "Then, they always ask what was the best part of making that movie. My response has always been the same ... Ray Liotta."
It's a touching and classy tribute from a colleague with just as many wonderful roles behind her as Liotta had behind him. Bracco has shared fond memories of working with Liotta on "Goodfellas" before. She recalled one incident for USA Today in September 2020, in celebration of the film's 30th anniversary. In the interview, Bracco relayed behind-the-scenes details of a particularly contentious scene in which her character threatens to murder Liotta's.
"At one point, when Ray hit me, the gun went flying out of my hand and I sadly hit Michael Ballhaus (the film's cinematographer) in the head. He was OK, but still. I definitely remember that day," she laughed at the time. The two last reunited with other members of the legendary cast of "Goodfellas" in 2015 for the Tribeca Film Festival's 25th-anniversary screening of the movie, per The Hollywood Reporter.